Live Adventure
Get inspired to live life more adventurously.

How much does Go Ape cost?

An Interview with Stewart Deards, Go Ape Dalkeith Site Manager
We sat down with Stew before Go Ape's 35 location opens in July.

Smashing Through Your Comfort Zone
Guest blogger Beth Williams shares her experience of smahing her fears at Go Ape.

The Ultimate Father's Day Gift Buying Guide
Read our 2021 Father's Day gift buying guide.

CHALLENGE ACCEPTED!
Meet the family taking on every Go Ape Treetop Adventure course.
Don't Let Rain Stop Play
Guest blogger Katie Kinsella shares inspiration for children's wet weather play.
Go Ape on Your Summer Staycation
We explore the breadth of activities and experiences at some of the UK's most loved holiday destinations.
International Women's Day - Meet Clair Fowler
To celebrate International Women's Day we're getting to know some of the amazing women in the Go Ape Tribe. This time it's Go Ape Cannock Site Manager Clair Fowler.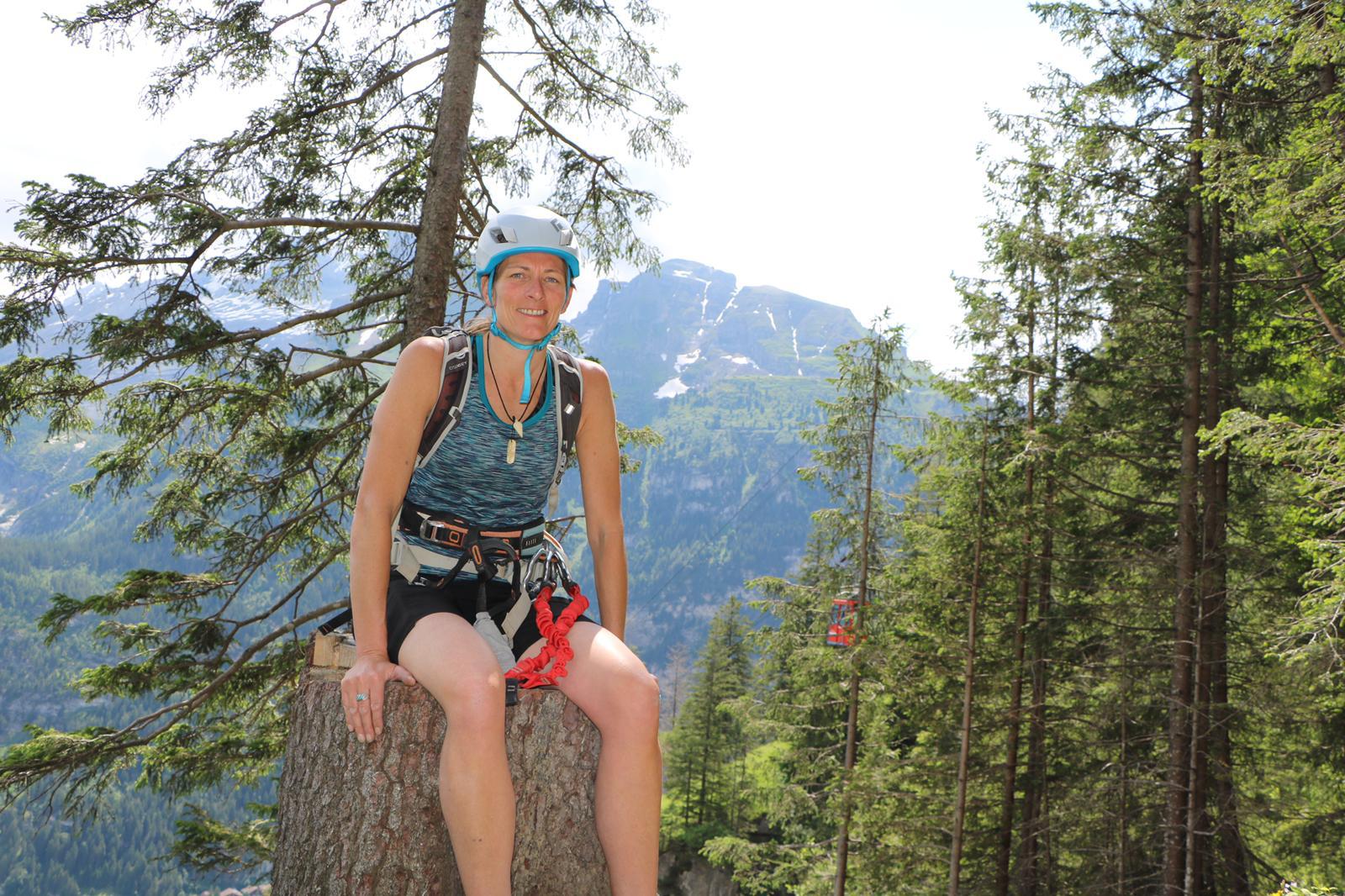 International Women's Day - Meet Jo McLaren
To celebrate International Women's Day we're getting to know some of the amazing women in the Go Ape Tribe. This time it's Operations Manager Jo McLaren.

Find Your Brave
It's Children's Mental Health Awareness week and the campaign this year is Find your Brave! We feel passionately about this subject as we absolutely see the difference when children take that leap of faith and turn their 'I can't' into 'I can'.

Your 2019 Go Ape Memories
A huge thank you to everyone that shared their 2019 Go Ape experiences with us. Check out our showreel with some of our favourites.

Five Ideas to Inspire you to get Active Outdoors
To inspire you to get active through adventure we've come up with five outdoor ideas to freshen up your workouts on your journey to a fitter, healthier and happier you.

Eco-Tips for the Christmas Leftovers Part 2
Following on from part one, read on for part two where the focus shifts to Christmas trees and sales shopping.

Eco-Tips for the Christmas Leftovers Part 1
We've come up with some helpful ideas to tackle all of the Christmas leftovers and do our best for the environment.

GO APE REVIEW
As part of our exciting new Feel 50 Feet Tall campaign we challenged 'From Roses' blogger and influencer, Rebecca, to face her fears!

Go Ape Reviews

our top 5 go ape obstacles
From tarzan swings to speedy zip wires and tricky tightropes - what's your favourite Go Ape obstacle?
Go Ape Adventures
Family Days Out with the Kids
We put together the puzzle pieces for a fantastic family day out with the kids.

Bringing New Life to Old Walks
Top tips to inject some new life into lockdown strolls down familiar trails.

Emilie's Adventure
GoGet are a social enterprise that enable those with additional needs to get active. Read about Emilie's adventure at Go Ape Dalby.
The Top 8 UK Zip Wires
Go Ape Chrief Gorilla Tristram Mayhew shares his favourite UK zip wire experiences.
Fancy a forest break?
Get back to nature with a luxurious log cabin or treehouse stay with Forest Holidays.
Go Ape Explorer
Our top tips for working from home
Being able to turn your home environment into your work environment is not as easy as it sounds, so we have pulled together our top tips for those not used to working from home.

One woman's 34 site challenge
Verity Bailes has now zipped into the record books as the first woman to complete all 34 outdoor adventure sites in the UK! Find out more about her epic Go Ape Challenge and what inspired her personal mission.
Go Ape Challenge

have you heard about nets adventure?
We don't want to boast but Nets Adventure is totally tree-mendous!
Go Ape Adventures


taking it in her stride
Prepared to be impressed. Meet 84 year old Eileen - the oldest woman to complete a Go Ape course. (She's also run 19 marathons!)

Go Ape Adventures

An Amazing Swiss Alp Adventure
The Go Ape Tribe are an adventurous bunch! Find out about our recent five-day trek through the Swiss Alps.

Go Ape Explorer

days out in the lake district
A fan of stunning scenery? Us too! Check out things to do in this beautiful part of the UK.

Go Ape Explorer

how to cope with fear
Take the step to overcome your phobia with our handy tips.

Go Ape Tips

6 Awesome Winter Activities For Kids
Winter is here and Go Ape have more outdoor activities open than ever before. Here are our tips to entertain the kids.
Go Ape Tips

8 Reasons to Get Outdoors
We've compiled some motivational reasons to tear you away from that couch!

Go Ape Explorer

our ziptastic zip wires
Have you experienced the excitement of zip wiring at Go Ape yet?

Go Ape Adventures

Which is the best Go Ape in London?

Find Your Forest Feeling
Our friends Forest Holidays present your guide to finding your forest feeling.

The Go Ape Banana Relay: The Kayak Challenge
Read Head of Marketing, Jo O'Boyle FCIM blog on Go Ape's Kayak Challenge .

Corporate team building day at Go Ape Aberfoyle
Get the lowdown on a recent team building day Go Ape Aberfoyle.

Adventurous Steps to Well-being
This World Mental Health Day we look at the benefits of adventure to our mental well-being.
Days Out for Adult Adventurers
It's time to grab summer with both hands and fill it with adventure! We reveal some of the best days out in the UK for adult adventurers.
Reunite your work tribe
After months of lockdown we explore why Go Ape is the perfect place to reconnect with your work colleagues.
BLACK PARK - THE PLACE FOR FAMILY FUN IN SOUTH BUCKS
Discover the new courses and family fun at Go Ape Black Park.
NHS Hero to Go Ape Hero
NHS worker Clair is on a mission to overcome everything that makes her feel scared. We met her at Go Ape Sherwood Forest to smash her fear of heights.

CELEBRATING NATIONAL APPRENTICE WEEK
This week we are celebrating National Apprenticeship week. We are very proud to currently have a range of employees who are undertaking an apprenticeship alongside their role. From Site Managers to the team at Banana HQ.

Go Ape Wins Best Attraction in the School Travel Awards
We're so pleased to announce that we won the Best UK Attraction/Destination award at this year's School Travel Awards at the Royal Garden Hotel, London.

Gift Outdoor Adventure for Christmas
5 Reasons a Go Ape Gift Voucher makes the perfect gift this Christmas.

how to plan a child's birthday party
We've created a check-list to ensure your kid's birthday party is amazing!
Go Ape Tips

go ape adventure fund in action!
We helped our employee, Emily Bowie, to 'live life adventurously', with a kayak trip in the French Alps!
Go Ape Explorer

Combine Camping and Go Ape
A camping trip combined with a Go Ape experience is a match made in heaven! Is it time you took a digital detox?

Go Ape Explorer

Save on Your Next Go Ape
Fancy an adventure for less? Make the most of our early bird and student discounts.
Go Ape Money-Saving

our highest go ape adventures
Want to brave our longest zip wire or scale a 48-metre-high platform?
Go Ape Adventures


things to do in edinburgh
Plan some exciting activities in Edinburgh - one of Europe's most beautiful capital cities. Just don't forget to pack your kilt!
Go Ape Explorer