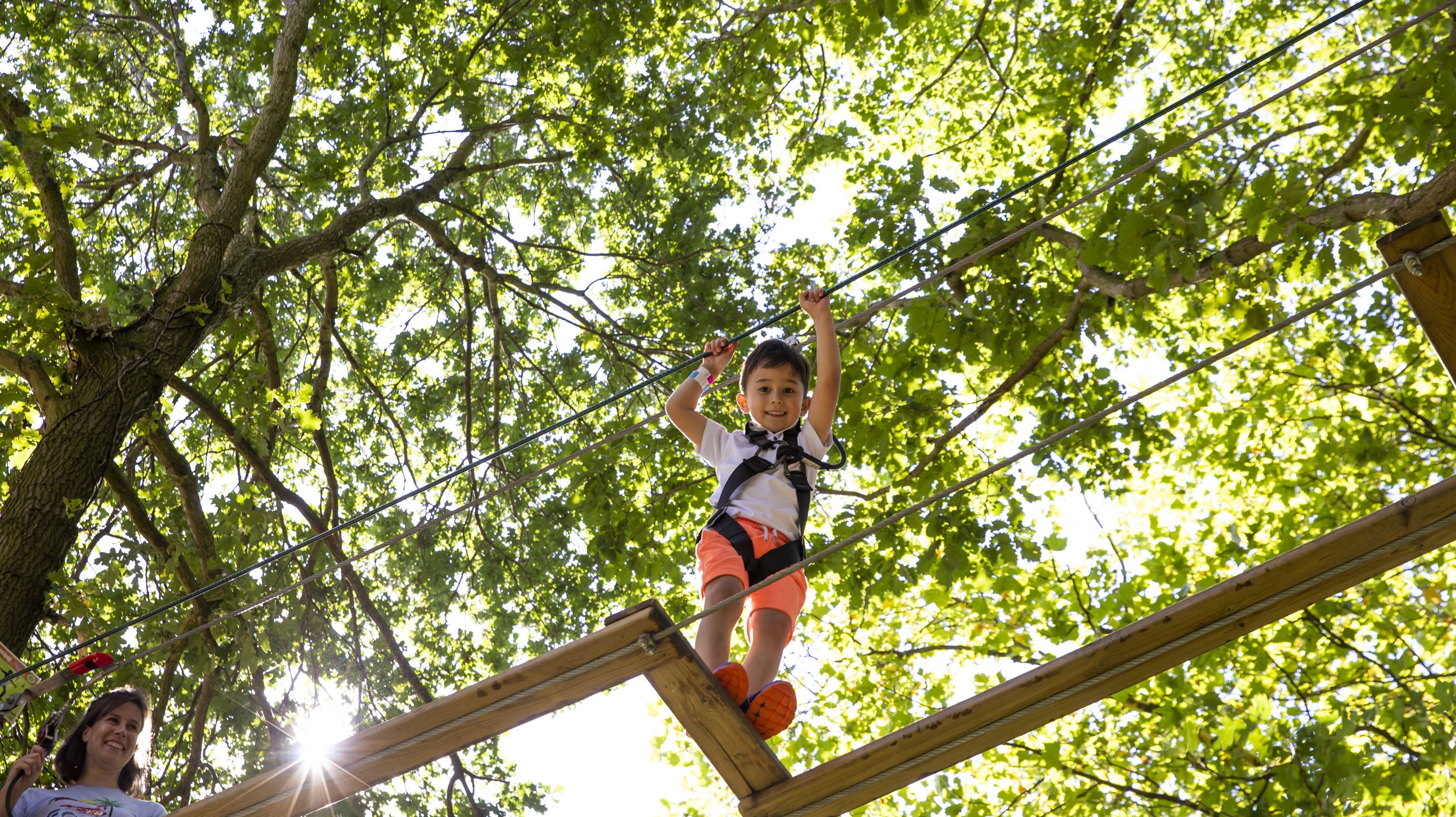 Is Go Ape suitable for a 5 year old?
With 36 fun-filled locations nationwide, Go Ape prides itself on having adventures suitable for all ages, from tots to centenarians! But, realistically, not every adventure can be suitable for everyone.
Go Ape is dedicated to ensuring that every site visitor and instructor is safe and happy on our courses. We have just been awarded the RoSPA Gold Award for Health and Safety practices for a fifth year in a row! This is why each adventure has restrictions and supervisor ratios.
We'll explain exactly which adventures your 5-year-old can do below but you can also find it on each adventure.

Nets Adventure is the ideal first adventure for tots taking their first steps up into the trees to those of you with an inner 5 year old trapped inside. The minimum age is 1 year old and little adventurers should be able to stand unaided. The maximum weight per person is also 130kg (20.5stones).
One participating adult (18+) can supervise up to two children aged under 6 while on the course. Supervisors for under 6's also go for FREE.
Aged 16+ can explore Nets Adventure unaccompanied but those aged 16-17 cannot supervise others.

Go Ape's classic Treetop Adventure is the next leap up into the canopy with twisty, wobbly crossings and zips galore! This high rope experience is ideal for all thrill seekers over 1m and the maximum weight is 130kg (20.5stones).
One participating adult (18+) can supervise up to two children aged under 6 while on the course. For 6-15 year olds, adults (18+) can supervise up to 5 children on the ground or on the activity.

Exclusively available at Go Ape Coventry, Coombe Abbey, budding rally drivers between 3-11 years old can take to four wheels on a Mini Land Rover adventure. The track has been built on the woodland trail near the cabin at and offers twists and turns that children will love - especially as your little they can have three laps on the course.
Adult supervisors can sit in the vehicle or walk alongside the vehicle and – don't worry – have a remote to operate the vehicles so they won't go speeding off into the sunset just yet. Training instructions is also provided before the activity begins.
Mini Land Rovers is run as a 'walk by' service only and operates most days that the Treetops course is open.
Treetop Adventure: the perfect adventure for a 5 year old