They say that he who dares, wins and we can testify that as you're swinging through the trees at one of our Go Ape adventures, letting loose with a Tarzan-esque yell, you'll feel like a winner, through and through!
GO APE DOESN'T JUST MAKE A GREAT DAY OUT FOR THE AVERAGE ADventure Nut!
Zip Trekking Adventure at Go Ape Grizedale

If you're looking for one of our most extreme adventures, we'd suggest heading over to Go Ape Grizedale, Cumbria. This unique site is surrounded by sumptuous Lake District scenery and is home to our Zip Trekking adventure, a network of seven tandem zips, made up of 3km of dual zip wires.
It's a whole other world up there we're not sure you'll want to come down! And once you do, we believe you'll have more of a head for heights than ever before!
Treetop Challenge at Go Ape Aberfoyle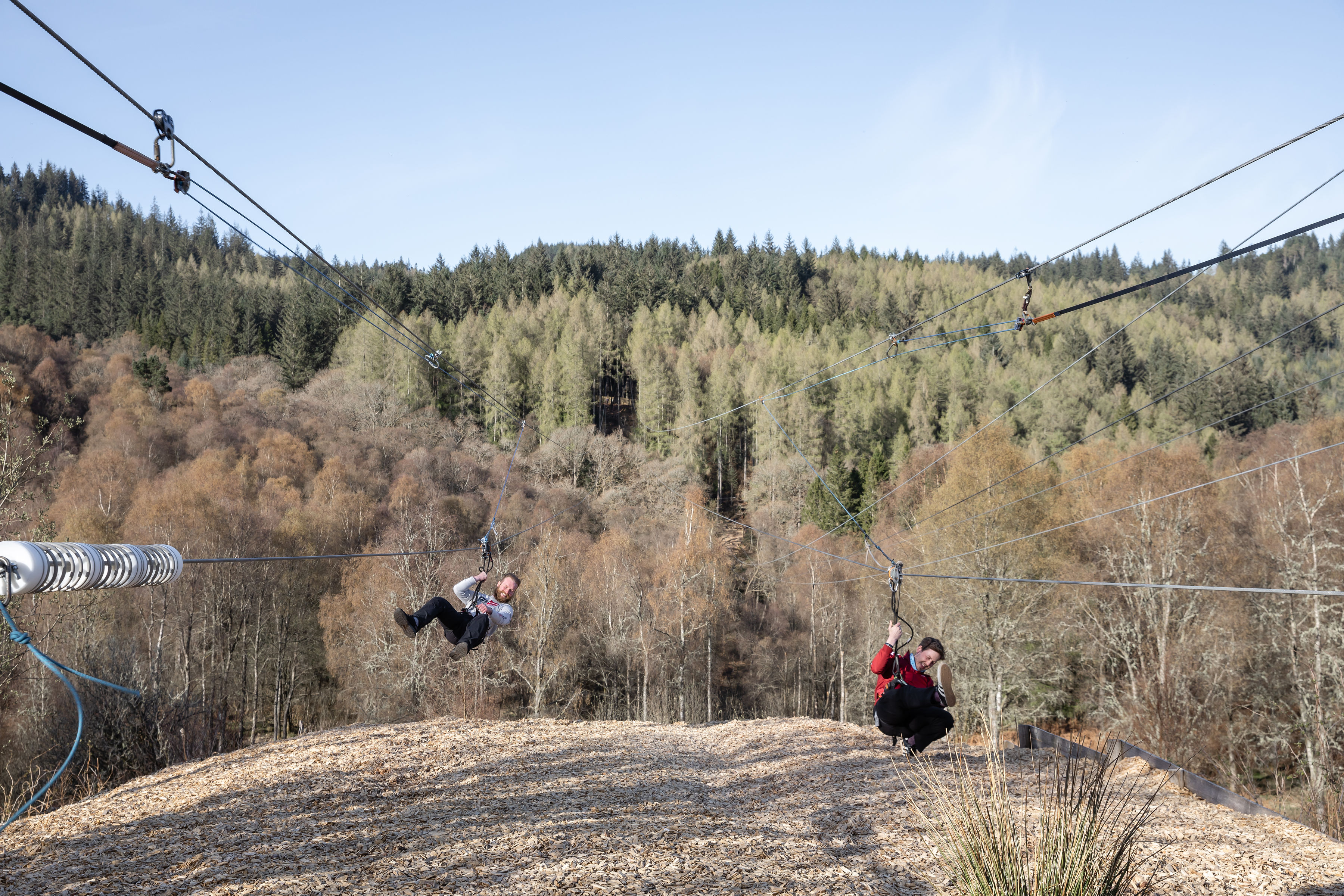 Go Ape Aberfoyle is in the stunning surroundings of Queen Elizabeth Forest Park and home to our highest Treetop Challenge course!
Home to two of the longest zips in the UK, you'll flying over trees and waterfalls with unprecedented, seasonal views of the hills, valleys and Highlands.
It's business from the get-go on this Treetop Challenge, with a colossal 323-metre zip thrill - before you've even tackled the tree top obstacles. Your reward? A whopping 45-metre-high, 426-metre-long flight back down to earth.
Treetop Challenge at Go Ape Glentress Forest, Peebles

Tucked away in the picturesque Glentress Forest, this hidden gem is an adrenaline-filled experience set against some of Scotland's most stunning scenery. The perfect backdrop to this dramatically challenging Go Ape Peebles course with a 325-metre-long zip wire across a valley that's a whopping 160ft high!

Let the adventure unfurl as you traverse 40+m high platforms through huge Douglas fir trees and zip over open water and mountain bike trails!
Treetop CHallenge at Go Ape Battersea Park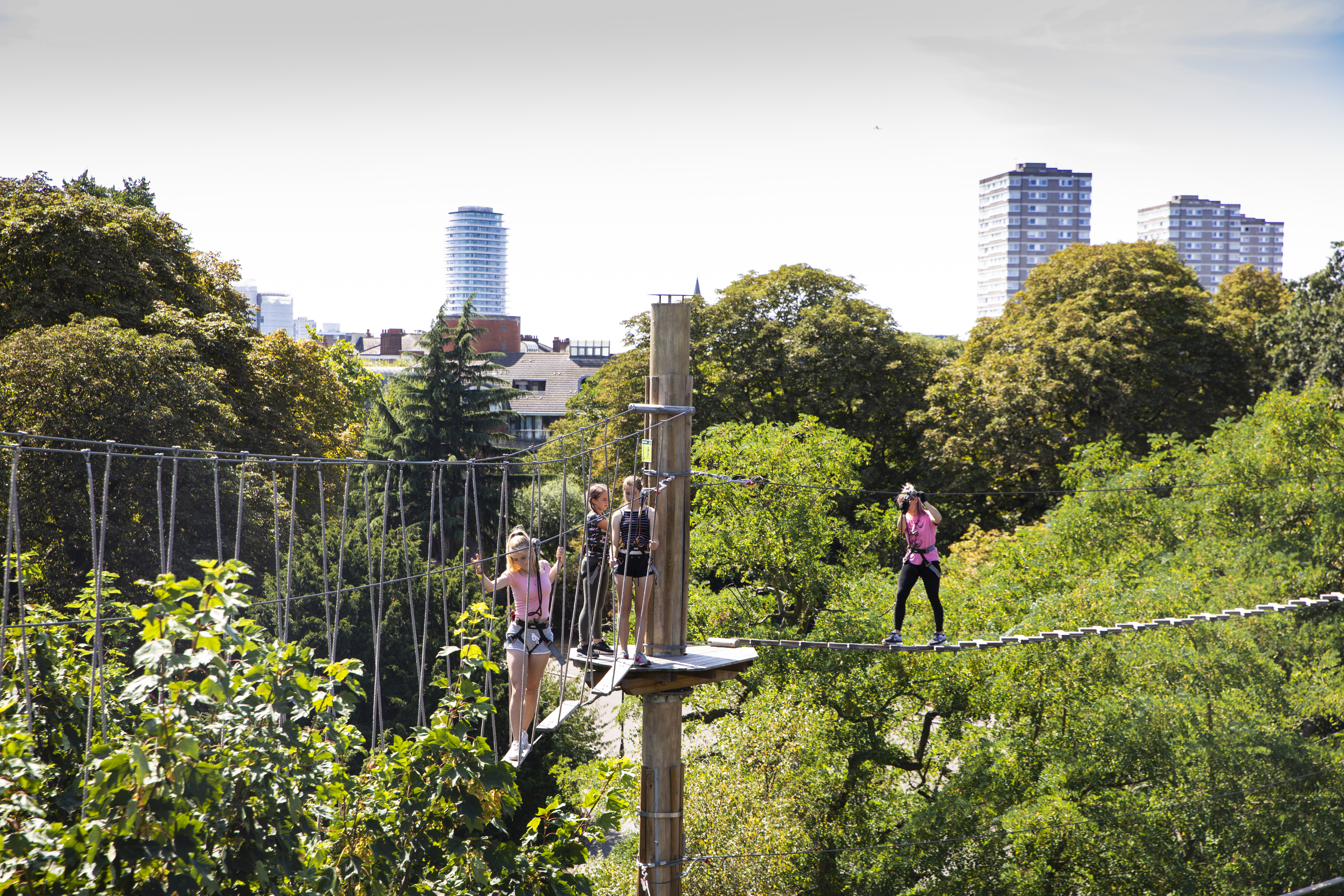 This is our most central urban adventure for height lovers.
There's more to this stacked course than meets the eye with people above, below and all around you! Take on new heights at Battersea's Treetop Challenge crossings which are twice the height of most Go Ape locations.

Once you've had your tree top fun there's plenty in the park to keep everyone entertained. Enjoy an amble among the trees or you can sit back and take in the beauty of the Old English Garden or the exotic in the Sub Tropical Gardens
Forest Segway at Go Ape Whinlatter

Go Ape Whinlatter is England's only true mountain forest and boasts dramatic views across this stunning landscape.
Soak it all in on our all-terrain Forest Segways , which will take you to incredible vantage points where you'll see all the way from Skiddaw to Helvellyn. This is definitely our most scenic Segway Safari and still fun if enveloped in cloud!
SO, WE ASK YOU AGAIN... DO YOU DARE?
Find Your Next Adventure