Treetop Adventure
Tackle the treetops and clamber through the high rope crossings in the parklands of Leeds Castle. There's no minimum age limit (need to be over 1m tall) so gather the family or groups of friends for an unquestionably unique day out, which will keep you all entertained. Steady your footing on the challenge of the Stepping Stones and the Log Bridge.

We recommend older, more adventurous children try our Treetop Adventure+! They'll tackle the original Treetop Adventure course to find their confidence before heading up a level to the Adventure+ loop.
Sundown Sessions are back
Sundown Sessions are returning from this October at Go Ape Leeds Castle. Discover more here.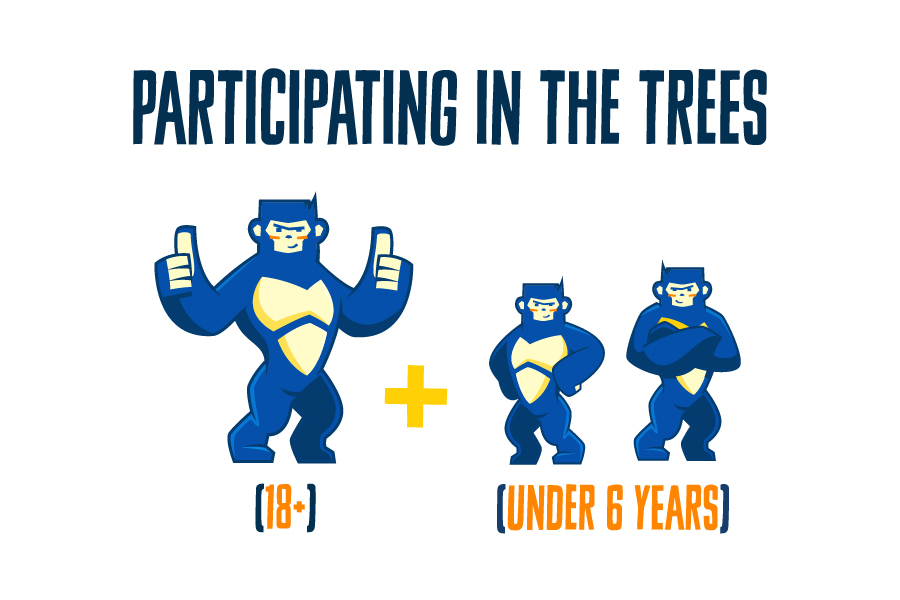 One participating adult (18+) to supervise up to two children aged under 6 while on the course.
An adult (18+) can supervise up to 8 children aged 6-15 years and from the ground or on the activity.
Sundown Sessions at Go Ape Leeds Castle
You can swing through the trees on Treetop Adventure and Treetop Adventure Plus this winter at Go Ape Leeds Castle. Tackle mega-high platforms in the darkness or feel the speed of a zip wire as the sun goes down. With minimal lighting, these sense heightening experiences really do add a new level of excitement into the mix. After all, everybody knows that when the sun goes down the real fun begins…
What and when can I book?
Treetop Adventure and Treeop Adventure Plus:
After 16:30 between 23rd October and 31st October.
After 16:30 on Saturdays between 13th November and 11th December.
After 16:00 between 18th and 30th December.
How do I book?
1. Click the 'book now' button at the top of your screen.
2. Choose your preferred location and chosen activity
3. Select your date and time, Sundown Sessions usually start after 5pm, but times can vary by site.
4. From here, follow the usual check-out process, but be quick as spaces are limited!

*Offer Terms & Conditions
Standard booking terms and conditions apply. See goape.co.uk for details.
Offer valid on Treetop Adventure at Leeds Castle only.
Offer applies to bookings of two adults over 18 years and two children under 18, undertaking the same activity on the same day.
Offer excludes purchase of all other locations, activities, corporate events, school trips and gift vouchers.
The promoter, Go Ape, reserves the right to suspend, cancel or modify the promotion at any time.
Supervision and participation ratios still apply.
Any cancellations will result in the remaining participants being charged at full price.