Rupert Jones-Warner Summit to City FKT
Kanchenjunga Summit to Kathmandu in the Fastest Known Time
Summit to City FKT
Rupert Jones-Warner: Kanchenjunga Summit to Kathmandu in the Fastest Known Time
This April, Rupert Jones-Warner will begin his next great adventure when he climbs Kanchenjunga, the third highest mountain in the world. If this wasn't challenging enough, he will then descend and travel 330 miles by foot through the high Himalayas and back to Kathmandu.
We are delighted to be supporting Rupert on his incredible expedition, and he will be documenting his journey from the final stages of preperation until the very end on the Go Ape website.
Quick Links
The immense expedition will incorporate a variety of adventurous disciplines such as high altitude mountaineering, trekking and ultra running through some of the most beautiful and demanding environments on the planet.
The adventure will start in the eastern Himalayas with a journey to the third highest point on the planet - Mount Kanchenjunga. A journey on foot will follow this through the high Himalayas, foothills and jungle of Nepal to the heart of Kathmandu. The whole expedition will take approximately 70 days and will be split up into two phases.

Phase 1
The first phase (Phase 1) will be the ascent of Kanchenjunga and will take up to 6 weeks to complete. After approximately a ten-day journey to Base Camp, Rupert will start his climb of Kanchenjunga. He will be part of a small elite team that will face temperatures of -40°C, winds up to 100mph, and altitudes exceeding 8,000m.
Phase 2
When Rupert descends to Kanchenjunga's base camp, he will begin the gruelling 330-mile trek to Kathmandu. The route will be extremely demanding on Rupert's tired body because of the freezing temperatures at altitudes of up to 6,000m.
Rupert will cover between 20-40 miles a day depending on the terrain staying in teahouses along the way. The whole journey is approximately 330 miles and will include about 20,000+m of incline.
Ruperts route follows the Great Himalayan Trail, which starts at Kanchenjunga Base Camp. After 250 miles and after passing Everest. Rupert will leave the Great Himalayan Trail and travel south into the foothills before heading 50 miles through the jungles towards his endpoint of Kathmandu.
8

th JUNE 2022
time for some rest, relaxation and reflection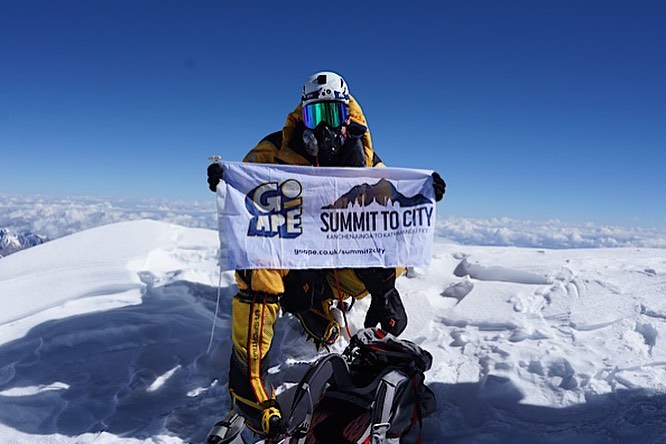 Firstly, some final details on the closing stages for Rupert's epic accomplishment; the intention had been to make the final 100mile stretch in one push. This is something Rupert has done before in ultra races, but seven weeks into many mountain miles, including the summit of the world's third highest mountain, Rupert wisely took some rest part was through.
The final day on the trail still included a 4am start and then a day of trekking though mountainous terrain, then sticky jungle before finally hitting the highway and arriving in Kathmandu at just gone midnight.
We're thankful to report that Rupert has had the chance for some well-earned R&R, and he's been reflecting on the Summit to City project and what he has achieved.
"The Summit to City project is now officially over and what an incredible journey it has been. Several months ago I rather optimistically decided I was going to take on this mad project on. The project would start on the summit of Kanchenjunga (the worlds third highest mountain) and from there I would run 330 miles back to Kathmandu via Everest Basecamp. This is assuming I would summit Kanch, something that earlier this year had been accomplished by around 15 Brits… Then after that I would run what I thought was going to be 330 miles through the Himalayas… Rather ambitious, but I thought if I didn't think about it too much it would be fine.

After almost four weeks in Nepal the team summited Kanchenjunga on 12th May and that signified the start of the 'Summit to City' project. The clock started, the team flew out of Basecamp in a heli and I was left at a rather quiet basecamp with what I thought was going to be a 330 mile journey on foot. Rather daunting. Less than two weeks later, I made it to Everest Basecamp with the support from Lucy Roch and brother Will and that was the start of the final leg that took us back to Kathmandu (and more importantly Fire and Ice Pizzeria).

At 0056 on June 6th, after 518hrs 53mins 44secs, 1119km (695miles), 881,608 steps and 31,117m ascent / 35,145m decent, Lucy and I stumbled into Kathmandu. A little further than the 330miles expected!"
6th JUNE 2022
CHALLENGE COMPLETE!
A massive congratulation to Rupert, who completed his challenge at 00:56 on Monday, 6th June. And set the fastest known time from the summit of Kanchenjunga to the city of Kathmandu.
The journey of 1,119km or 695miles took Rupert 518hours, 53minutes and 44seconds.
There will be more to follow until then; Well done, Rupert from all of the Go Ape Tribe.
4th JUNE 2022
PLODDING ON TOGETHER
Accompanied by his partner Lucy, Rupert is on the final 100mile blast of the summit to city challenge.
They report feeling tired and looking forward to the end, but have had their hopes buoyed with their first glimpse of the city.
3rd JUNE 2022
100 MILES TO GO, SO LET'S RUN THEM
Rupert has put 900km behind him, and reports that the last few days have been exceptionally demanding. Despite that he plans to run the final 100 miles to Kathmandu. He explains more:
"It's has been so great having Will and Lucy on this journey to keep my morale going, but tomorrow I say goodbye to Will as he has to fly home tomorrow morning and I will run the final 100 miles with Lucy from Jiri to Kathmandu in one push.
We are giving Will pretty much all our kit and going with just one running vest. Having been weighed down the last few weeks with excess kit it will be nice to drop the unwanted weight and just go for it.
I am shattered. The legs are fed up. The mind is fed up and I just want to get back to Kathmandu now. Best way to solve that I thought was running 100 miles in one go. I'm a little apprehensive as I have only run that distance in race conditions with a set course and aid stations, not going on a YOLO afternoon run in the Himalayas. Let's see."
31st MAY 2022
SO LONG KHUMBU
Rupert has been heading south once more, back towards Lukla, from which point the trail heads east to Kathmandu.
Now leaving the Khumbu region, the terrain will once again become more forested, with the abundance of wildlife including the pretty and the pests, such as leeches, leeches and more leeches!
So far Rupert has racked up over 700km on the trail from Kanchenjunga. How he's still going is beyond us, but let's just say he's made of different stuff!
29th MAY 2022
EVEREST BASE CAMP
"Last night we finally made it to Everest marking the final phase of the project which is the route from Everest to Kathmandu!

The weather the last few days hasn't been great with clouds covering the mountains. That said, when we finally made it to the top of Kala Pattar (at 5600m) the clouds parted and we were left with a beautiful view of the mountains. Everest just showed her face but the summit was slightly hidden.

Today Lucy, Will and I push down from Lobuche to Lukla and tomorrow morning we will push out into new territory.

Now I start the final leg… I'm feeling worn out and ready to finish! So happy to have Will and Lucy here to support."

27th MAY 2022
EVEREST BOUND WITH COMPANY
Rest days have been an important part of the strategy for Summit to City, and after a tactical break yesterday, Rupert is bound for Everest base camp, and for the first time in over a week he's got company on the trail.
A day to catch his breath and the company of Lucy and Will has given Rupert time to reflect and put him in thankful mood:
"I had a great rest day yesterday at Namche Bazaar and tomorrow Lucy, Will and I will push up to Everest base camp before we start the final leg of the journey… the 330km run back to Kathmandu.
Thanks to the amazing team on Kanchenjunga we summited, starting the 'Summit to City' project and so far I have travelled from the summit, 550km across to Nepal and into the Khumbu. It has been an incredible journey and so far everything has fallen into place and gone to plan!

I'd like to say a massive thank you to my sponsors and everyone who has supported me on this journey and made it possible! It really has been an adventure of a lifetime!"
You're welcome Rupert, you're such a massive inspiration
25th MAY 2022
ENTERING THE KHUMBU
After a massive push and ticking past 500km on the trail, Rupert has arrived at Lukla, the gateway to the Khumbu, the region that is home to Mount Everest.
He'll soon link up with his partner Lucy and brother Will to make the journey up to Everest Base Camp.
"Rope bridges, raging rivers, thick forests and butterflies the size of birds. It feel like I am in an Indiana Jones film… This expedition has had everything and it's hard to imagine that under two weeks ago I was standing on the summit of the worlds third highest mountain.
The last few days have been exceptionally demanding. The passes that look relatively straightforward have seemed endless and extremely demanding. The route is far less travelled than the Everest Basecamp route and as a result, food stops are fewer and further between. My diet has suffered as a result, I can't get my hands on any water.
All in all on these hot days I have about 4/5 litres of fizzy drink and feel like absolute rubbish. Then the next day I start all over again… let's just say getting Lukla has been a dream come true."
20th MAY 2022
Smart Choices
As well as the intense physical challenge of Summit to City, there's also the mental challenge and a good deal of managing both well that's going to see Rupert make this monumental achievement.
Today was all about playing it smart. Having originally planned to cruise through Tumlingstar and then a further 20km to Gothe Bazaar, Rupert could feel the early signs of an injury coming on. Wisely he stopped at Tumlingstar to recharge, recuperate and re-focus.
"After six days on the trail my body is certainly feeling it and as soon as I sat down I fell asleep. I'm going to use this afternoon the recharge the batteries and start my push up to Lukla in the morning.
I have also been listening to several audiobooks including Michael Palins 'Himalaya' and a book about Shackleton. After listening I realised I have NOTHING to moan about the last few days. I'm slightly embarrassed I even hinted I was feeling sorry for myself. Morale back up. Clothes washed. Rupert washed (I stank). Rupert fed. Rupert ready for tomorrow."
19th MAY 2022
The never-ending trail
How long is the trail from Taplejong to Chainpur? As it turns out, about the same length as a piece of string.
Originally told that the journey would take four hours, then a day, and finally three days, Rupert managed to overcome that psychological hurdle to make it just under two.
"The first 24 hours was solid up with extreme heat and I thought it would never end. I covered hardly any ground. Yesterday I made it to the top of the never ending mountain and was invited in by the man who lived on the summit for some Dal Bhat and from there it was all downhill."
Rupert is now about halfway from Kanchenjunga to Everest base camp, and about a third of the way along his journey back to Kathmandu.
17th MAY 2022
Sleep makes tHe world of difference
Day three of Summit to City and Rupert is hitting his stride. After some good rest in Ranipul he was feeling energised, and finding the trail easing off for gradient only helped. On day three he covered 50km, and as he tells us, made even more new friends:
"I have also been attracting quite a bit of attention. Most of the locals who talked to me thought I was completely mad and I sort of gathered a little Forrest Gump following. By the time I got to Taplejong I had a little team of 5 people following me. Showing me the route. Telling me where to rest and even showing me to the hotel. The people of Nepal have been overwhelmingly kind."
16th MAY 2022
Finding the forest, but no respite
Day two of phase two and Rupert is on a mission to set the fastest known time by foot from the summit of Kanchenjunga to the city of Kathmandu.
After a horrid day battling through the Yalung Glacier, day two hasn't offered him a break. Rupert tells us more:
"After spending the whole of yesterday trying to cross a glacier I thought today's journey could only be easier on foot, and I could cover some serious ground. I was wrong!
I left Tserum at 0500 in the rain and the trail only got harder and harder from there on. In terms of hills I'm pretty sure I made more incline yesterday than I did on most of my rotations on Kanchenjunga.
I did make a lot of new friends though; hundreds of leeches, a random bull, butterflies the size of small birds lots of massive insects.
Feet struggling, but they are ok."
15th MAY 2022
Battling across the YalunG glacier
Day one of the trek/run back to Kathmandu and it's been a tough one. Still at 5,400m of altitude Rupert's first challenge in this phase has been battling his way through the undulating rock and ice of the Yalung Glacier. He explains more:
"On the way up it took the team 12 hours and one member was so exhausted he had to be put on oxygen. There is no set path as no one ever travels up it. There is no need… I set out trying to follow two porters but didn't stay with them long. I couldn't match their speed and despite looking like they have massive loads it turned out my bag was actually heavier… great."
12th MAY 2022
Rupert Hits the Summit
Rupert has summited Kanchenjunga, the world's thrid highest mountain at 8,586m!
What a massive acheivement, but for Rupert it's the end of phase one and the start of phase two. He's now on his way back to base camp, as he explains:
"This [phase 2] is where I will travel from Kanchenjunga to Kathmandu travelling via Everest Basecamp. I will say goodbye to the team and set off with the aim of heading to Lukla, what is probably best known for being the gateway to the Solukhumbu Valley. From there I will make my way up to Everest and tag Everest Basecamp before turning around and returning back to Kathmandu. I don't know how long this will take me… my focus now is getting to Lukla. That's tomorrows challenge (and maybe a few other days…) Its a bit daunting this phase. My body is exhausted!"
8th MAY 2022
FINAL Rotation Completed
Rupert and the team have spent the last few days either in the tent at Camp 2 or pushing up to Camp 3 on Kanchenjunga. The aim was to acclimatise to the altitude as best as possible.
They're now back at base camp after 4 days. It'll be a quick turn around before heading back up the mountain for a summit push. The weather is looking promising and they'll have the opportunity to summit within the next week. Then the clock starts on phase 2 of Rupert's Summit to City FKT challenge.
30th April 2022
Heading Up The Mounatin
Rupert and the team have been for their first 'bimble' up the mountain. It was the next step in acclimatising to the altitude and also allowed them to drop kit of at camp1, 6,200m.
Now back at base camp, they'll re-group, wait for some weather to pass and then head back up on their next rotation.
25th April 2022
The Team Arrive at Base Camp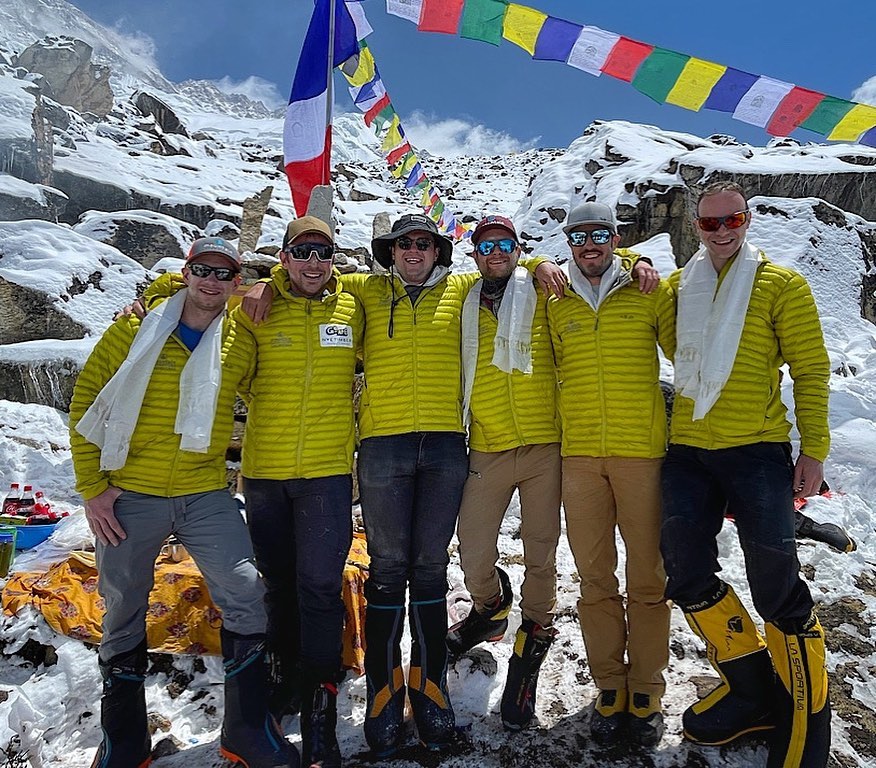 Since departing the comfort of the hotel in Kathmandu, Rupert and the team have taken an internal flight to Bhadrapur followed by an 8 hour off-road Jeep ride to reach the trial head.
From there the trek to base camp began, culminating with a realtively gentle ascent of the yulung glacier to base camp. The journey so far has been important for Rupert to begin aclimtising to the altitude.
As expected there's been little communication possible during the trek to base camp, but we hope to receive news, photos and video updates from Rupert soon.
12th April 2022
The Journey Begins
It's travel day and Rupert is heading east from London Heathrow to Kathmandu, Nepal. Once there he'll spend a few days with the small, elite team lead, preparing their kit and making final preperations before the journey further east to the mountain.
Rupert has always loved the great outdoors. Growing up, he spent his time running, cycling and sailing as part of the Royal Yachting Association Team GBR National Youth Squad in international regattas worldwide.
His love of the outdoors eventually led him in search of a challenge in the great heights of the Himalayas. At the age of 22, having been inspired by famous climbers, he took up mountaineering for the first time.
He attempted to break two records only one year later by becoming the first Briton and the youngest ever to climb Mount Everest twice, on two routes, consecutively. Rupert certainly doesn't take things lightly!
Six weeks into the expedition, the Nepalese earthquake struck. The convulsions tragically caused 19 fatalities on the mountain, and Rupert had to abandon the pursuit.


In 2018, he revisited the attempt. Despite summiting Everest on 17th May, he could not complete his double ascent because his supplementary oxygen was stolen.
Less than a year later, and despite the odds, he summited the notorious Annapurna, described as 'the world's most dangerous mountain' becoming one of only a handful of Britons to do so, as well as becoming the youngest.
As well as mountaineering, Rupert is a keen runner competing in long-distance ultra marathons around the world. He has spent four years serving in the United Kingdom Special Forces and is combining his training with his mountaineering ambitions to set new standards on the highest mountains on the planet.
Tribe Talks with Rupert Jones-Warner
Grab yourself a cuppa and sit down to watch our latest Tribe Talks video. Find out how Rupert got into climbing, hear about his exciting and incredible expeditions and how he's preparing for Summit 2 City FKT.
Overcoming fears and barriers to success
We all have fears and doubts or moments of self-doubt, even experienced mountaineers like Rupert. Discover how Rupert pushes himself out of his comfort zone and how he copes when faced with self-doubt.
Risk vs reward
At Go Ape, we passionately believe that zero risk equals zero rewards. Find out how Rupert balances risk versus reward on his expeditions.
dealing with failure
Failure is something we all have to deal with from time to time. It's an essential part of growing as an individual, team or business. Rupert has faced disappointments on his journey. Find out how he deals with a knockback in our latest video.