Summit to City FKT
Rupert Jones-Warner: Kanchenjunga Summit to Kathmandu in the Fastest Known Time
This April, Rupert Jones-Warner will begin his next great adventure when he climbs Kanchenjunga, the third highest mountain in the world. If this wasn't challenging enough, he will then descend and travel 330 miles by foot through the high Himalayas and back to Kathmandu.
We are delighted to be supporting Rupert on his incredible expedition, and he will be documenting his journey from the final stages of preperation until the very end on the Go Ape website.
Quick Links
The immense expedition will incorporate a variety of adventurous disciplines such as high altitude mountaineering, trekking and ultra running through some of the most beautiful and demanding environments on the planet.
The adventure will start in the eastern Himalayas with a journey to the third highest point on the planet - Mount Kanchenjunga. A journey on foot will follow this through the high Himalayas, foothills and jungle of Nepal to the heart of Kathmandu. The whole expedition will take approximately 70 days and will be split up into two phases.

Phase 1
The first phase (Phase 1) will be the ascent of Kanchenjunga and will take up to 6 weeks to complete. After approximately a ten-day journey to Base Camp, Rupert will start his climb of Kanchenjunga. He will be part of a small elite team that will face temperatures of -40°C, winds up to 100mph, and altitudes exceeding 8,000m.
Phase 2
When Rupert descends to Kanchenjunga's base camp, he will begin the gruelling 330-mile trek to Kathmandu. The route will be extremely demanding on Rupert's tired body because of the freezing temperatures at altitudes of up to 6,000m.
Rupert will cover between 20-40 miles a day depending on the terrain staying in teahouses along the way. The whole journey is approximately 330 miles and will include about 20,000+m of incline.
Ruperts route follows the Great Himalayan Trail, which starts at Kanchenjunga Base Camp. After 250 miles and after passing Everest. Rupert will leave the Great Himalayan Trail and travel south into the foothills before heading 50 miles through the jungles towards his endpoint of Kathmandu.
8th MAY 2022
FINAL Rotation Completed
Rupert and the team have spent the last few days either in the tent at Camp 2 or pushing up to Camp 3 on Kanchenjunga. The aim was to acclimatise to the altitude as best as possible.
They're now back at base camp after 4 days. It'll be a quick turn around before heading back up the mountain for a summit push. The weather is looking promising and they'll have the opportunity to summit within the next week. Then the clock starts on phase 2 of Rupert's Summit to City FKT challenge.
30th April 2022
Heading Up The Mounatin
Rupert and the team have been for their first 'bimble' up the mountain. It was the next step in acclimatising to the altitude and also allowed them to drop kit of at camp1, 6,200m.
Now back at base camp, they'll re-group, wait for some weather to pass and then head back up on their next rotation.
25th April 2022
The Team Arrive at Base Camp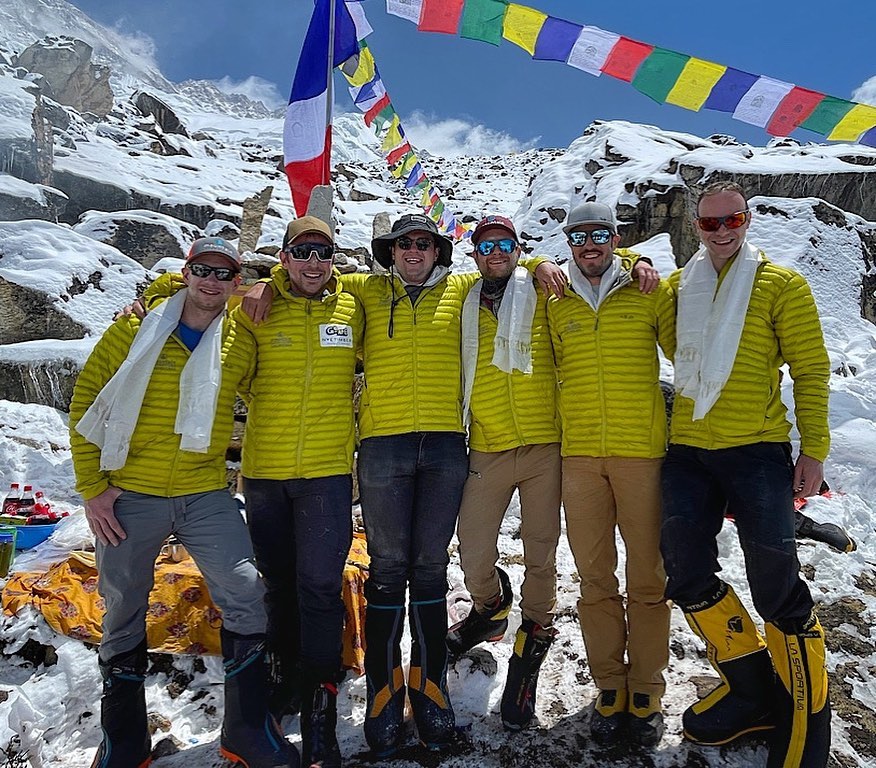 Since departing the comfort of the hotel in Kathmandu, Rupert and the team have taken an internal flight to Bhadrapur followed by an 8 hour off-road Jeep ride to reach the trial head.
From there the trek to base camp began, culminating with a realtively gentle ascent of the yulung glacier to base camp. The journey so far has been important for Rupert to begin aclimtising to the altitude.
As expected there's been little communication possible during the trek to base camp, but we hope to receive news, photos and video updates from Rupert soon.
12th April 2022
The Journey Begins
It's travel day and Rupert is heading east from London Heathrow to Kathmandu, Nepal. Once there he'll spend a few days with the small, elite team lead, preparing their kit and making final preperations before the journey further east to the mountain.
Rupert has always loved the great outdoors. Growing up, he spent his time running, cycling and sailing as part of the Royal Yachting Association Team GBR National Youth Squad in international regattas worldwide.
His love of the outdoors eventually led him in search of a challenge in the great heights of the Himalayas. At the age of 22, having been inspired by famous climbers, he took up mountaineering for the first time.
He attempted to break two records only one year later by becoming the first Briton and the youngest ever to climb Mount Everest twice, on two routes, consecutively. Rupert certainly doesn't take things lightly!
Six weeks into the expedition, the Nepalese earthquake struck. The convulsions tragically caused 19 fatalities on the mountain, and Rupert had to abandon the pursuit.


In 2018, he revisited the attempt. Despite summiting Everest on 17th May, he could not complete his double ascent because his supplementary oxygen was stolen.
Less than a year later, and despite the odds, he summited the notorious Annapurna, described as 'the world's most dangerous mountain' becoming one of only a handful of Britons to do so, as well as becoming the youngest.
As well as mountaineering, Rupert is a keen runner competing in long-distance ultra marathons around the world. He has spent four years serving in the United Kingdom Special Forces and is combining his training with his mountaineering ambitions to set new standards on the highest mountains on the planet.
Tribe Talks with Rupert Jones-Warner
Grab yourself a cuppa and sit down to watch our latest Tribe Talks video. Find out how Rupert got into climbing, hear about his exciting and incredible expeditions and how he's preparing for Summit 2 City FKT.
Overcoming fears and barriers to success
We all have fears and doubts or moments of self-doubt, even experienced mountaineers like Rupert. Discover how Rupert pushes himself out of his comfort zone and how he copes when faced with self-doubt.
Risk vs reward
At Go Ape, we passionately believe that zero risk equals zero rewards. Find out how Rupert balances risk versus reward on his expeditions.
dealing with failure
Failure is something we all have to deal with from time to time. It's an essential part of growing as an individual, team or business. Rupert has faced disappointments on his journey. Find out how he deals with a knockback in our latest video.