Kids birthday parties
Are you planning a children's birthday party in Coventry? Look no further than Go Ape Coventry at Coombe Abbey.

Choose from four exciting activities within Coombe Abbey Country Park. Top off the party by hiring our Forest Shelter, where you can serve up party food, play party games and open presents.

A children's birthday party experience at Go Ape Coventry is full of thrills and excitement, perfect for an unforgettable children's birthday.
Prices: From £20 per person/activity
choose your children's birthday party activity
★★★★★
"My son had his 8th birthday party, and they all absolutely loved it. My son said it was the best day he's ever had!
Hire a forest Shelter
Why not hire a private forest shelter? You can use it to decorate, serve party food, play games and, most importantly, open presents.
All this for just £30 per hour.
Sounds good, right? To book, please call our booking line on 01603 895 500.


children's Party Bags & Gloves
Party bags are available for just £5 and include:
Monkey mask
Coloured pencils
Pencil
Snapband
Medal
Keep their hands warm and protected with a pair of Go Ape gloves.
Buy online or by calling 01603 895500.
free party invites
Send hassle free invites
Includes information on arriving, what to wear and parking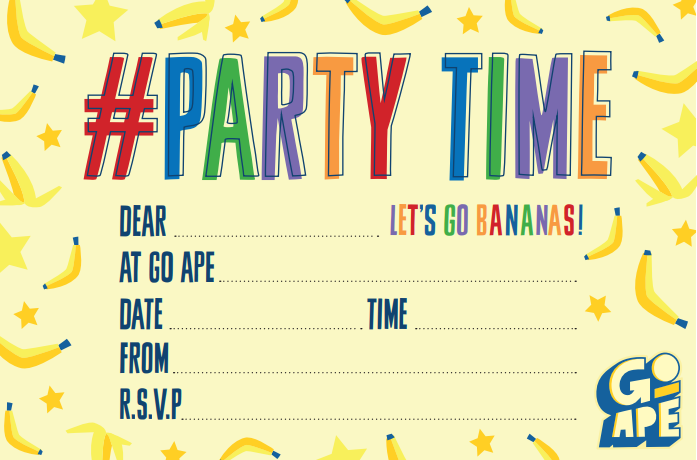 How to book a go Ape children's birthday party
Click book now and choose your preferred birthday party adventure at Go Ape Coventry
Select the date and time for your party session
During the checkout process, you can add extras like children's party bags and gloves
Book a forest shelter by calling 01603 895500
If you have any questions, our Customer Care Team can be contacted from 8am to 6pm Monday to Friday and 9am to 5pm at weekends.

★★★★★


"As a last-minute birthday party idea, this has to be one of the easiest events for parents and the most enjoyable for the kids. The staff were fantastic as always, thank you!"
Go ape Coventry birthday parties: FAQs
How do I book a children's birthday party?
To make a booking via our website, click the "book now" button. From here, choose "Coventry" and your activity and follow the steps through to the payment page. During the checkout process, you will be able to add additional extras to your bookings, such as party bags, gloves and other merchandise.
Alternatively, you can call our Customer Care team on 01603 895 500 to make a booking, including booking a Forest Shelter. The Customer Care team is available between 8am-6pm on weekdays, and 9am-5pm on weekends. Telephone bookings are subject to a £3 booking fee.
Do you offer kids birthday party packages at Coventry?
We do not offer birthday packages, as such, but rather additional extras to make your Go Ape adventure extra special.
How much do outdoor birthday parties cost?
Prices start from £19 per person.
You have the option to add extras such as party bags (£5 per person), gloves (from £3.95 per person) and hiring a Forest Shelter (£30 per hour).
What is included within a party bag?
Our popular party bags include:
Monkey Mask

Coloured Pencils

Pencil

Yoyo

Medal
How do I know what your availability is like?
For our most up to date availability, we would advise checking out our website and using the "book now" function. Our booking calendar is updated automatically, so the dates and times available will be our current availability.
There aren't enough free slots when I want to book. What should I do?
For Treetop Adventure, Treetop Adventure Plus and Treetop Challenge, you can book the session before or after. We will ensure that your party complete the activity together, although large groups may be split for the safety briefing.
What happens if it rains on the day of the booking?
Go Ape is an excellent "all-weather" activity. We have received lots of positive feedback from participants who have attended in the rain, with some even saying it adds to the fun. We advise dressing appropriately for the weather so that this does not dampen your experience. A spare set of clothes is also handy, so you can get changed at the end of your activity. Not all of our sites offer changing room facilities, but most of our locations have public toilets available for this.
Do you ever have to close because of the weather?
Safety is always our number one priority, so we occasionally have to close if the weather is deemed unsafe due to adverse weather such as high winds, thunderstorms, or thick ice. Our team will get in touch as soon as possible via the contact number provided if your visit is impacted. We will also post updates via the Go Ape location's social media channels too.
Our team on site assesses the weather every morning before opening to the public to ensure it is safe to operate and throughout the day for any changes. If you are not contacted, then your booking will be going ahead as scheduled.
Do you offer discounts for party bookings?
Unfortunately, we do not offer a discount for birthday bookings.
I need to make an amendment. Can I do this?
Absolutely. We understand that planning a birthday party can be a stressful experience, and sometimes plans and party sizes change. If you are amending your booking with more than 7-days to your booking date, amendments are free of charge and can be done via our customer care team at [email protected], or alternatively by calling 01603 895 500.
If you are within the 7-day period and more than 48 hours before your activity, you will need to contact our booking team to make your amendment. Amendments are subject to a £5 administration fee.
Within 48 hours of your activity, it isn't possible to make an amendment
Can I reserve a booking, and do you offer a deposit scheme?
It isn't possible to reserve a booking, and we don't offer a deposit scheme. However, our booking terms and conditions are flexible, so you can receive a full refund if you cancel more than 7 days ahead of your birthday party.
What is your minimum/maximum size for a birthday booking?
We don't have a minimum or maximum booking size for birthday bookings! If you would like to book for more participants than is available in your chosen timeslot, we advise booking subsequent sessions accordingly.
Who needs to sign the children's safety disclaimers? Is it me or their parents?
The disclaimer needs to be signed by the supervising adult (18+). Each activity has full supervision ratios. Please refer to these before booking.