Treetop Adventure
Located deep in the magical Wyre Forest, this spectacular opportunity for exploration is just waiting for you to get stuck-in! There's no minimum age limit but explorers need to be at least 1m tall to tackle the several hours of high ropes obstacles. This great confidence builder will have you ducking and diving through the Half Noughts and Crosses, flying by on the zip wire and testing your nerves on the wobbly bridges. Don't forget to have your camera ready as the Flying Carpet is a picture perfect moment. This one will leave you smiling all day.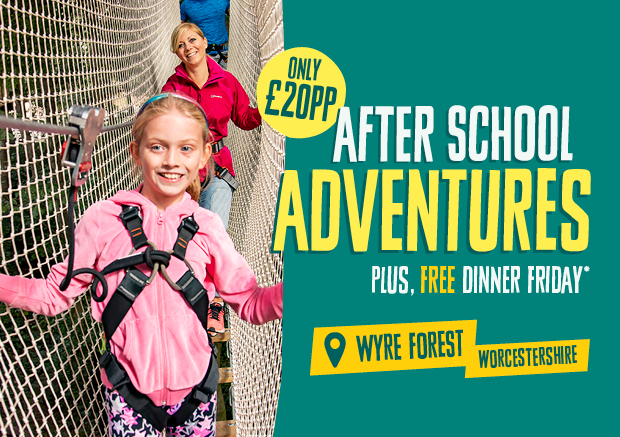 After School Adventures
Swing by Wyre Forest for an after school adventure. Our Treetop Adventure course will be open Monday to Friday from 15:30, so your Tribe can enjoy an epic adventure for just £20 per person
Free dinner Fridays
On Fridays, kids eat free at the Wyre Forest Cafe. Each child can enjoy an hour on Treetop Adventure followed by a delicious pizza and ice cream or slush.
Spaces are limited, so book your session today.
When booking a Free Dinner Friday session, you will be prompted to select to add a free dinner to your order. When you arrive for your session, you will order your pizza, and it'll be ready for the end of your session.
the Key details
From 15:30 Monday - Friday between Friday 29th April and Friday 22nd July (exclusing Whitson school holidays)

£20 per person

Plus, kids eat free on Fridays

To book an After School Adventure; click "book now" and select "Treetop Adventure" and follow the steps until your payment is completed

There's nowhere like the forest first thing in the morning and since the kids are up early anyway, head out to the woods to make some memories together. With this special offer exclusively at Go Ape Wyre, your family can experience the fun, beauty and fresh air of the forest just as the day begins.
limited time only

Up to 25% off

For all sessions before 10am

Discount applied automatically at checkout


One participating adult (18+) to supervise up to two children aged under 6 while on the course.

An Adult (18+) to supervise up to 8 children aged 6-15 years from the ground or on the activity.
Maximum Weight

20.5 stone (130kg)

Minimum Height

1m (3ft 3")