That's a wrap! Sundown Adventures have finished for 2023. They'll be back in 2024 for more after dark fun.
Sign up to our mailing list to be the first to know when Sundown Adventures return.
It's great to know you loved it!
"The Grizedale Sundown Go Ape experience was amazing. Great staff, great course and it was fantastic the way it was lit up in the dark. My 10 year old daughter loved it and we would highly recommend the experience. It is great for all ages of the family. And again a great thanks to the Grizedale Go ape staff who were absolutely amazing, super helpful, friendly and lots of fun."
Ruth, Trustpilot, 2023
Go Ape Sundown Adventures are continuing at selected locations this autumn and winter!
For a limited time only, you can climb, swing, and zip your way into the night for the best adventure you'll have this season.
Feel your senses heighten as you tackle mega-high platforms in the darkness, and feel the speed of a zip wire as the sun goes down.
With stunning colourful lights, just enough to see where you're going, and the darkness creeping in beyond, you'll experience a new level of excitement as you become a creature of the night.
Adult only groups can embrace their inner warrior, with an hour of Axe Throwing after dark at Go Ape Bracknell.
After all, everybody knows that when the sun goes down, the real fun begins…
The Details
When: Selected dates between Friday 13th October and Saturday 4th November, but due to popular demand, Sundown Adventures will continue later into November and December at selected locations.
Check the location details below and the booking calendar for more information.
Sundown Sessions are highlighted in purple.
Price: Treetop Adventure - from £23. Treetop Adventure Plus - from £28.
Adventures: Sundown Adventures take place on our Treetop Adventure and Treetop Adventure Plus courses. Axe Throwing is also available at Go Ape Bracknell only.
Who is it for?: Anyone over 1m tall that wants to experience the thrill of Go Ape after dark. Fun for adults and children. Please note participants for Treetop Adventure Plus must be over 6 years old and 1.2m tall. The minimum age for Axe Throwing participants is 16 years.
How do I book?:
Click the 'book now' button at the top of your screen.
Choose your preferred location and Treetop Adventure for the activity (or Treetop Adventure Plus or Axe Throwing where available).
Choose your Sundown Session activity time. Sundown Sessions are colour coded in purple on the calendar page.
From here, follow the usual checkout process, but be quick as spaces are limited!
"Absolutely brilliant! We did the sundown experience and thoroughly enjoyed it....so much fun!"
Tim, Go Ape Coventry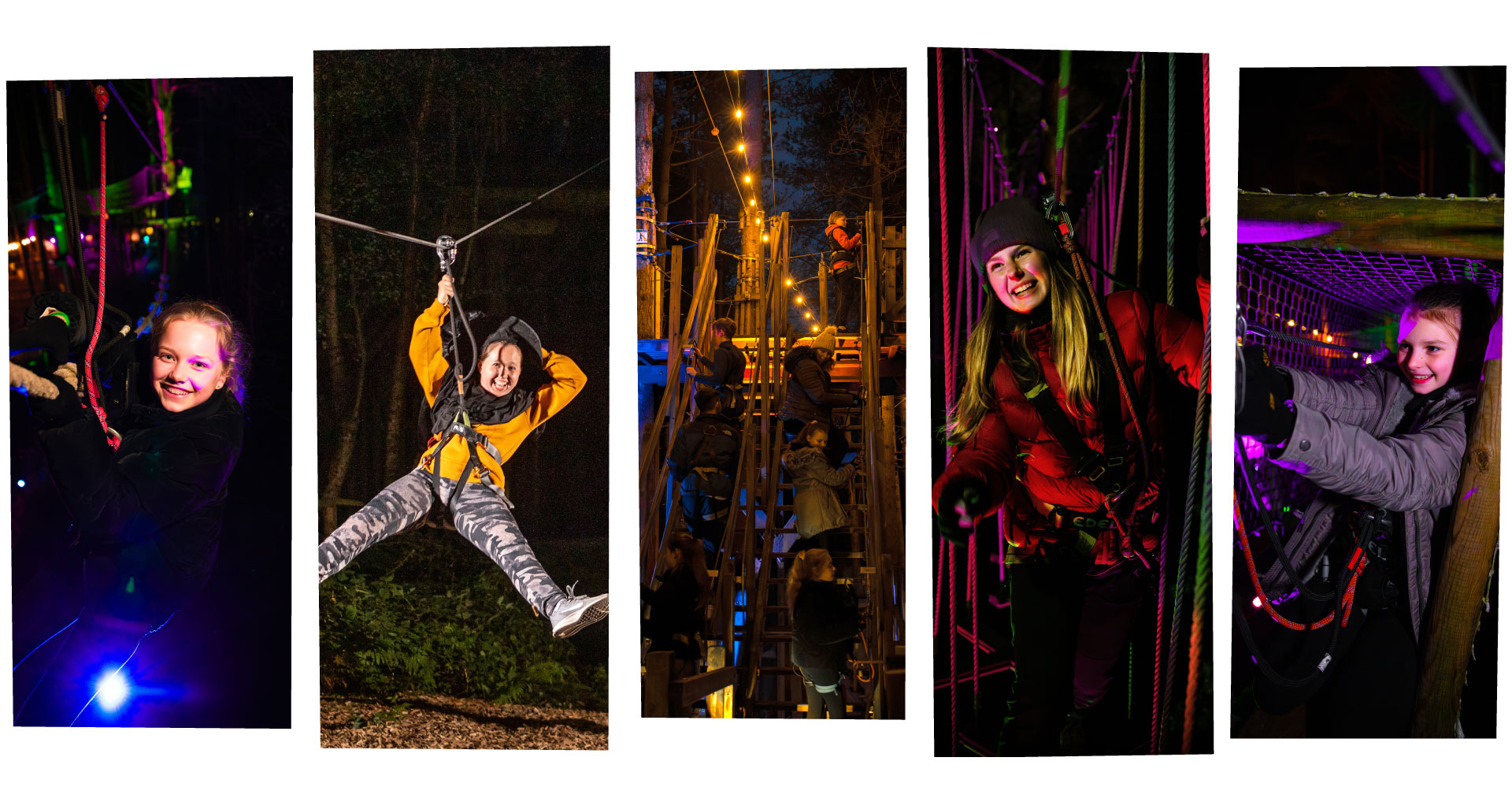 What can I expect on a Sundown Adventure?
Go Ape Sundown Adventures are an exciting way to experience the season in a whole new way, but do wrap up warm!
Each session begins with a safety brief from one of our instructors, and a chance to learn the ropes on a training site under their supervision.
You'll find our courses illuminated to add to the wonder and mystery. Treetop Adventure Plus loops of the course are lit more subtly to give adults and older children a greater sense of adventuring into the night.
Due to the nature of the activity and the fact that senses can be heightened in the dark, we recommend that children under 1.2m are accompanied by a participating adult. This will help encourage a smooth course flow and more enjoyable experience for all participants.
Axe Throwing under colourful lights is the perfect group activity, especially if you're a competitive bunch! Your session starts with some expert instruction from our trained warriors…instructors, sorry. Once you've got your eye in the real fun begins, playing games, scoring points and conquering the opposing team.
Book your tribe an experience at sunset for the opportunity to explore the forest in ever reducing light, or go for a later start point for the thrill of the woods in complete darkness.
"Brilliant sundown adventure in the trees. All enjoyed, even the parents watching!"
Jenny, Go Ape Forest of Dean
"We did the Sundown adventure, scary, but the best fun!"
Nikki, Go Ape Thetford
Find Your Nearest Go Ape Forest