Go Ape chats with Chainsaw artist, Tim Atkins, reponsible for all the wooden monkeys, apes and orangutans found at our sites.
From orangutans and gorillas to chimpanzees and baboons, our sites all play host to an eye-catching sculpture. They make for a great photo opportunity amongst our Tribe.
The first one appeared back in 2002, when Tris and Becs launched Go Ape in Thetford Forest. But what's their story?
The talent behind them is chainsaw artist Tim Atkins. Tim has been handcrafting our wooden sculptures for the past twenty years.
Carving sculptures out of trees started as a hobby for him 24 years ago. It's now a full-time pursuit after packing in his electronic engineering career.
Here's what Tim had to say about two decades of chimp-carving.
1. You've been the talent behind our wooden guardians for the past twenty years Tim. How did that gig come about?
"It all started whilst on a six-month cycling trip around New Zealand. I'd given up my job in electronics to go travelling. I'd been dabbling with a bit of whittling and discovered chainsaw carving on my return to the UK. Curiosity got the better of me, and the chips started flying. My first summer carving enabled me to go on another trip to India and Asia. This trip really opened my eyes to sculpture and carving, and when I returned, I was completely hooked! I'd reluctantly gone back to my job in electronics but deep down wanted to carve full time so after a couple of years, I gave it all up to start carving full time.
I needed to get my chainsaw felling qualification to enter the first English open chainsaw carving competition at Sandringham. I signed up for a week's course in Thetford Forest, and it was here I met the Go Ape build team and Tristram (Chief Gorilla), who were also getting their qualifications. We spent the week together, and Tristram and I talked about carving an ape for the new Thetford Go Ape course. We decided on a height marking Chimpanzee holding his hand up measuring kids for the minimum 1.4metre height requirement. This was my first attempt at a Chimp, and I decided to donate it to the new course in Thetford.
It wasn't long before Go Ape began to expand, and each winter, more courses were being built around the country. A year or two later, Tristram called me to see if I could carve 13 apes for all the new courses. Quite daunted, I said yes and sourced a huge lorry full of logs and set about the task of creating Gorillas, Chimps and Orangutans. Over the years, I've created lots of different apes for Go Ape and have recently finished the latest one for Dalkeith in Scotland."

2. What type of wood are they carved in and where do you source the wood from?
"All the Go Ape Chimps and Gorillas are carved from either Oak or Sweet Chestnut. The Orangutans are carved from Giant Redwood as it is a perfect deep red colour."
3. How long does it take to carve one of these magnificent sculptures from log to finish?
"Some of the first smaller apes took 3 to 4 days to carve and finish. The latest ones have all become quite a bit bigger with much more presence. Some of these have taken 6-8 days to create. It can all depend on the log being carved. Sometimes there are a few hidden surprises with nails, wire and many unwanted holes inside."
4. Typically, how big are they and how much do they weigh?
"The first big batch of 13 apes were mostly 1.8-2 metres tall and around 0.6-0.75 metres wide. Some of them weighed about 1 tonne. Finding big logs is not always easy, and when I do find them, I try to save them for future Go Ape sculptures. The more recent ones I have created have been from very large logs 1 metre+ wide and 2.5 metres in height. Some large oak ones have weighed three tonnes as a log and take a bit of effort to move. Even after carving, they probably weigh a couple of tonnes."
5. Where do you get your inspiration from? Do you source pictures or sketch them out prior?
"I often sketch ideas when I carve, and I did spend quite a bit of time studying and sketching apes when I began carving for Go Ape. I usually have a few pictures of real apes while I'm carving. I do put a few outline chalk marks on the log, but mostly, I carve freehand and spend time stopping, standing back and just looking."
6. What tools do you use to hand carve them?
"My primary tools are chainsaws. Some are very large, and others a much smaller and lighter with specialist carving bars and chains. Much of the detail and texture is carved with the smaller saws. I also use sanders, and traditional carving gouges to finish the faces, hands and feet."

7. Do haulage companies ever question you when arranging collection of a wooden gorilla? Or are no questions asked?
"In the early days, the Go Ape Team used to go on a road trip with Apes in trailers or lorries delivering them to the new courses. We now use haulage companies or crane lorries to deliver them to the courses. Some of the drivers are quite surprised when they turn up to collect them, and they make for an interesting journey with quite a few heads turning as they travel the roads."
8. What's been your toughest Go Ape assignment to date?
"The first batch of 13 apes was quite a challenge. Creating so many sculptures one after the other was pretty tough, it's a very physical activity. But seeing all of them together at the end was brilliant and made it worth all the effort. Some of the larger ones have also been a challenge. It's quite daunting looking up at the log once it's upright. They always look smaller laying down and it's only when you stand it up you realise the volume of wood you are faced with."
9. Which one, if you had to choose, is your favourite?
"I have a few favourites. The chimp made from a forked piece of oak at Leeds Castle, the Orangutan at Thetford Forest, the Gorilla with his arm in the air at Moors Valley and the two big Orangutans at Normanby Hall and Temple Newsam. The latest one, an 8ft Gorilla, for Go Ape Dalkeith is pretty special too."
10. Finally, all set for another twenty years?
"I've been carving for 24 years now. Another 20 years of carving, and my arms will be as long as an Orangutan's. I will definitely be retiring to the trees."
The evolution of a Go Ape Gorilla
STAGE 1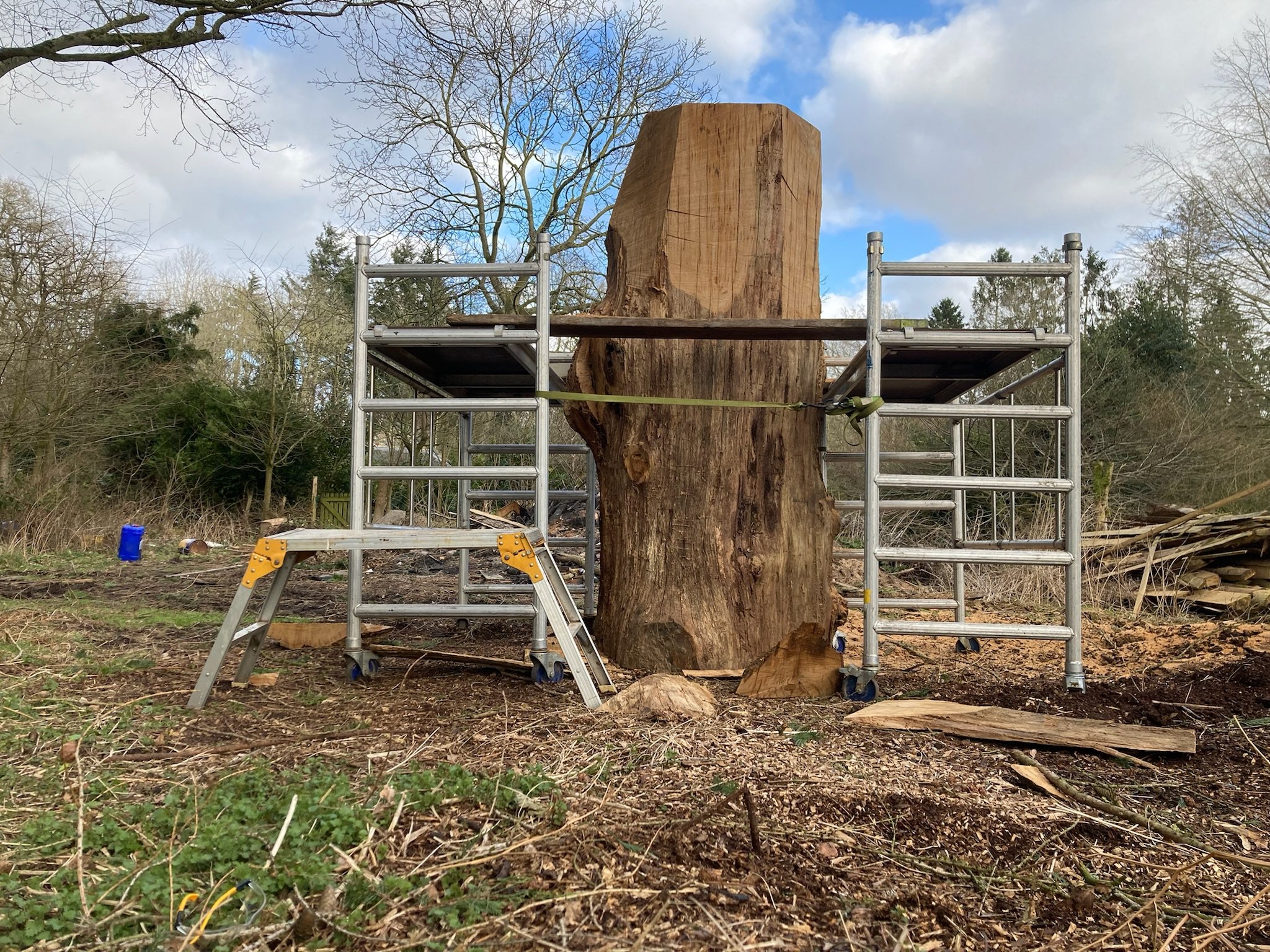 Stage 2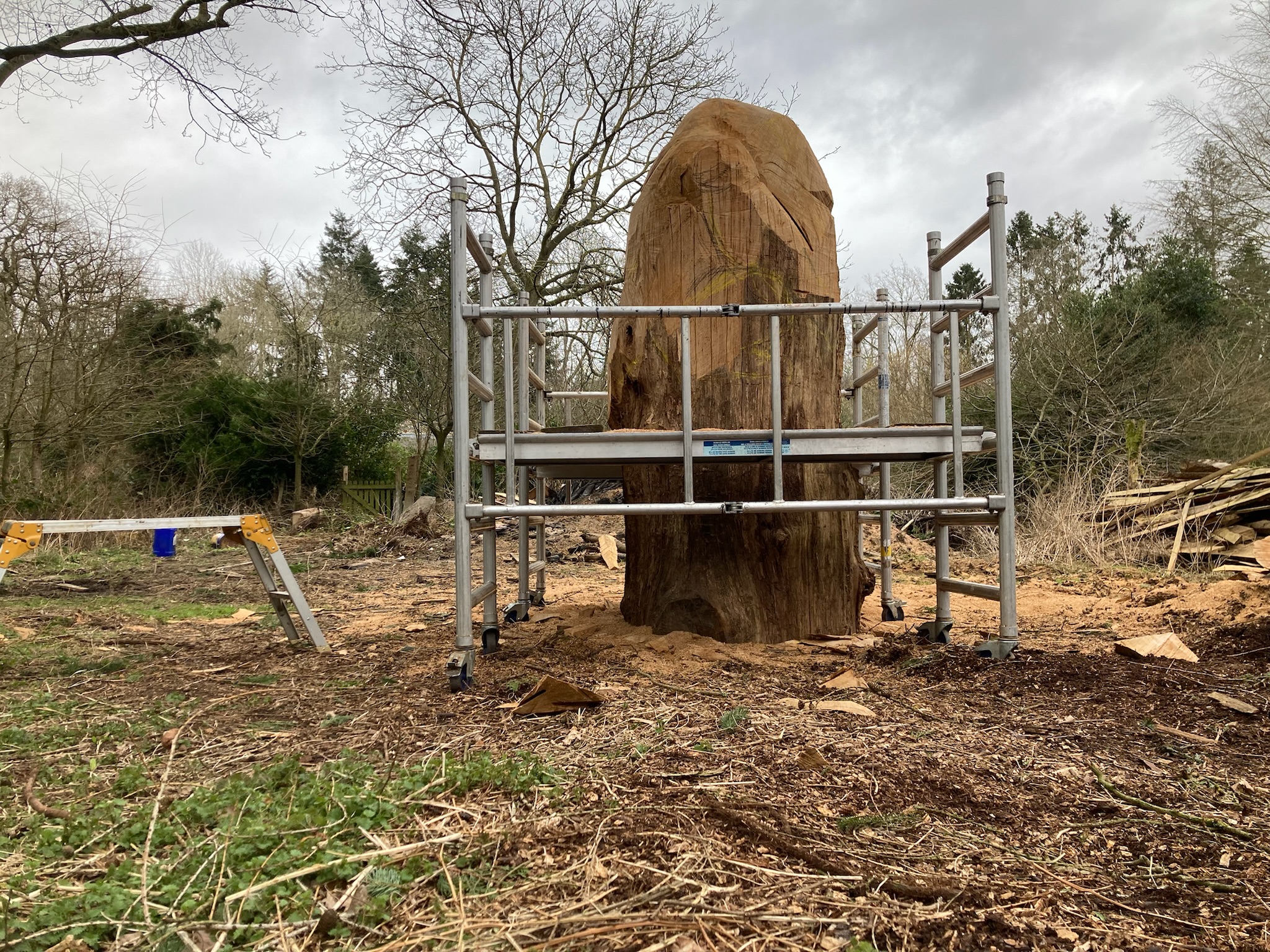 Stage 3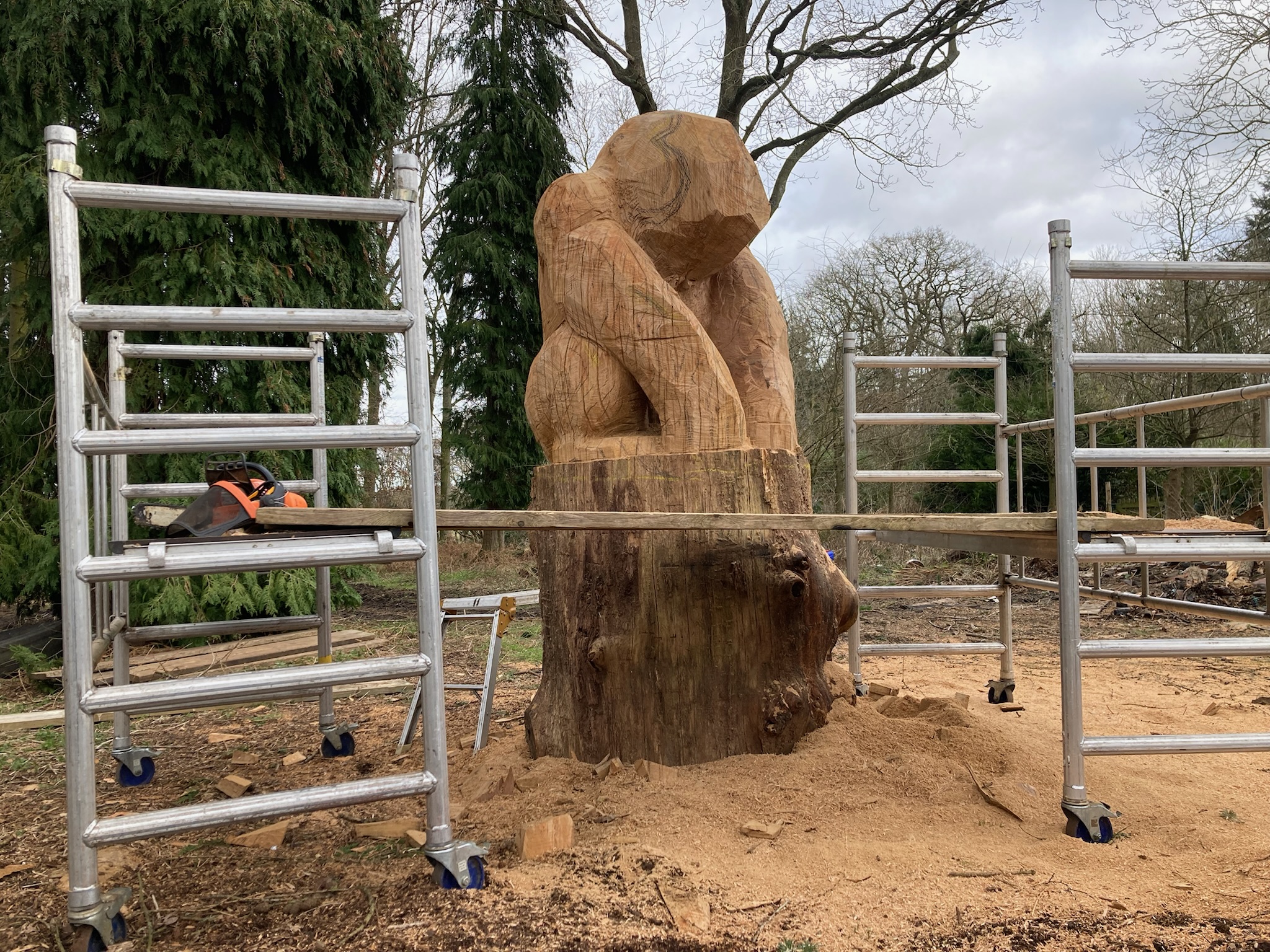 Stage 4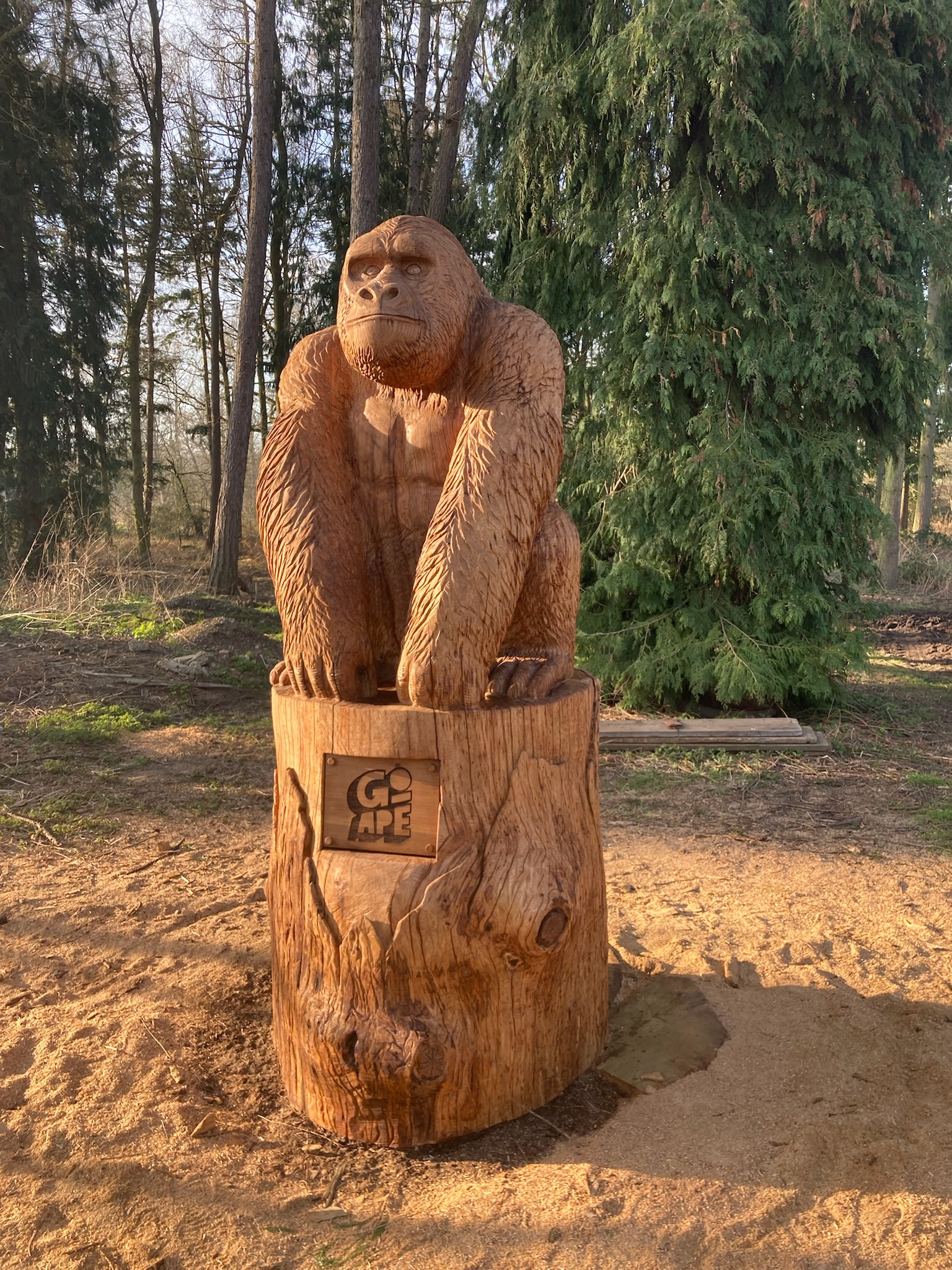 Start your next adventure