From the Rainforest to the Inca Trail
As fans of adventures and adventuring, we try to talk the talk AND walk the walk at Go Ape. We're dedicated to ensuring that every person has a great day out at Go Ape, but we also want to support our team and help them keep on adventuring!
Every year our co-owners have access to an "Adventure Fund", which employees can use to fund their own adventures. Everyone can send an application for their proposed adventure, and funding is allocated.
In June 2023 Instructor Kirsty made great use of the fund, setting off on an intrepid expedition from the rainforests of Peru to Machu Pichu. Over to Kirsty to tell you the rest…
My trip to Peru was my first experience of solo travelling. I was really nervous before setting off, but it was the best decision! Once I landed in Lima, I met up with my travel group. There were only 5 of us, but we were all from different parts of the world. Despite never speaking to these people before, it instantly felt like I had known them for years! It was great learning about their lives and making friends with people I otherwise never would have met.
Welcome to the Rainforest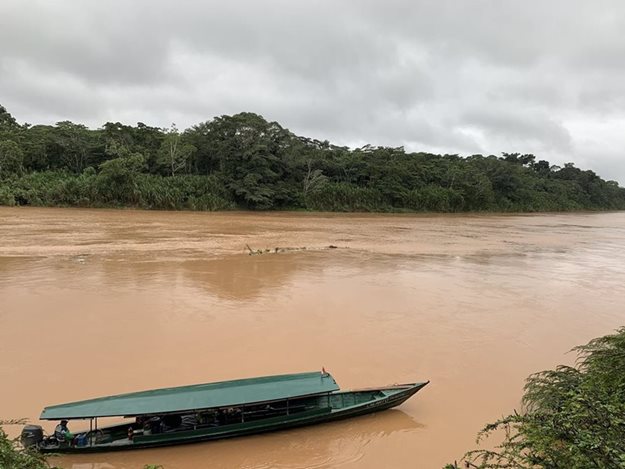 We flew to Puerto Maldonado, a small town near the Amazon River. Once we had re-packed and were given a brief of what to expect, we drove to the motor canoe and travelled over 2 hours to our lodge which was located on the banks of the river. Visiting the rainforest has always been my dream, as I love plants and being surrounded by nature. I wasn't sure if I had set my expectations too high, but the trip did not disappoint!
The lodge was like something out of a film, wooden huts with mesh windows and hammocks. The Capuchin and Howler monkeys acted as our morning alarms and there was chat of Jaguars and Boa Constrictors near camp.
We went on 3 treks over the space of 2 days, getting to experience the heart of the Amazon Rainforest. We were so lucky to see sloths, macaws, endangered Giant Otters as well as the wonderful, but dangerous plants and fungi!
Cusco to Machu Picchu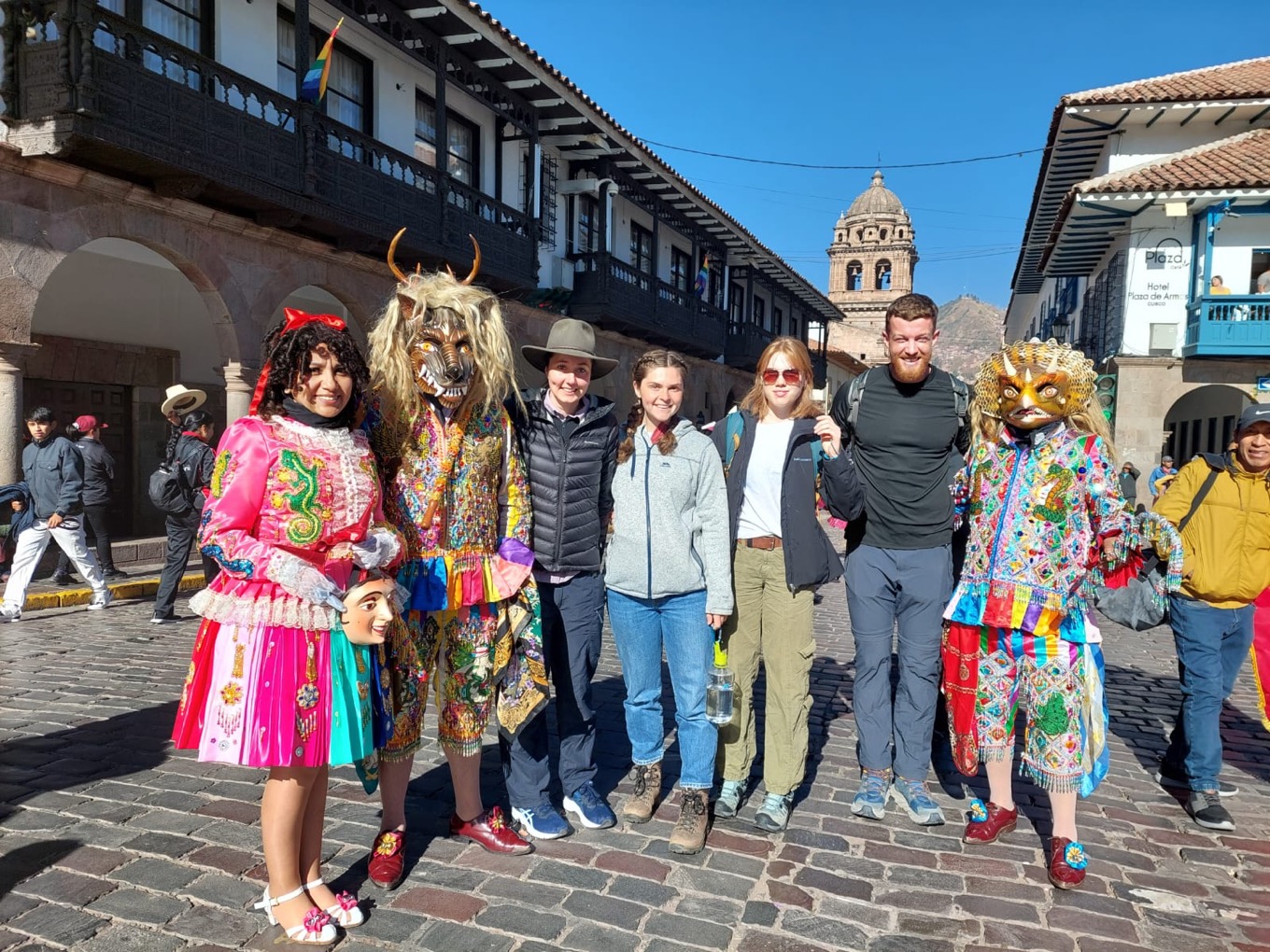 After the Rainforest, we flew to Cusco to begin our journey to Machu Picchu. Cusco is 3,399 metres above sea level so as soon as we got off the plane, we began accclimatising for the hike ahead.
We spent the day exploring the town, which is full of history and Inca heritage and were lucky enough to catch a parade celebrating the upcoming winter solstice. It was absolutely beautiful! Mariachi bands were playing whilst people danced in traditional Incan outfits.
Once we left Cusco behind our journey to Machu Pichu began in earnest. Starting at the base of the Inca Trail, our first day was lovely, with quick but steep inclines that took around 7 hours to complete. Our porters were fantastic and cooked the most amazing food for the five of us to enjoy!

The next day we set off along Dead Women's Pass, a 1,000m incline reaching 4,200m above sea level. It was tough, both mentally and physically, but so rewarding. I've never pushed myself that much before, and I never imagined I would enjoy it as much as I did.
On the third day we were treated to some downhill paths as we entered the Cloud Forest - we kept our eyes peeled for Paddington Bear but didn't quite spot him!
The final day we left camp at 3:00am so we could be first to get to the checkpoint opening at 5:30am for the final 6km walk. We made it to the Sun Gate at 6:30am and got to Machu Picchu at 7:00am, where we caught the sun rise over the site. It was incredible!
It was such an overwhelming feeling of finishing the Inca Trail and being able to see a Wonder of the World. I would recommend that everyone who gets the chance goes to see Machu Picchu. Peru was a personal journey of challenging myself and learning about different cultures, and I am so grateful!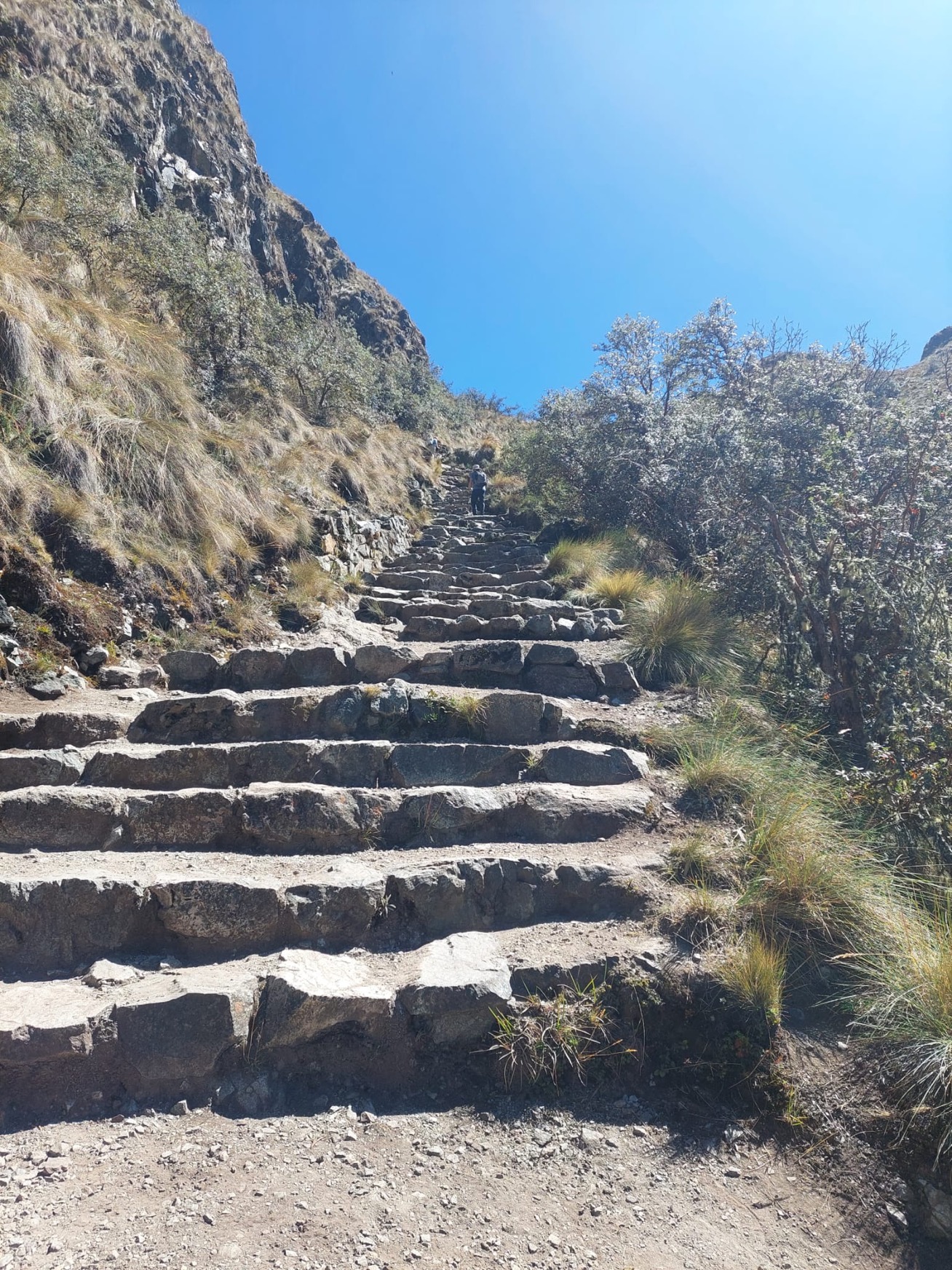 Join the Tribe