We know how good for the mind, body and soul just a few hours in the forest is. Imagine spending a whole glorious weekend surrounded by nothing but nature and the soothing sound of birdsong.
Why not relax, unwind and recharge your (almost flat) batteries with the tribe and sleep under the stars amongst the trees with Forest Holidays?
With Twelve stunning locations across the UK (and a thirteenth opening in winter 2024), the cosy cabins and treehouses offer the perfect escape, whether you're travelling as a couple, a family, or as a group of mates. (Oh, and dogs are welcome, too).
Beautiful and Eco-friendly
Each and every holiday has that perfect measure of nature, stunning scenery and laidback simplicity. With underfloor heating, log burners and even your own outdoor hot tub, a Forest Holidays break is one you aren't likely to forget.
Whether you awake to misty mornings or bright blue skies, just being in the forest is a unique experience. And it's not just the fresh, forest air or beautiful views that make their holidays so unique. Forest Holidays is a Certified B Corp, meaning their business is recognised as being good for people and the planet. Over 80% of their land is managed for conservation, with a long-term biodiversity enhancement strategy in place to ensure they add more to the forest than is taken away.

Choosing Forest Holidays means you're helping to support and enhance one of earth's vital resources, as well as supporting local, sustainable tourism. What's more, each cabin is built from scratch with the environment in mind. They design all cabins to BREEAM specifications, to make sure each location has been sustainably developed.
Choose from cabins that are perched on the edge of mighty lochs, nestled deep within the woodlands or situated in bright, open glades. They accommodate between 2 and 10 people and there are a range of styles to pick from, including wheelchair-accessible cabins.
Book your Go Ape Adventure
There's never a Go Ape location too far away from your Forest Holidays cabin doorstep.
Add a dash of adrenaline to your relaxing break, at 9 of our Go Ape locations and get 10% off when you book you with Forets Holidays.
Nestle in amidst 3,300 acres of pine woodland in the glorious Sherwood Forest, where you will find our thrilling adventures at Go Ape Sherwood.
Alternatively, you could choose an open meadow cabin on the edge of oak woodland in the Forest of Dean, home to both Go Ape Beechenhurst where you'll find adventures for young families, and Go Ape Mallards Pike, the location for older families and adults.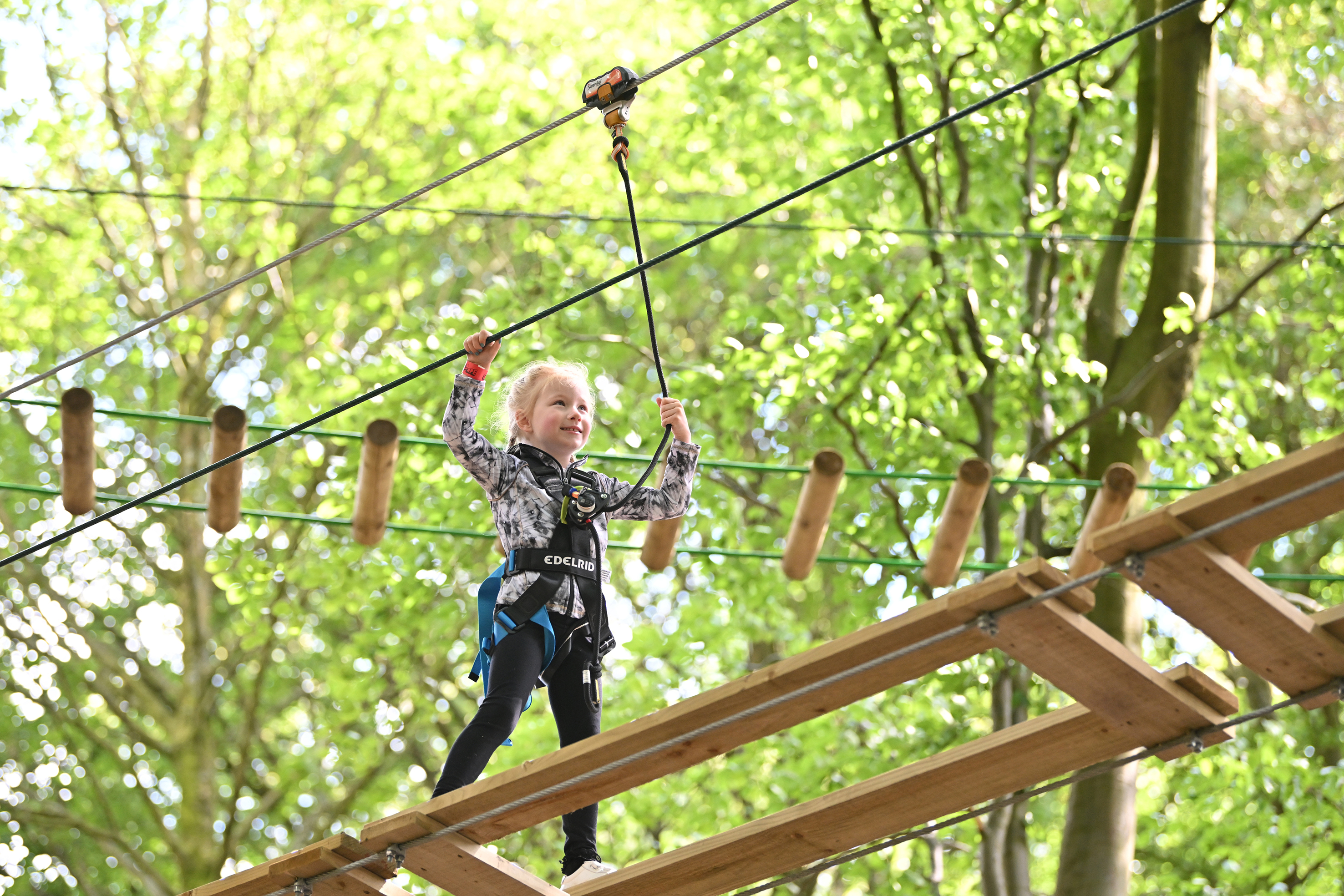 After a day of adventures in the great outdoors, enjoy splashing around together while soaking up the sights and sounds of the forest. Trust us, not much beats it.
Whether your stay is a few days, a week or a couple of weeks long, you're guaranteed to return to the 'real world' feeling refreshed and rejuvenated.
And, if you're planning to come hang in the trees with us, make sure you book in advance to avoid disappointment!

The forest is much more than a place, it's endless possibilities