Every Go Ape adventure is a test of the nerves, so you'd be right in thinking that they're all extreme.
Our high-rope courses aren't easy! They're both mentally and physically challenging, and require stamina, will-power and courage to complete. Whichever high-ropes adventure you choose, adrenaline will be rushing through your body from the first step at height to the flight down a zip line.
To keep you safe, every activity has age and height restrictions, as well as supervision requirements for under 18's. Join us as we rank our most difficult high ropes adventures.
Our Most Extreme Adventures
But what exactly makes Go Ape adventures extreme? If you've monkeyed around in the trees with us before, you'll probably have a good idea of which obstacles you enjoy, and which ones really test your nerves.
While it's true that all our obstacles are challenging, there are certain ones which really do trump the rest when it comes to extreme-ness. We're talking about obstacles that go bigger, higher and longer than all the others!
We've handpicked a small few to get you started, the question is: are you brave enough?
You're going to need all your strength and skill for the cargo bags! Leap off a 12m+ platform, engage your core and reach for the cargo bags. It's up to you to pull yourself along, from one bag to the next, with no wires beneath you!
Your harness will hold you tight, but the ground below certainly feels far away. Cargo bag crossings are only part of Challenge Plus courses, which are exclusively available at Go Ape Cockfosters, Sherwood and Thetford.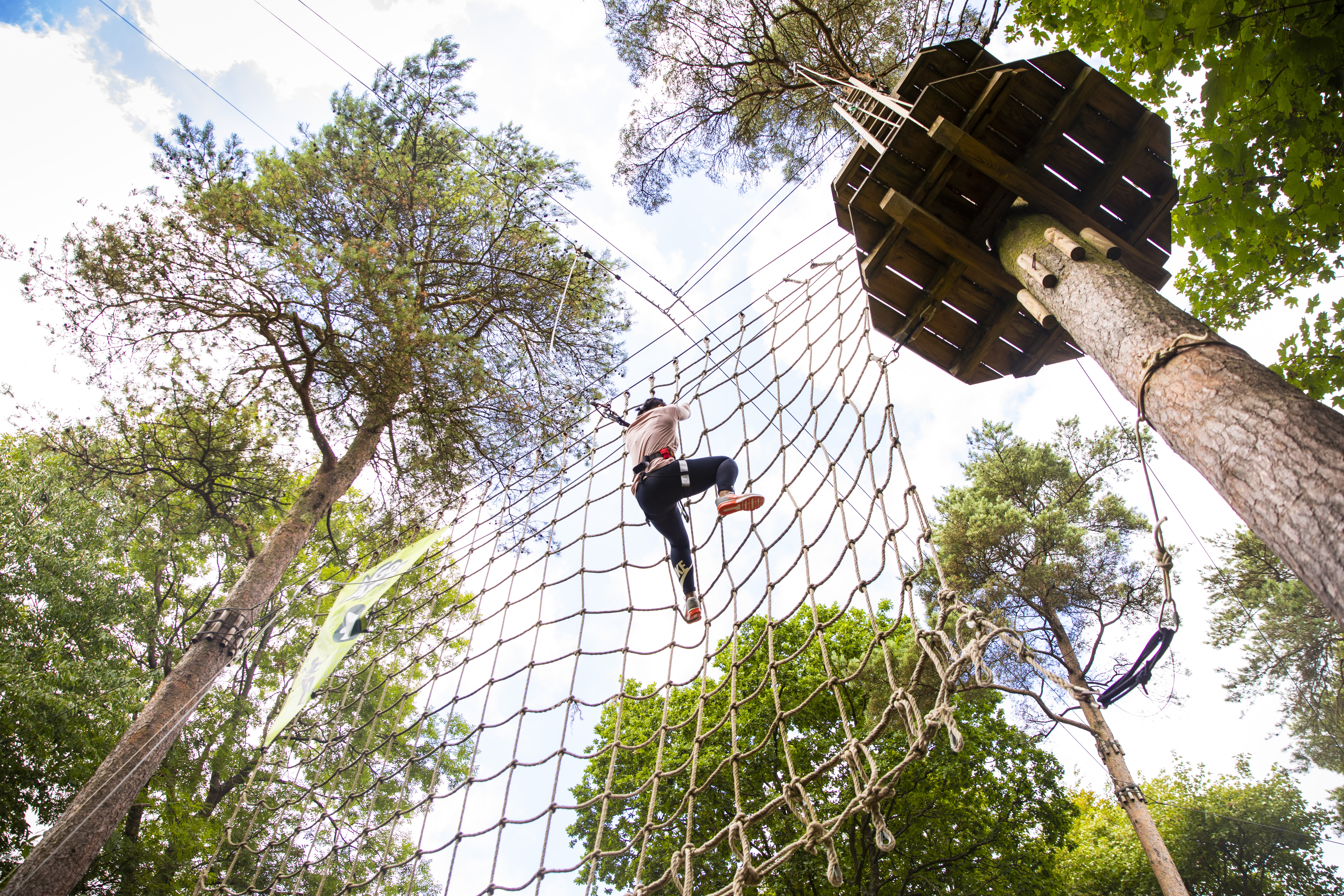 Steady your nerve, before stepping out into free air, dropping straight down and swinging into a massive net. You'll have a moment to catch your breath, but then it's time to call on your inner monkey as you climb up the net to the platform.
What's better than one Tarzan Swing? Two! At some Go Ape locations you'll have the chance to race your mates on our dual Tarzan Swings. Who'll first be the first to put two feet on the platform? We'll let you find out!
Zip lines are our bread-and-butter. There's nothing quite like the feeling of soaring through the sky at speed, wind rushing against your skin as you take in an aerial view of your surroundings.
Every Go Ape high-ropes adventure includes zip lines: practice ones, from Treetop Adventure to our Zip Trekking Experience, which includes over 3km off zip lines! So, whatever your thrill level, you're sure to be blown away.

The Stirrups/Rings are infamously one of the trickiest (and funniest) crossings you'll find on Treetop Challenge and Challenge Plus. The clue is in the name, and the crossing is made up of innocuous looking metal circles, attached to ropes. Simple right?
You'll need all your strength and balance as you move from one ring to the next. Expect laugh-out-loud moments and the realisation that you might just be able to do the splits. Make sure your camera is at the ready!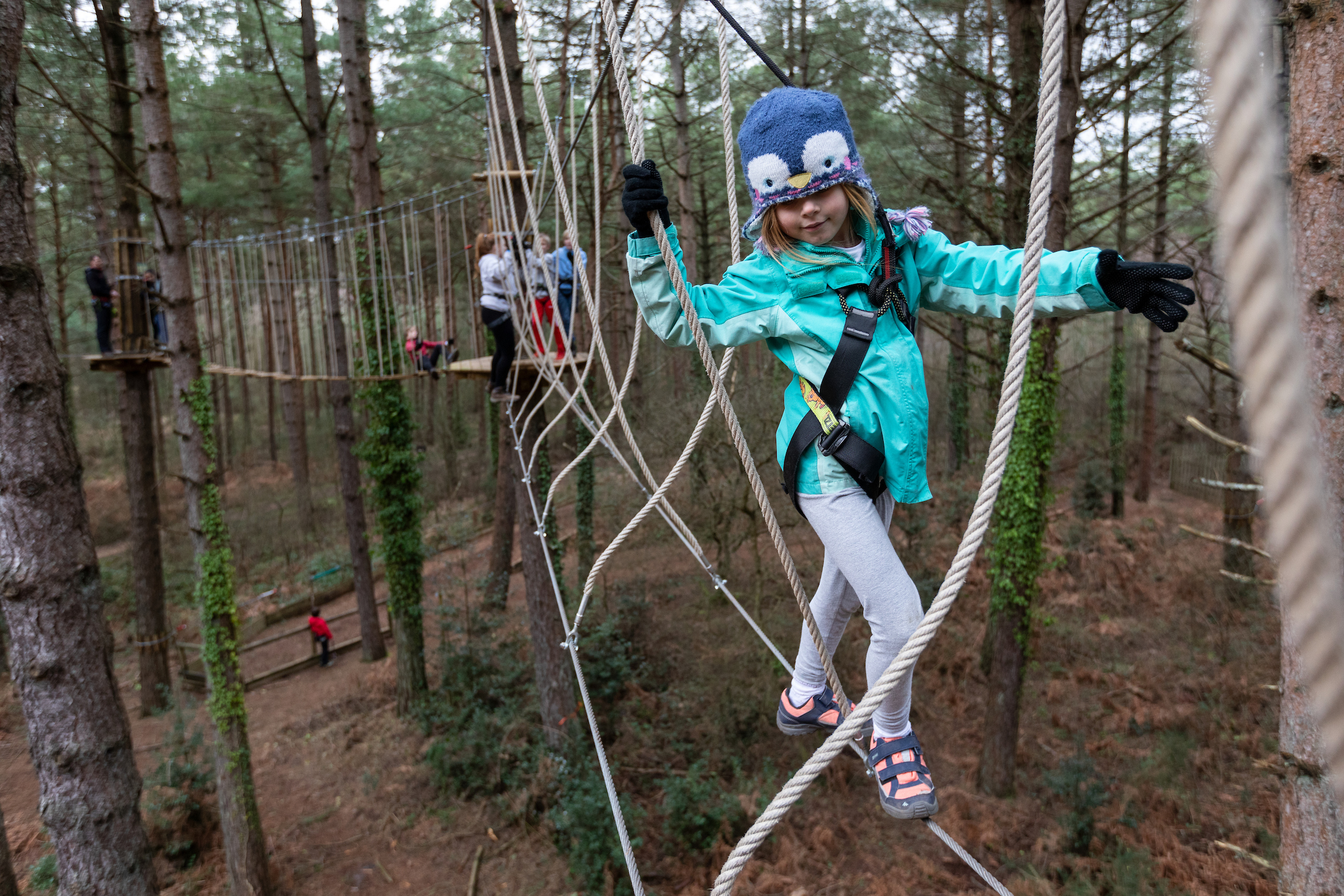 Little adventurers will need both wits and strength to conquer the Tank Trap on Treetop Adventure Plus! Weave in and out of criss-crossing ropes over 10m above the forest floor. It may look simple, but take care not to get twisted up, there is only one right way!
Some other standout crossings on Treetop Adventure Plus include the twisty Trapeze and the tricky Prisoner's Bridge. We'll let you discover them for yourself.
No two Go Ape locations or adventures are exactly the same. Some courses are more family friendly, while some have dramatic landscapes and terrain which lend themselves more to the extreme. Read our blog, the "Big 6 Adventures" to discover some of our stand-out locations.
Start your next adventure