Gorge Walking in The Peak District
Blog by Finance Controller, Emma McGovern
How many people can find themselves flying down zip wires and climbing waterfalls the day after completing their probation at their new job?
Three months after I joined the finance team at Go Ape I found myself bundled into a Van with the Finance and IT teams, headed to The Peaks for two days of outdoor adventure.
Bags packed and van loaded, the eight of us set off from Suffolk. As the A-roads of the East turned to country roads, the team shared stories from their previous trips together. Instantly I was made to feel relaxed and excited for what the next two days held.
Arriving at Go Ape Buxton in the early afternoon we were greeted by a cheerful wooden hut, set just off the car park against the trees.
Go Ape isn't a new experience for me so, as I was being strapped into my harness, I was relaxed, listening and laughing to more adventurous anecdotes. I was quietly confident as we ascended into the trees on Treetop Challenge, steadily climbing the ladders and taking on the obstacles with ease.
However, watching a few of the team zoom away was very humbling. They did it with such grace, dipping off the ledge to fly through the trees with style, their landings barely disturbing the bark below.
Then there was me. Past experiences told me to expect a collection of bark in my pants, with me somehow always landing butt first. To my surprise, and maybe everyone else's too, I landed every zip except the last one. Some strong kudos for my rookie status!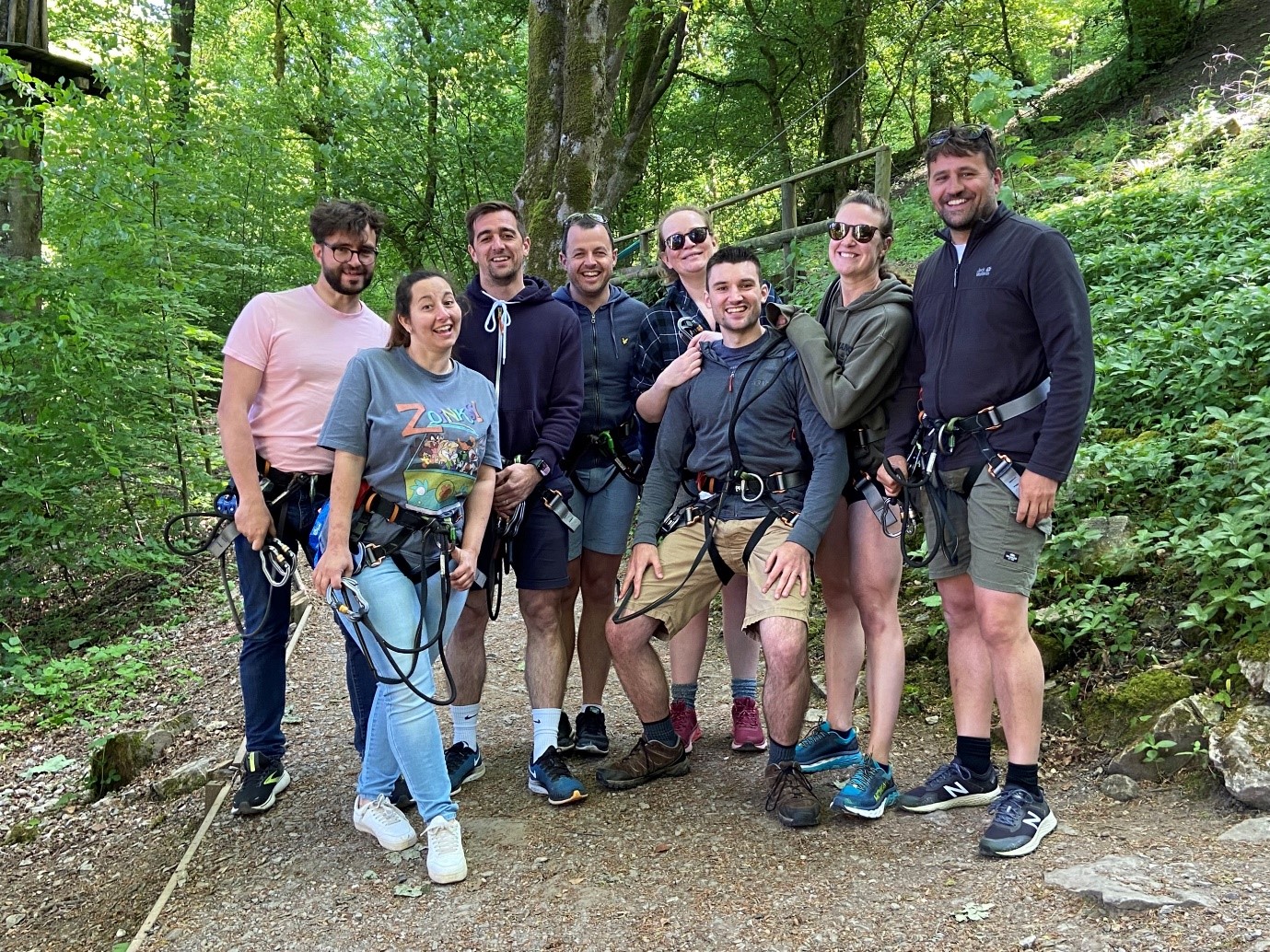 Once we'd returned to the ground, we headed back to the cabin to fuel up. A BBQ was pulled from behind the hut and dusted off for dinner. The Buxton site team started to filter onto the decking to join us after their shift and some came in on their day off to enjoy the social too.
One of my favourite things about Go Ape is that we are dog friendly. This site was no different; a German Shepherd belonging to one of the site staff was bounding around and loving all the fuss. But Buxton had levelled up on their pet policy, the German shepherd was accompanied by a fluffy white rabbit, also bouncing around on its own adventure.
Stuffed with hot dogs and crispy onions, it was time for us to find our Youth Hostel accommodation for the night. This was my first real experience of a Youth Hostel.
My only other experiences were from watching the classic horror movies in my teens, so I was expecting quite the opposite to what welcomed us; bell tents framed with fairy lights fronted a beautiful house with bay windows and a cottage garden.
We checked ourselves in, set up our beds for the night and met outside one of the bell tents. The boys got the fire pit going and we spent the night playing card games, drinking beer and talking about what day two would hold for us.

Gorge walking was a new experience for me, and it was a combination of two things I feared: water and falling.
Our instructions were to locate Rhys from Lost Earth Adventures in a car park somewhere in The Peaks to pick out our wetsuits. Naturally we drove past the car park.
The car park was empty except for an abundance of wetsuits accompanied by a weathered looking red van and a man leaning against the wooden fence. Our instructor Rhys was a character, instantly making jokes and hyping us up as we each debated what sized wetsuit would be best for us.
Once suited and booted, we donned our new Go Ape T-shirts and headed in convoy up through the peaks to begin our final adventure of the trip.
We followed a gentle stream further into the hills until we came to an opening. Crowding around Rhys, we awaited our next instructions… except one of us. The rest of us entered the water slowly, embracing the chill as the fresh water soaked into our shoes.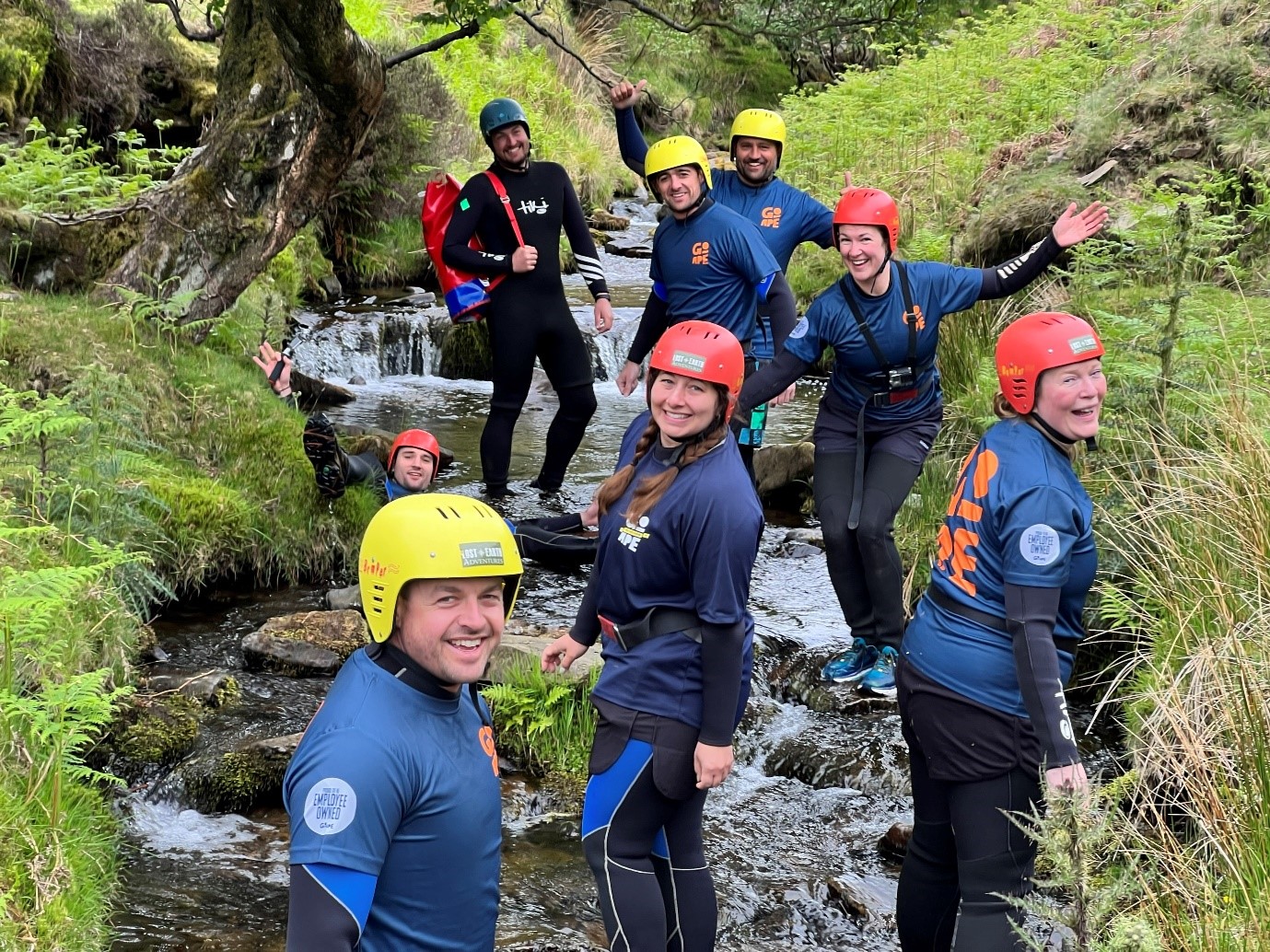 We followed a gentle stream further into the hills until we came to an opening. Crowding around Rhys, we awaited our next instructions… except one of us. The rest of us entered the water slowly, embracing the chill as the fresh water soaked into our shoes.
When we reached our first waterfall to climb, I volunteered to go first. We'd reached a pool which was waist height and Rhys was explaining how to safely climb the waterfall. I approached the wall gingerly, placing my hands where he'd told us and slowly raising my feet to start climbing. In a flash I was off the wall and under the water. As I righted myself, I could hear the laughter from the group and saw Rhys' cheeky smile; he'd tugged my belt and I'd gone flying. I was grateful to have gone first here because I don't think I'd have ever gone over knowing what was planned for our first challenge.
That set the tone for the rest of the day, we loved how playful Rhys was and trusted his guidance – even trying the ferns and wood sorrel he picked for us through the day.
Our Gorge walking adventure ended at a natural pool, which was a perfect location to leap into the water. I'd already done more than I expected to be able to do that day so I was happy to be designated camerawoman and let the feeling return to my feet.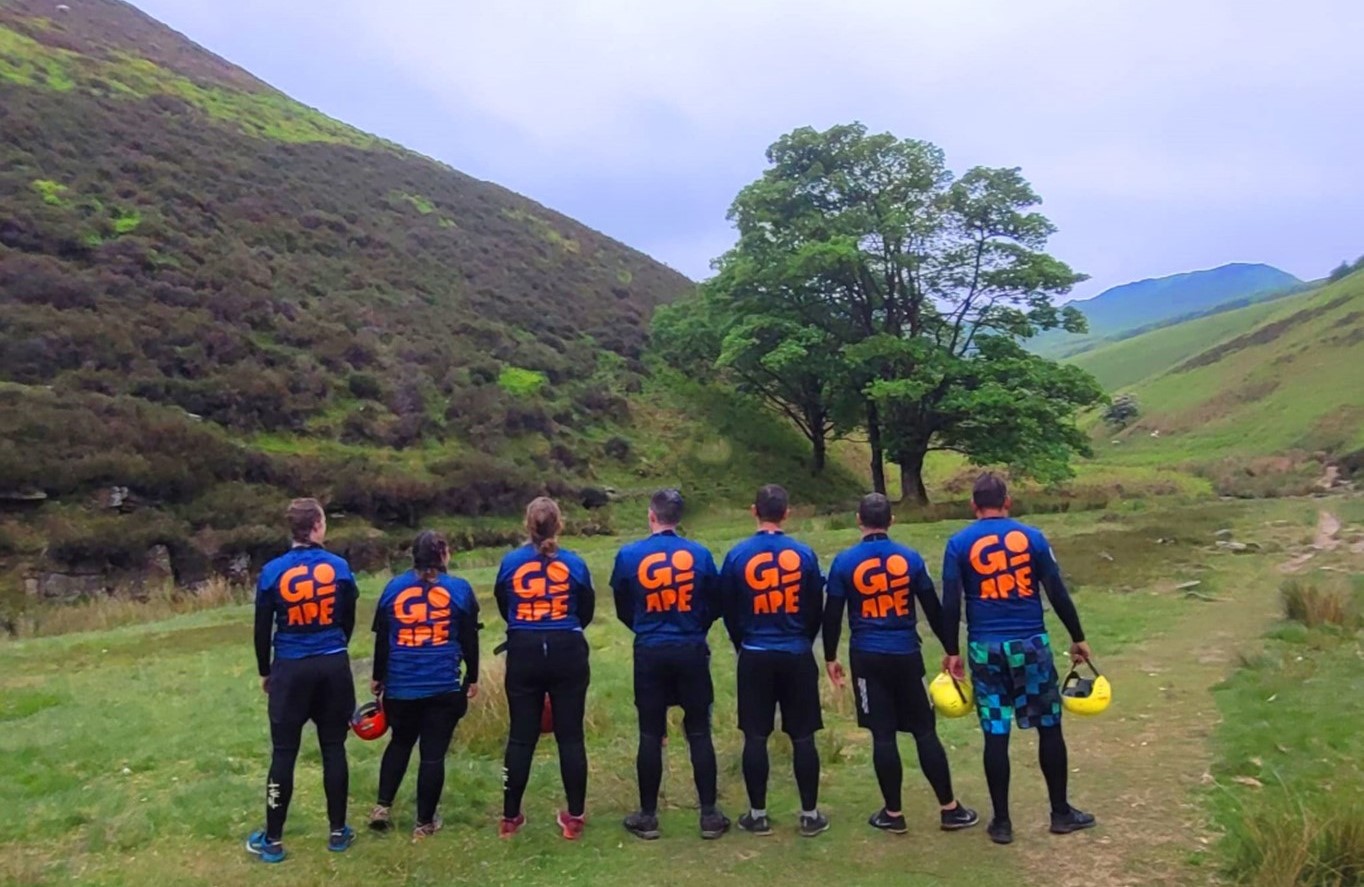 The team had great fun and with everyone going as far as they felt comfortable; some jumped from the very top while others stayed on the bank with me. It was a great way to end our trip.
As we headed home the atmosphere in the van changed from the morning before. We'd gone from eight chatty adults excited about the adventure ahead to, still eight, tired and content adventurers .
Fulfilled from two days outside with my new team I looked back, not only on the last three months working at Go Ape, but also my journey over the last year that had led me to this point. I felt like I was where I belonged and for the first time in a long time, complete and excited about what the future held.
Go Ape's core values of adventure and doing the right thing are shown within everything they do and this is engrained in each co-owner. They help to turn 'I can't, into I can' and that's exactly what they're doing with me.
Long may the adventures continue!
Jobs at Go Ape