Life on the road: living and working in a camper van
Welcome to the Go Ape Tribe Tales Series, a collection of interviews and stories from members of our team who live life to the fullest.
At Go Ape, we're passionate about adventure, and we believe that everyone has the potential to live an adventurous life. In this blog series, we'll be speaking with different members of our team to learn about their unique experiences and perspectives on adventure, as well as giving some insight to the different roles within Go Ape.
From exploring the great outdoors to taking on new challenges, our team members have a wealth of knowledge and insight to share. So join us as we delve into our wonderful world and get inspired to take on your own thrilling experiences.
Our Customer Care Specialist, Lola, is living the life of freedom and adventure in a campervan! Come along for the ride as she reveals her experience - from all its benefits to quirks. Plus, get some great advice if you're thinking about trying it out for yourself.
Hi!! I'm Lola and I live in campervan with my 2 dogs (Suki and Kenny) and my husband Ben.
We have been living this lifestyle for 2 and half years and honestly, I can say its one of our better decisions.
We moved into our campervan after making the choice to go travelling but what we didn't realise is this dream was about to get squashed by COVID. We found ourselves in a very stressful situation having both left our jobs and a house sale on pause. We spent 3 months unemployed and eating into our savings.
When the world started to reopen again we then had to decide what to do next, travel, buy another house, rent or just live in the camper van. With the house sale now gone through we decided to move into the camper van and get ourselves a job again.
This is how I found myself at Go Ape working at Sherwood and then moving across to Buxton before finally making my way on the customer care team.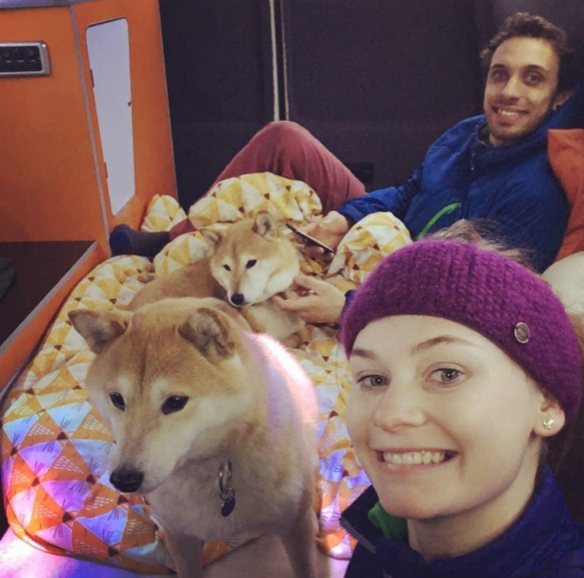 Living in a camper van and working remotely may sound like an impossible combination, but it is becoming increasingly popular among digital nomads and remote workers. This lifestyle provides the freedom to travel and work from anywhere, making it perfect for those who enjoy exploring and experiencing new places. Go Ape is an outdoor adventure company that offers treetop rope courses, zip-lining, and other outdoor activities. As a customer care specialist for Go Ape, I am responsible for helping customers make bookings, answering questions about activities, and providing assistance with any issues that arise during their visit. Living in a camper van while working remotely for Go Ape customer service has been a wonderful experience.
Here are some of the benefits of this lifestyle I am so lucky to have:

Benefits of Campervan Living
Freedom to Travel
One of the biggest advantages of living in a camper van is the freedom to travel. As a remote worker for Go Ape, you can work from anywhere with an internet connection. This means that you can explore different parts of the country and even travel internationally while still earning a living. You can take your work with you and enjoy new experiences without having to worry about taking time off.
Low Cost of Living
Living in a camper van can also be a cost-effective way of living. You don't have to pay for rent, bills, or other expenses that come with owning a house or apartment. You can park your van in different places, such as national parks (with permission), campsites, or even on the side of the road. We run our van on solar. The sun and driving around charges up our batteries and we have this running our fridge, lights, phones, laptop, iPad, hair straighteners and diesel heater. We have a gas bottle for our cooker which lasts for around 6 months, and we fill our 25L water tank every 4/5 days.
Connection with Nature
Living in a camper van has really reconnected me with nature. When not working I spend a lot of time outdoors, running, walking, exploring and finding new places. This lifestyle helps you appreciate the beauty of the world around you and foster a sense of connection with nature. We are always looking for ways to give back so where ever we park we always leave the area better then we found it by doing a littler pick every day.
Flexibility
Being able to open the van door first thing in the morning, Lunch or after work and being the middle of nowhere is one of my favourite things. The flexibility to working remotely gives you chance to open the door and enjoy the scenery, go for a walk, or take a swim whenever you want to. I feel it gives you much more of a work – life balance.


However, there are some challenges that come with living in a camper van and working remotely:
The Quirks of Campervan Living
Limited Space
Living in a camper van can be challenging when it comes to space. We have had to adapt to a smaller living space and be creative with storage solutions. We have also had to deal with limited amenities, such as a small fridge, limited kitchen space, and a small bathroom.
Internet Connectivity
As a remote worker, I need a reliable internet connection to be able to work effectively. However, this can be a challenge when living in a camper van. Some areas may have limited or no internet connectivity, which can affect my work. I mostly hotspot of my phone which works pretty well most of the time.
Isolation
Living in a camper van and working remotely can be isolating at times. You may not have co-workers or a social circle to interact with regularly. I have needed to find ways to stay connected with others, such as joining social groups or attending events in the places we visit.


In conclusion, living in a camper van and working remotely for Go Ape customer service is incredible experience. This lifestyle offers the freedom to travel, a low cost of living (Which I am so thankful for in the current climate), a connection with nature, and flexibility in your work schedule.
However, it's important to also acknowledge the challenges including limited space, potential internet connectivity issues, and the possibility of feeling isolated due to the lack of regular social interactions. Therefore, if you are thinking about pursuing this lifestyle, it's crucial to weigh both the advantages and challenges before making a decision but personally it is the best adventure I have ever done and I feel incredibly lucky to live this lifestyle.
Sign up for chatter & news from our leafy worLd, plus discounts & seasonal offers.
Looking for more adventure stories?