Forest Runner 2022/23 Series
By George Nolan
I decided to take on the Forest runner series, 10km at Thetford Forest on 30th October. My colleague had sent round a link to sign up in September and, I'll be honest, this was the first I'd heard of it. Go Ape has a working relationship with Forestry England and we were offered a set number of complimentary entries at multiple Go Ape and Forestry England sites. Win, win!
I had absolutely no pre-conceived notions about the course as I'd never taken part in a run like this before, so went in with both an open and intrigued mind. The course itself was, for want of a better phrase, 'the dream'. It was clearly laid out with marshals offering clear instructions and support throughout. There was a mixture of soft and hard terrain, ensuring a good trail run, and the elements had even softened the ground to add that bit more challenge. It was also made all the sweeter knowing that Olympic track runner, Steve Cram, was the cycling pacemaker – how cool is that? There was no time for a selfie though.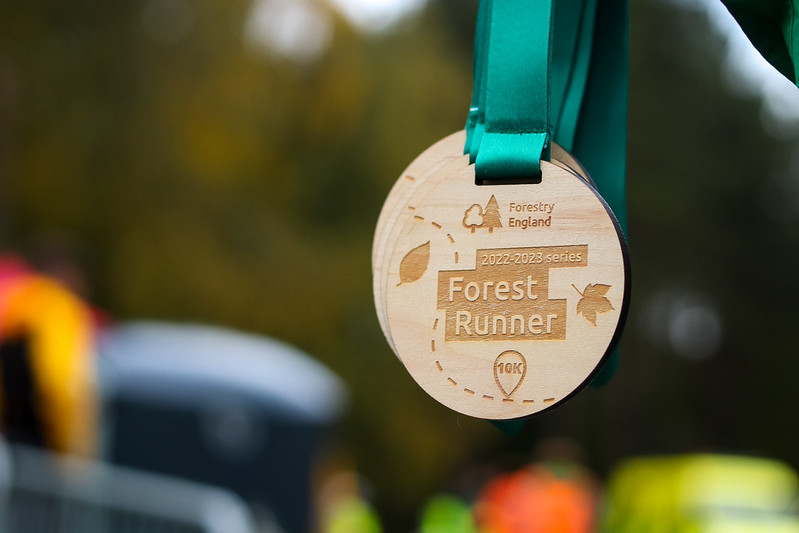 Never in a million years did I sign up to compete, let alone win the race. It was purely for the experience and to get used to the course as I don't often trail run, (I'm more of an urbanite or road runner) so this was purely to understand the course and try something new. Because it was a bit drizzly, I'm sure many people decided against racing that day, so that put me in good stead, retrospectively speaking. I also managed to run the race of my life, smashing my 10km PB by well over ninety seconds. Maybe trail running is for me after all…
From about 2km in I realised that I was running at a particularly quick pace, (for me anyway) and found myself in the top three and gaining on both 1st and 2nd place – surely this was just a flash in the pan, and I'd tail off very soon? By kilometre three – I was out in front – the pressure was on.
Ever the pessimist, I was expecting to drop off and for the chasing pack to catch me at any moment, but I held firm, crossed the line, and couldn't believe I'd won. Who knew a couple of glasses of Rioja the evening before would be perfect preparation?

I've always been a very sporty person and have dipped in and out of running for the past 10 years. However, when lockdown hit, I was furloughed from my previous job, (circa March '20). After completing Netflix in the first month, I decided to take up running again, but more seriously and routinely. I predominantly started running to lose a few pounds and stay fit moving forward. I'm happy to say that I've kept it up ever since.
The main thing for me was having a clear goal; why was I running? Well, I wanted to lose weight and keep it off! I needed a full shift-change in lifestyle, not a quick fix. Therefore, I intended to keep running in my weekly plan. I also needed a good pair of trainers, a proper warm up/warm down and a Berocca for a successful run. Mentally you need discipline and a constant reminder of the sense of, 'elation' you feel once the run is completed.
Putting running to one side for a second, there are multiple other ways I like to stay fit. Football and squash are my next favourites and I often do a spin class, (again a glass of Rioja or two is needed to sign up)! I've climbed each of the three largest peaks in the UK and walked the whole Jersey coastline, (48 miles and it took me 17 hours). I've also completed the London Marathon and four half marathons in the past three years.
Looking ahead to 2023, I'm hoping to be part of the Yorkshire three peaks challenge that Go Ape will be spearheading. I'll try and find a way in to the London marathon again – ideally through a charity and raise some funds and I'd also like to give the Great North Run a stab. Perhaps a marathon abroad.
Working for Go Ape is a breath of fresh air. Being employee owned, you really do feel valued and appreciated in your work. Opinions are listened to ideas are welcomed and innovation and growth is at the forefront of everyone's mind.
Not only this, but they really do give back. This is clear in the Forest Runner series I took part in, but there are lots of other employee led incentives, challenges and the adventures they pioneer each year encourages everyone to 'live life adventurously'.
Go Ape lives by their core values and ensure that they're embedded and relevant in the current zeitgeist. It is incredible that our tribe have these opportunities to take advantage of. Here's to many more.
Join the Tribe