We're an adventurous bunch at Go Ape, and we love encouraging and supporting our Go Ape Tribe to 'live life adventurously'. Part of promoting and making adventure accessible to our employees is through access to our Adventure Fund.
Find out how the Go Ape Adventure Fund helped Rob Bell, Site Manager at Go Ape Black Park, on his mission to complete the London Marathon 2022.
Here's Rob's story: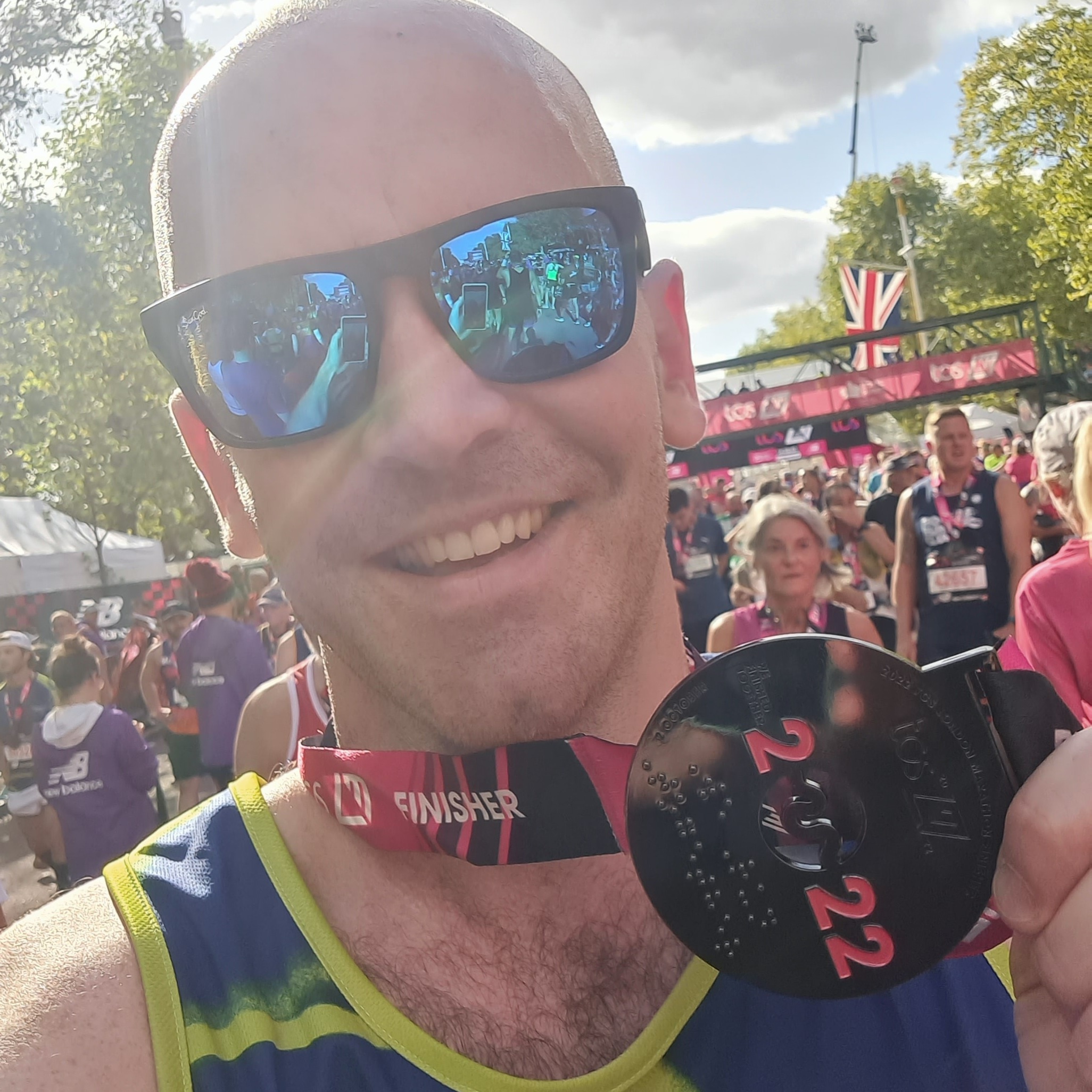 After 2 previous attempts were thwarted by COVID I was determined to run the 2022 London Marathon. I ran 26.2 miles, on my own, in the cold and dark with no one to cheer me to complete the 2020 Virtual London Marathon and, after my household was struck with COVID in October 2021, I took the very difficult decision to defer my place in the 2021 event. I decided that 2022 was my year.
Now I am one of those people everyone hates. Someone who can just kit up and go for a long run without any training and feel great the next day. At least I thought I was! I am notoriously bad at training for long distance events (previous 100-mile bike rides, Marathon 2020, Ride London 2018) and London 2022 proved to be no different. Even with a friend sponsoring me £1 for every training mile I did (I ended up squeezing £150 out of him!) it was tough. With a young family, potty training, prepping for first year at school and everything else that comes with it, training became even harder.
6 weeks before the event, I felt it was time to strap my trainers on and run. I smashed out 12 miles and it REALLY hurt; I thought 4 miles the next day would help… it didn't. I ended up having to use my Go Ape benefits to get a physio appointment to find out I had runners' knee and one of my legs is longer than the other (who knew!). I was given exercises and stretches to complete along with a few days off training!!
It was also recommended that I get some new trainers to help with the impact of 95kg pounding on my knees, which is where the amazing Go Ape Adventure Fund came in! I applied for some funding to help me get some trainers to assist in the 26.2 miles around the streets of London. After a panel reviewed my application, it was accepted, and shiny new shoes were inbound! They needed to be worn in and I had 3 weeks to do so.
The day came and despite the terrible forecast the weather was brilliant for the beginning of October. The atmosphere was amazing and the spirits of everyone embarking on their first few steps of the 2022 London Marathon were sky high.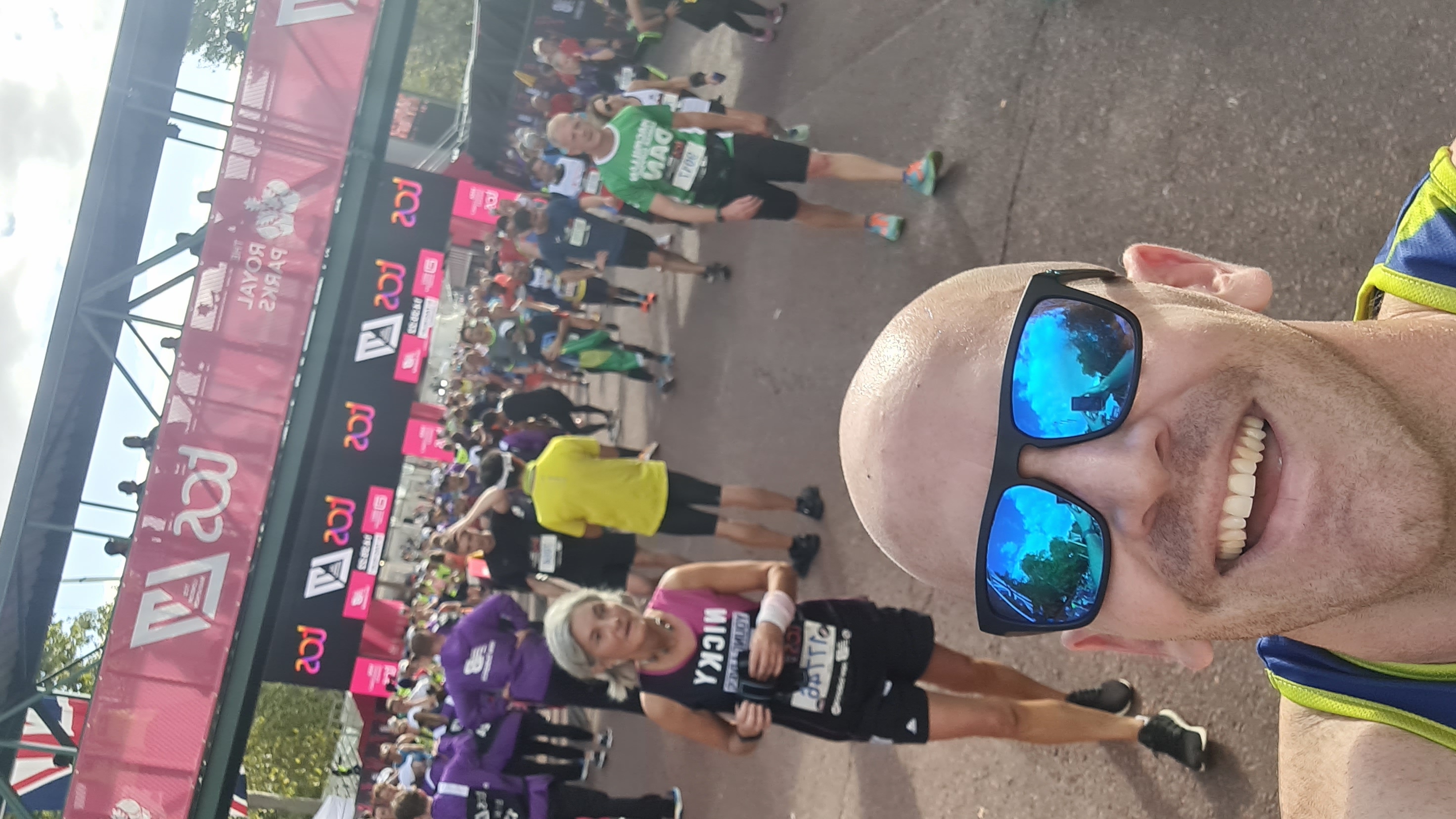 With our watches at the ready to keep pace, we were ready and then we were off! From the moment I started (and far beyond) it was one of the most amazing experiences ever. My fellow runners were brilliant. Most were in running kit, others in Rhino costumes, Pharaoh outfits, some dressed as Big Bird and mobile DJs were all out to complete this amazing feat.
The crowd were unbelievable, I seriously would not have got a time anywhere close to what I achieved without them. I had a few friends and family in the crowd, but most I had never met, nor would I meet them again. One guy even said they loved me!! I obviously reciprocated the gesture by reply! I had my name on my shirt and everyone cheered me on. My arm was beginning to hurt after mile 8 after thanking everyone with a thumbs up!
It wasn't until about mile 20 that I started to flag, but again, the crown lifted me, and I felt lighter on my feet. I wanted to have a little walk, but felt I would struggle to get going again, so I plodded on with nothing but the sweet sound of the crown cheering me on. I even had a little dance to some of the music playing along the way!!
Eventally, there it was, the Mall, Buckingham Palace and the finish line. In 4hrs and 12 minutes I had managed to run 26.2 miles. I was rewarded with a medal and finishers t-shirt for my efforts along with over £1,400 I had managed to raise for Alzheimer's Society.
Thank you Go Ape for the funding to help me complete my Adventure!
Interested in working at Go Ape and enjoying benefits like access to the Adventure Fund? Discover our current vacancies and apply to join the Go Ape Tribe today.
Find your next role