go ape naturally powered adventures: morocco
It takes a special kind of person to spend a 7-day adventure holiday in Morocco hiking up the highest mountain in North Africa, followed by camel trekking in the desert and braving the fierce May heat of Marrakesh. It also takes a special kind of company to offer this adventure to its employees - and subsidise the cost!
In May 2022, I joined 14 awesome Go Ape tribe members from all over the UK as we chose to set off on an adventure of a lifetime. I was keen to pack as much into the week as possible. There were three parts to our trip:
Our climb up Mount Toubkal (4137m)

An exploration of Essaouira

At the end of the trip to Marrakesh
Though many of us didn't know each other at the start of the trip, we all spurred our team members on as we overcame tiredness, altitude sickness, mega sunburn and more.
Day 1: The Adventure Begins!
The trip started a little bumpy with one positive PCR result and flight cancellations (thanks, COVID), so it was an early start for most people to reach Gatwick airport. When we made it to Marrakesh airport, we met our guide, Mohammed and were shocked awake by the 39-degree heat!
Leaving Marrakesh behind, we wound our way along some increasingly tiny roads into the foothills of the Atlas Mountains – the less brave among us chose to sleep rather than watch – to Imlil (a popular basecamp for Mount Toubkal at 1730m).

An acclimatisation hike from Imlil past a stunning waterfall before arriving in the village of Armed, 1945m. Some of us even had a dip in the freezing water.

Muleteers travelling along the road in Armed
Day 2
Let the trek to Toubkal begin! Starting slow to get used to the altitude, we walked 7/8miles (though most of it was upwards) to a beautiful Refugio.

Due to the high winds and possible more showers, we swapped camping for a stay at the Refugio – 15 people in one room of double bunk beds! - and late afternoon activities involved playing with the local baby goats, followed by yoga on the roof.

Afternoon explorations uncovered a baby goat pen!

Yoga on the Refugio roof with a view to stretch out some aching muscles.
Day 3
On day three the real climbing began! Heading up from 2280m we climbed steadily upwards to an amazing lunch spot on the top of a ridge (Aguelzim) at 3650m before heading down to Toubkal basecamp at 3270m. The wind was blasting as we made our way up and very soon hats and gloves were needed as we were treated to our first snow patches.
After two days of trekking, some of us began to feel the grind as well as some altitude sickness so we adjusted the pace and order so we could support each other on the journey upwards
At Toubkal basecamp, we camped in front of the Refugio (surrounded by donkey – and a little donkey poo!), were treated to a Moroccan feast in the dining tent and tried on crampons for the next day!

Sheltering from the wind in a hut.


Toubkal basecamp AKA James Bond Lair lookalike
Day 4
An early 5:30 start meant we rose with the sun as we set off for the Toubkal summit. Every breath became a little deeper as we traversed icy patches and boulder fields. Four hours later, the entire team stood on the summit of Toubkal, 4167m!
After some celebrations and MANY pictures, we started the descent. The journey down was a lot less slidey in our crampons - a new and exciting experience for many – and we arrived back at base camp around 4pm for a late lunch.
Those of us, keen for more adventure, went for a paddle in the river next to the camp. Wow, it felt fresh from the snow melt! This was followed by some more yoga and stretching in the evening (to the amusement of some of the other trekkers) and we celebrated our success with a large, tasty Tagine.
Those of us, keen for more adventure, went for a paddle in the river next to the camp. Wow, it felt fresh from the snow melt! This was followed by more yoga and stretching(to the amusement of some trekkers), and we celebrated our success with a large, tasty Tagine.

Sunrise through the mountains – not a bad view to wake up to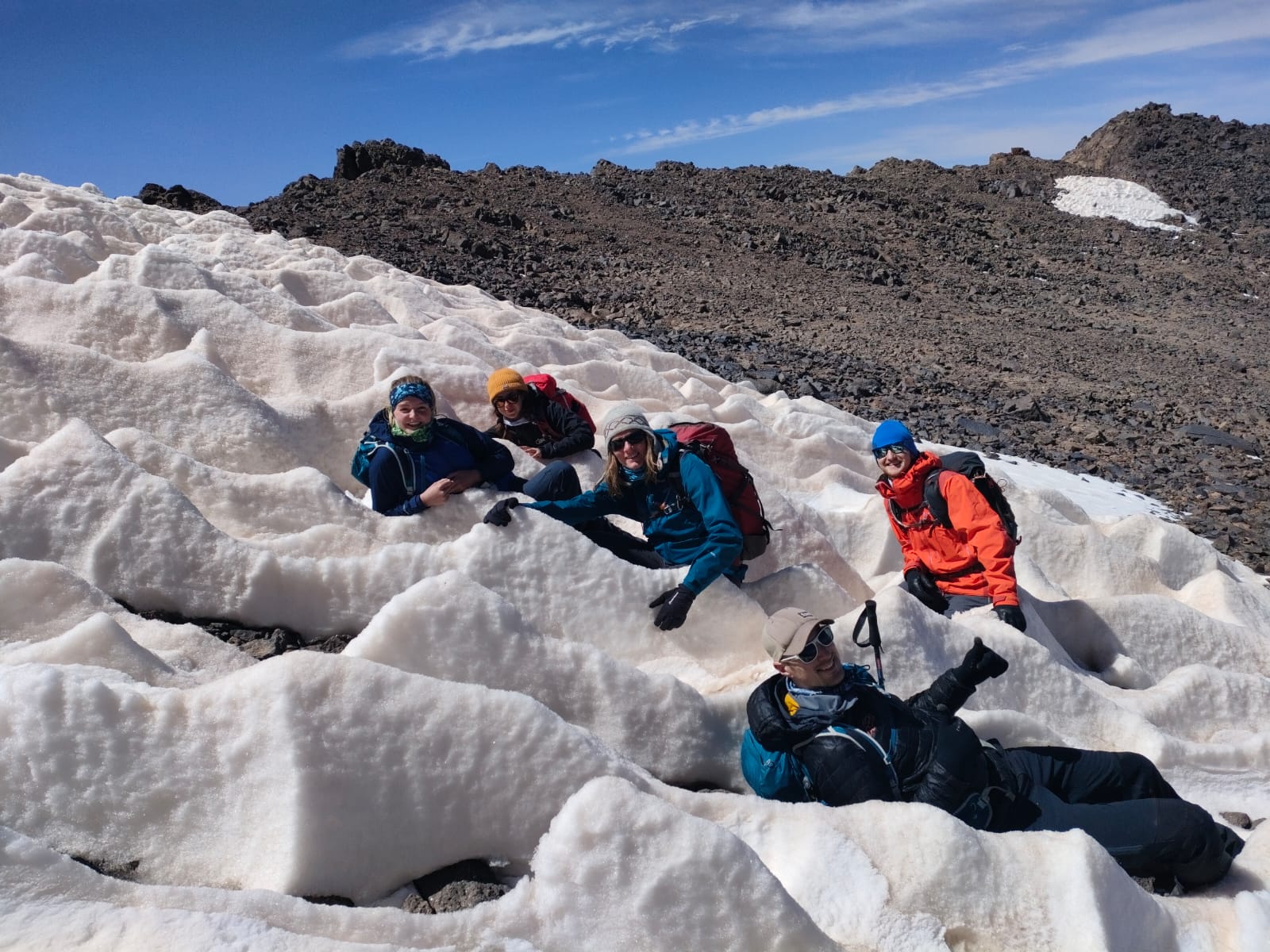 Posing in a sea of frozen ice on the way up Toubkal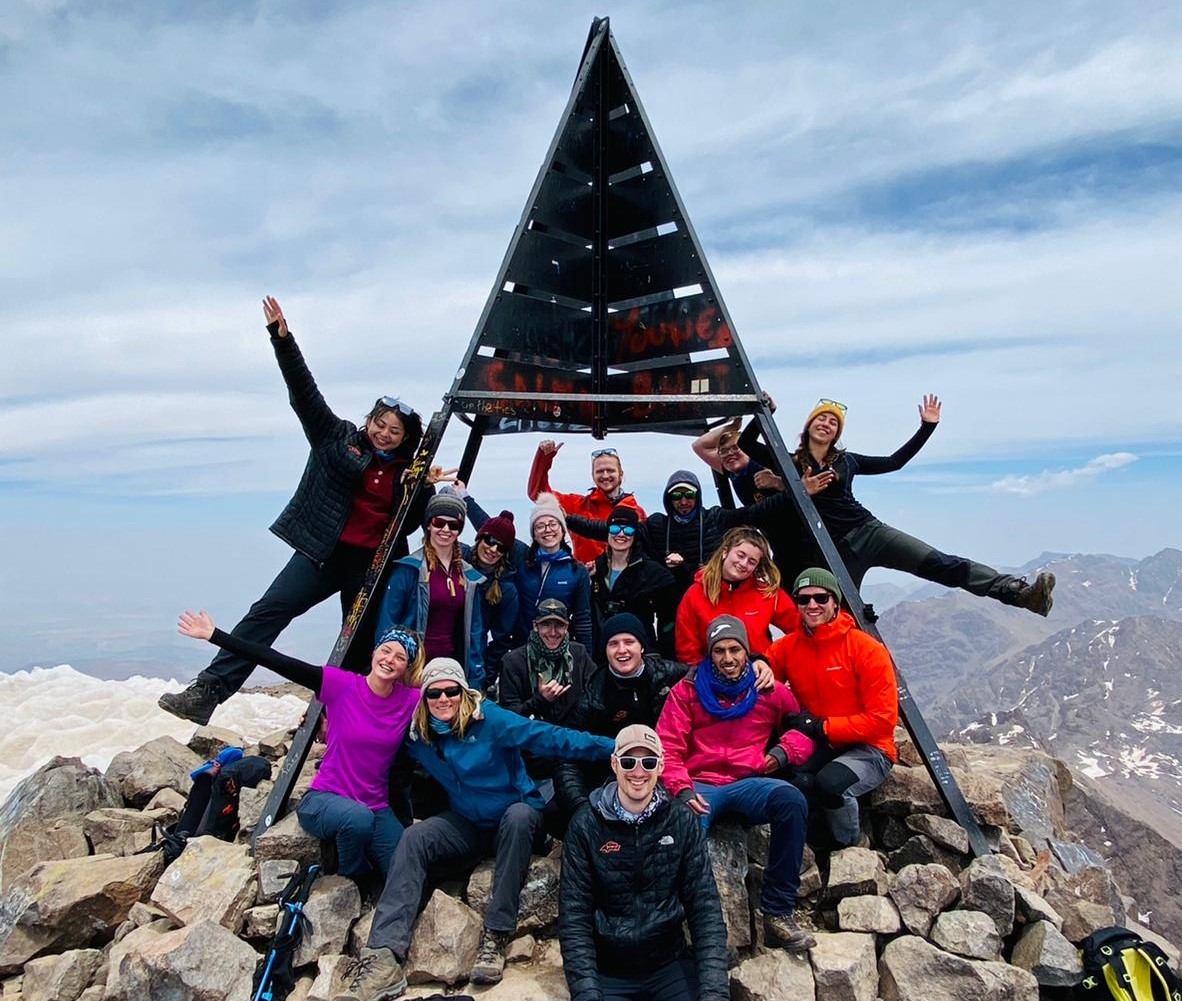 Feeling on top of the world at the summit of Mount Toubkal
Day 5
Spirits were high as we decamped and began the journey back down to Imlil. Wildlife like geckos (and scorpions) began to appear as the temperature warmed and we shed our warmer layers!
There were more than a few smiling faces when we reached the Refugio and settled down to a fantastic meal with mint tea and fresh bread.After saying our goodbyes to Mohammed, the Assistant guides/cooks and the muleteers, we set off on the coach to our next destination. We travelled 4 hours from the mountains to the historic seaside town of Essaouira - which now is a haven for kite surfing.
The beautiful mosaiced walls and fountains in the Riad Charla contrasted the last 2 nights camping. It felt very luxurious to shower in an ensuite and spend the evening in a restaurant overlooking the ocean.

Sneaky scorpion just a metre from where we were taking a break

Rooftop view from Essaouira restaurant
Day 6
Time for a truly Moroccan experience, a camel ride! After a lavish breakfast of pastries and coffee, we were picked up and taken to a "Camel Ranch" on the outskirts of Essaouira.
Trailing our way through the dusty heat to the sea, we passed a famous ruin which hosted a Jimi Hendrix festival back in the 60s and learnt about local history from our guide, Mustafff. My camel was appropriately named Tarzan!
Once we'd bumped back to ground level, we made our way back to the old fort and passed a leisurely afternoon dipping in the sea and exploring the shops and back alleys.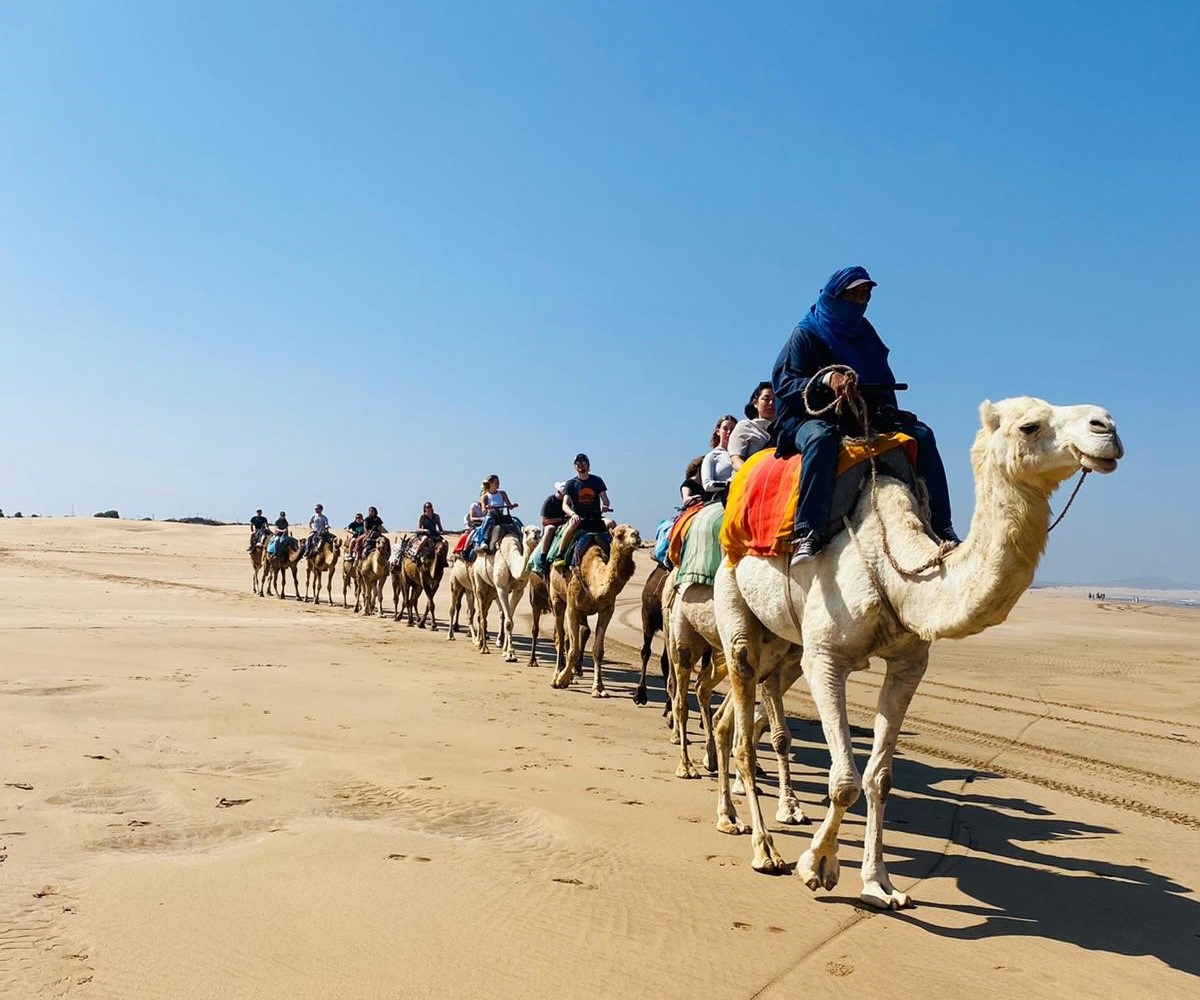 Swapping out hiking for a more stylish mode of trasnport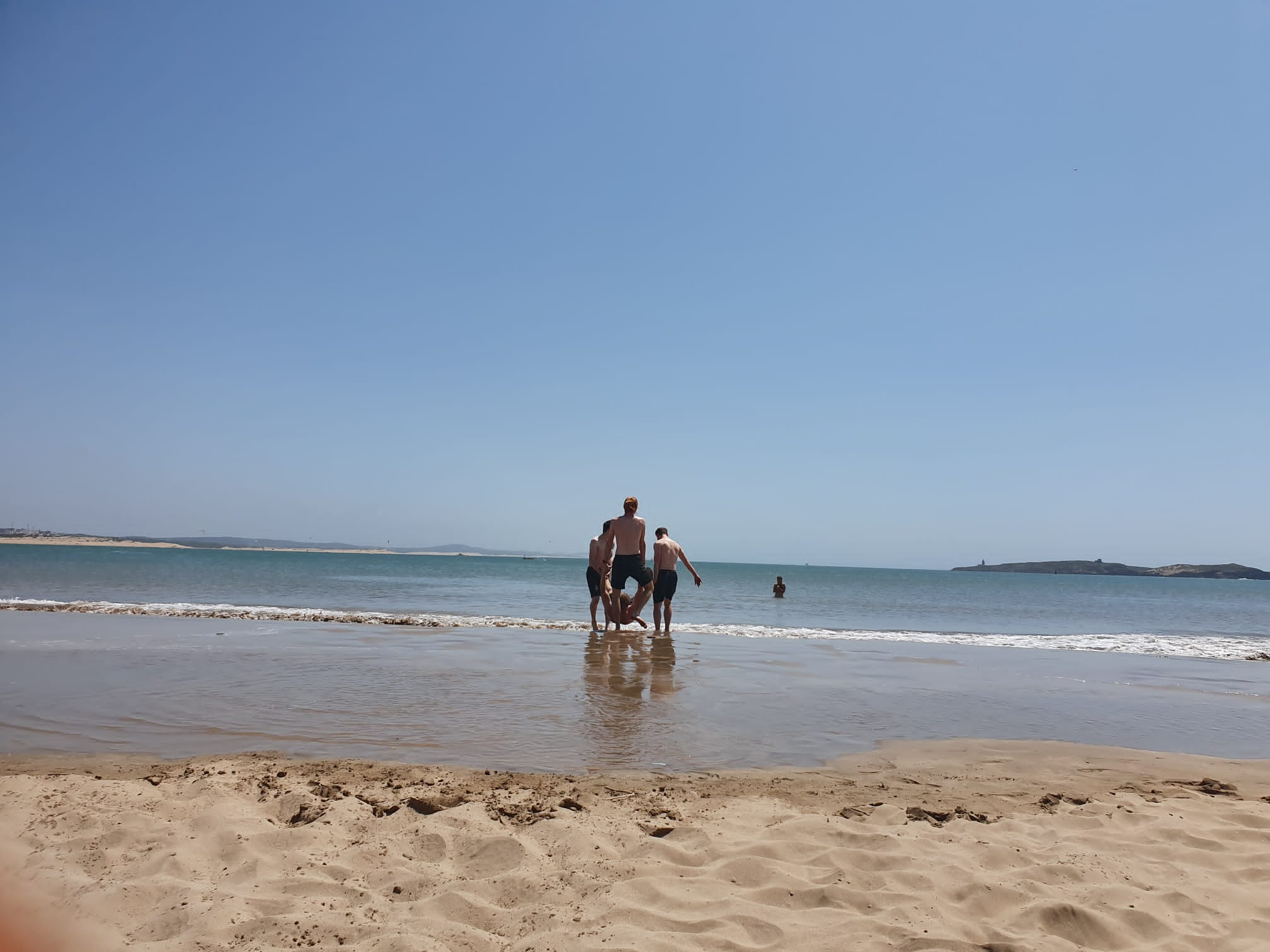 Some of the team were more keen to dip than others
Day 7
Leaving behind windy Essaouira we returned to the colossal heat of Marrakech! We arrived at our Riad at lunchtime (35 degrees!), which was ideally just off the main square and souks.
We broke into smaller groups after another delicious tagine lunch in the Riad (we had our five a day each day!). We checked out what Marrakech had to offer, from snake charmers and very pushy henna artists to people trying to sell tortoises. We all had the chance to test our bartering skills in the Souks! A favourite purchase included mint tea!
We finished off a very good week with a final dinner on the roof terrace of the Riad, watching the sun go down.

Rooftop bar at the Marrakech Riad

The winding lane of Marrakesh Market
Final day
Since our original flights to Gatwick were cancelled, we gained an extra day in Marrakech! To make the most of this, we got up early and had breakfast before taking a cultural trip to the Jardin Majorelle.
This exotic garden was designed by a local artist and then managed by Yves Saint Laurent, who is buried there. There were some amazing vibrant contrasting colours with unique cacti from all over the world set in a stunning design.
We had our last lunch together and then made haste for our flights back to the UK.
The adventure concluded in the skies of the UK, with us circling London for 40 mins because we were caught in an electrical storm! We could see lightning flashing across the sky and bouncing around like we were on the camels again. Safe to say, we were glad when we finally touched back down!

Weird and wonderful cactuses at the Jardin Majorelle
Going on a holiday booked by your company with a bunch of strangers may sound crazy, but every Go Ape tribe member shares something, a love of adventure. Together we supported each other at each obstacle we faced. We encouraged one another as we traversed along particularly icy shelves, leant a hand across slippery river crossings and stood by each-others sides when bartering the best price for treasures in the markets. And, by the end of the week, we weren't strangers anymore. We experienced an adventure many might not even know how to begin organising, smashed through our expectations and were all inspired for even bigger and better future journeys.
Start your Adventure