Spine Race Challenger North
The Adventure Fund
As fans of adventures and adventuring, we try to talk the talk AND walk the walk at Go Ape. We're dedicated to ensuring that every person has a great day at Go Ape, but we also want to support our team and help them keep adventuring!
Every year our co-owners have access to subsidised Naturally Powered adventures organised and led by Go Ape (all over the world). Some recent trips have included: Stand up Paddleboarding around Northumberland, multi-activity trips to North Wales and an intrepid expedition to Morocco up the highest mountains in North Africa (Mount Toubkal).
Go Ape also offers the "Adventure Fund", which employees can use to fund their own expeditions. Everyone can send an application for their proposed adventure, and funding is allocated.
Go Ape co-owner Ed Smith, made great use of the fund when taking part in the extreme 160-mile Montane Spine Challenger North Race along the Pennine Way.
It's 6 o'clock, it's Sunday, on a freezing cold January night. Why on earth am I stood in a snow-covered field in the middle of the Pennines? I could be sat on my sofa, in front of the fire guessing the price of some old tat on the Antiques Roadshow. But, instead, I've decided to 'run' the 160-mile Montane Spine Challenger North, from Hawes in North Yorkshire to Kirk Yetholm in the Scottish Borders, following the Pennine Way.
At a few minutes past designated start time, myself and a hundred or so other headtorch lit competitors set off into the night. There is no great fan fair or crowds, just a couple of race organisers wishing us luck as we shuffle past, and gingerly make our way straight up onto the fells and over Shunner Fell. At 716m, it isn't the highest point on the route, but certainly a steep introduction to what is to come over the next few days.
To stop me from overthinking and panicking about the enormity of what I've signed up to, I have broken down the route down in my head. Middleton in Teesdale marks the first checkpoint, where I can get a hot meal and maybe even an hour or two of sleep. All that lies between there and me is 33ish miles of freezing, snow-covered moorland, fells, streams, bogs, rocks, walls, fences, and a sink hole.
Carrying nearly 10kg of kit, with everything from a sleeping bag and 3000 calories of food to a 'toilet' trowel (which the race rules explicitly state cannot double up as your dining spork for weight saving) add an extra dimension to the night. Every footfall has to be calculated to allow for the extra weight on the icy terrain and it is near impossible to maintain any sort of regular pace or stride.
The night passes relatively incident free. After attempting, and not completing a similar event a few years ago, I adopt a steadier pace, trying not to listen to my inner monologue which tells me to go faster while I'm still fresh. This is a marathon not a sprint, and this first leg is the shortest of all. As it is, by 5.00 am, I jog into the deserted streets of Middleton and am greeted at the checkpoint by the amazing army of volunteers.
I am immediately sat down in the warm with a steaming curry and cup of tea placed under my thawing face. A steady stream of competitors come and go, and as much as I want to rest here all morning, I know I have to be efficient and organised to avoid faffing and wasting valuable daylight. To that end, I've complied a checklist to follow: eat, drink, footcare, snooze, kit check and get out the door! Thanks to Pip from Go Ape Whinlatter, one member of the army of smiling volunteers, my kit is and I am back out the door into the early morning winter sun.
Day 2 is even more of a toughy. It's a slog over 40-miles which includes the highest point on the route, Cross Fell. I already knew I'd be tackling this at night but, to be fair, as it is January, most of the route is tackled at night!
The day takes us past some of the most scenic parts of the overall route including, High Force Waterfall and the Cauldron Snout, as well as Cumbria's answer to the Grand Canyon, High Cup Nick. I pass this just as the sun sets over the Lake District.
From here, for reasons which can only be described as a sick joke, the route descends all the way to the village of Dufton. To my surprise my girlfriend (who's to blame for my entrance into this race) is waiting, crutches and all. She fractured her ankle a week before the event and was meant to be running with me.
After a few choice words of encouragement, it is time to start the endless trudge up Cross Fell. If you've ever driven up the M6, just before Penrith have a quick look to your right. If you're lucky, and it's a clear day (so probably not!), you may just spot a big golf-ball-like radar station on top of Dunn Fell. Keep looking along the ridge, and that's it.
By this time, the wind has picked up, and the light from my headtorch lights up the spindrifts of snow as they cover the flag stoned path. My second hand ebay-purchased GPS is the only thing (hopefully) keeping me on track!
Eventually I make it to the wide, domed summit and down the knee-deep snow side to the warmth and safety of Greg's Hut. This mountain bothy is somewhat of an institution on the race, manned by volunteers, and we are allowed a half hour respite from the elements. Huddled round a wood burning stove our fingers and toes slowly defrost.
A tedious, 8-mile descent off the fells and into the relative shelter of the valleys takes us to the second checkpoint and the famous lasagne at checkpoint 2, Alston.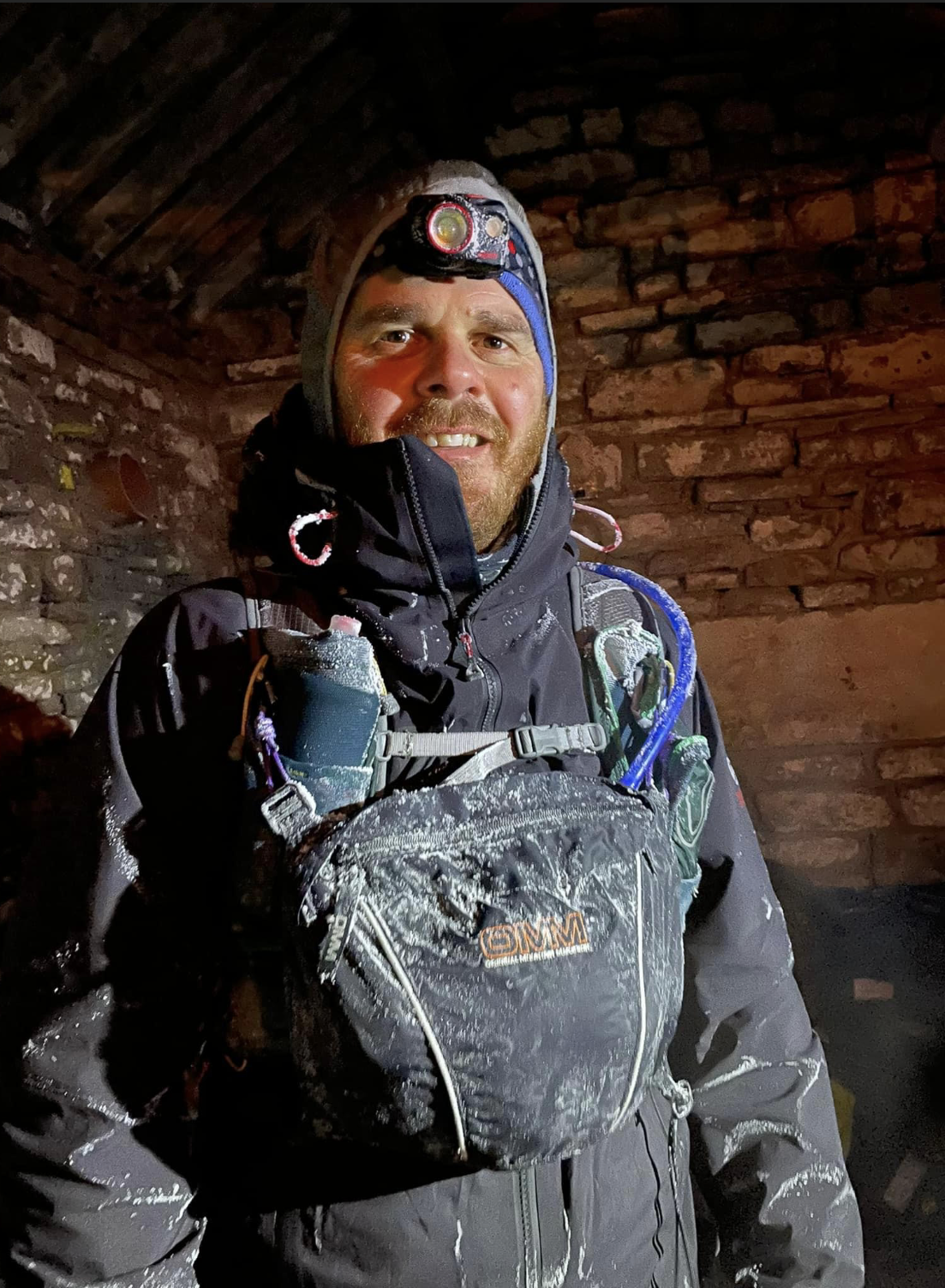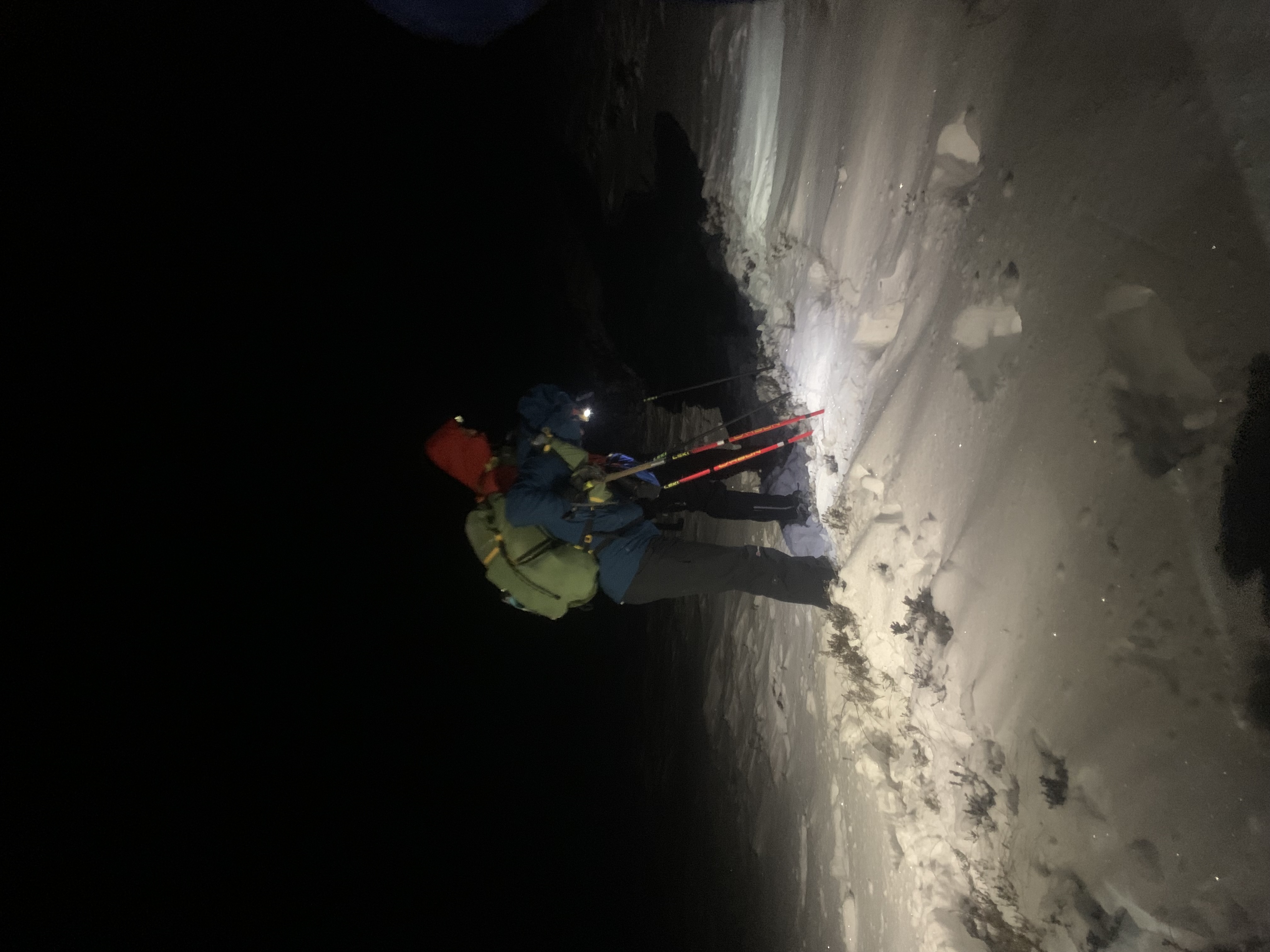 Day 3 is a different challenge altogether. It's another 40+ miler, the majority of which is across desolate open moorland or dark, endless forest. The 'high' point, both literally and figuratively, comes when we race along Hadrian's Wall, but obviously this will be in the dark!
By this point my feet aren't too chuffed about the situation. The wet, freezing conditions have started to form blisters, and the ice spike crampons I'm wearing begin to feel like I'm walking on a bed of nails. The constant movement and ever-increasing fatigue also lead to a lack of appetite, even Haribos and Dairy milk became unappealing to me… Plus I start to see some slightly unnerving hallucinations. At one point, illuminated by my headtorch, I vividly see an old witch-like lady, sitting beside a stile, ready to help me over the stone wall.
On leaving the final checkpoint of Bellingham, on the edge of Kielder Forest, I know that this is the last chance I'll have of a warm rest for the best part of 24 hours. Ahead lies miles of Kielder Forest, or what was forest, until acre upon acre was destroyed by Storm Arwen. The evidence is still everywhere to be seen.
After a quick pitstop in Byrness, it is onto the most remote and difficult part of the route, the Cheviots. This vast expanse of steep, snow covered hills and moorland stretch for the next 25 miles all the way to Kirk Yetholm and the finish line.
There is no shelter from the elements apart from a couple of tiny, freezing wooden huts which offer little respite from the freezing arctic winds. Eventually, as the sun started to rise, a small band of competitors and I make it over the last 601m summit of The Schill, before descending into Kirk Yetholm in time for breakfast. As is tradition, we cross the village green and ceremoniously touch the wall of the Border Hotel, which marks the end point of the Pennine Way.

Now I'm home and nursing my remaining toenails, I need to say a massive thank you to the Go Ape Adventure fund, Vic Herbert and all the amazing Spine Race team and volunteers for their unwavering support. Also, thank you to all my friends and family for their endless dot watching and messages of encouragement.
Jobs at Go Ape