Go Ape Chelmsford: One Month of Adventure
In August 2023, Go Ape launched our 36th location, Go Ape Chelsmford, Hylands Park, in Essex. One month later we're checking in with Site Manager, Deaglan Flynn, to find out how it's going.
How's it going so far?
After all the build-up and planning, it's been great to have the course so full of adventurers and hear the sound of zip lines in the trees.
The Deputy Mayor of Chelmsford, Councillor Jude Deakin, and Go Ape's super fan, Verity Bailes, who has completed all of our Treetop Challenge experiences, officially cut the ribbon. The event was also attended and reported on by local outreach group, Chelmsford Community Radio. The Deputy Mayor had some lovely words to say, and it was great to see that the local community were so engaged and excited.
Everyone has really got on board and it's so gratifying to know that people think we're having a positive impact in Hylands Park, encouraging even more people to get outside.

What's your favourite part of Go Ape Chelmsford?
Our adventures are family friendly but definitely aren't easy!
On every course, you need to engage your brain and adjust to each unique crossing to reach the zip line at the end, but especially on Treetop Adventure and Treetop Adventure Plus. The final loop on Treetop Adventure Plus is higher than on many other courses and I think completing it, gives some people the confidence to level up and try Treetop Challenge next time.
Proudest moments so far?
I'm really pleased by our reception from the local community. Go Ape Chelmsford has been almost completely booked so far and the park has been alive with people. I was expecting it to be popular, but we have been blown away!
I'm also proud of how well our Chelmsford instructors have taken to their roles. We launched in our peak summer period, but all our seasonal team members are keen to come back next year. Everyone has supported each other, taking on additional responsibilities and many others have exceeded their own expectations.
When planning for Chelmsford, we wanted to create a diverse team which is a proper representation of the local area, and I feel like we've achieved that so far.

Some highlights from the first month?
One of my highlights was probably a visit from an elderly couple and their grandkids taking on Treetop Adventure. They were both in their late 80s and are probably the oldest customers we've had so far, but they had no trouble! Between them they led their grandchildren around and everyone had a great time! It just shows you're never too old to have an adventure.
Any words on the infamous banana bench?
Historically all our Go Ape locations have a gorilla, orangutan or monkey by the cabin, which is created by Chainsaw artist Tim Atkins. They make for a great photo opportunity.
Tim did create a Gorilla for Go Ape Chelmsford, but we also commissioned our first 'banana bench'. This is a firm customer favourite as there are… many ways to sit on the banana bench.
There have been some good pictures so far and it does make a very comfortable perch!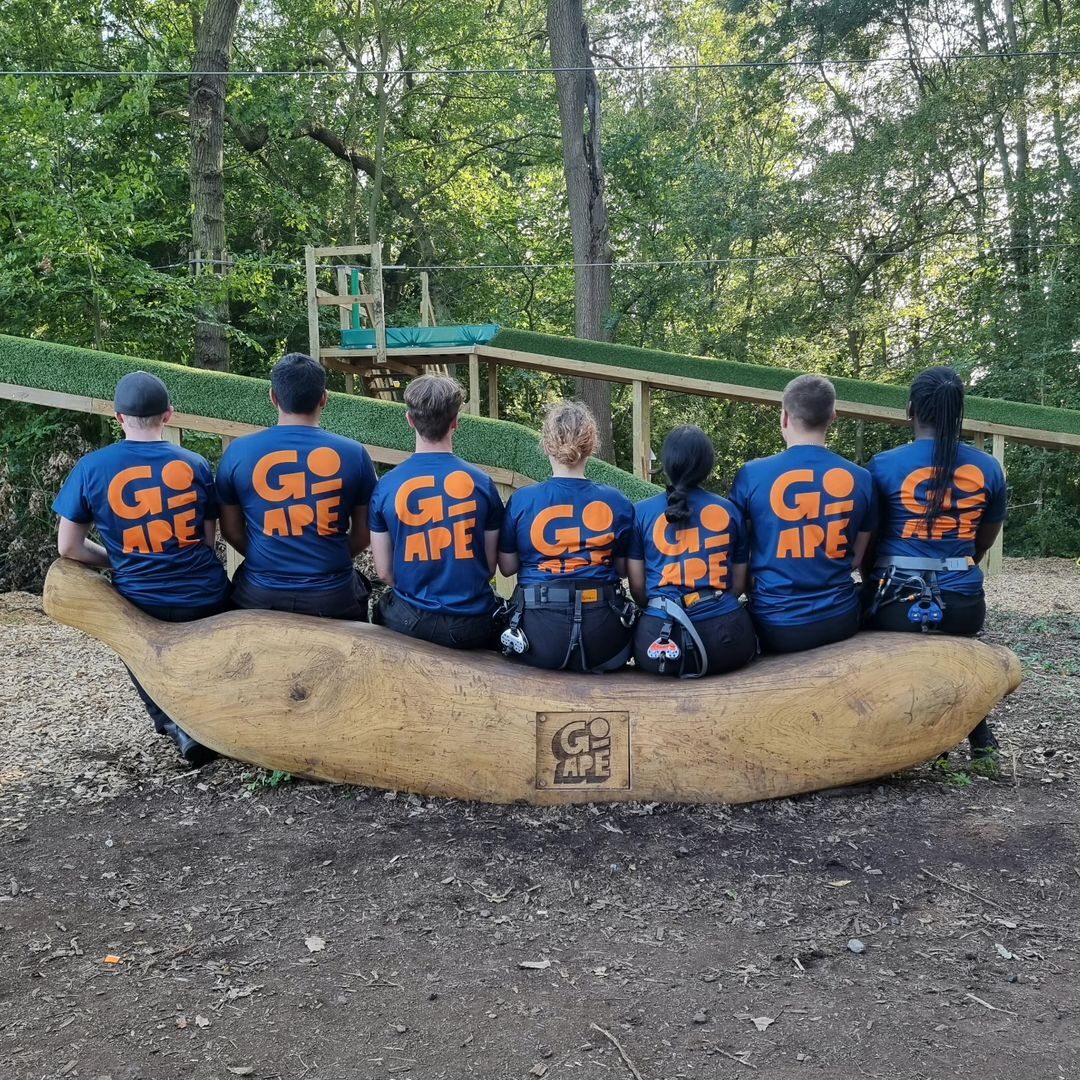 What are you looking forward to?
Now that we're coming out of the summer holidays, I'm looking forward to building the team dynamic even more with our year-round staff and getting into our groove. It'll give us a bit of a breather to do some of the everyday bits, as well as jobs like installing bird and mouse boxes to help promote biodiversity in the park.
We will also be launching our Sundown Adventures soon, so we're excited to welcome thrill-seekers to the forest after dark and offer this unique experience!
"My daughter and I attended the Go Ape at Hylands Park and were booked onto Treetop Adventure Plus.
My 12-year-old daughter has a healthy fear of heights but was determined to give it a go. Quite early on in the first loop she was becoming nervous and a bit tearful with the height, but pushed herself through.
Towards the end of the second loop, she became very scared at one of the obstacles and froze. No amount of encouragement from me could persuade her to do it. However, a young instructor came to her aid and helped her across the obstacle. He even did the obstacle backwards so he could talk her through it. She finished the second run and was determined, with her new-found confidence, to finish the last loop.
Towards the end of the last loop an obstacle got the better of her and the instructor again came to her aid, helping her across the last three obstacles. He even did them in reverse so she could have the sense of achievement of completing them for herself.
On the way home she was 'buzzing' and hasn't stopped talking about it all day. It has given her a huge amount of confidence in herself. This was in no small part down to the help given to her by the instructor, with his calm and compassionate manner.
The impact of lockdowns and everything that went with it has had a massive impact on Lizzie's age group. The Go Ape team, and especially the instructors' efforts have gone a long way to fixing those confidence issues.
- Phil
This was a fantastic day out. It was me, my partner and 9 year old son. We did the Treetop Challenge. This involves 3 different sections, increasing in difficulty and height. This was our first time doing this. I must say I found 2 rope crossings extremely difficult due to me being so nervous. But the staff were amazing and supportive.
An instructor climbed to me and my family to support me and my son through the ones we found nerve wrecking. He was so encouraging and made us feel so much calmer and we did it...mostly!!
All the staff were so lovely from the reception to the safety instructor. It took 2 and a half hours to complete all 3. In a beautiful surrounding. Will definitely be back to try another adventure. Would highly recommend.
- Lisa
Great day out for the whole family even Nanny! We all loved the zip wires. The staff were all amazing and made us feel safe even though the course was challenging at times (on Treetop Adventure Plus). I personally conquered many fears and even enjoyed the view once I got used to it! My son wants to come back to do Treetop Challenge once he is old enough.
- Hannah
Discover Sundown Adventure