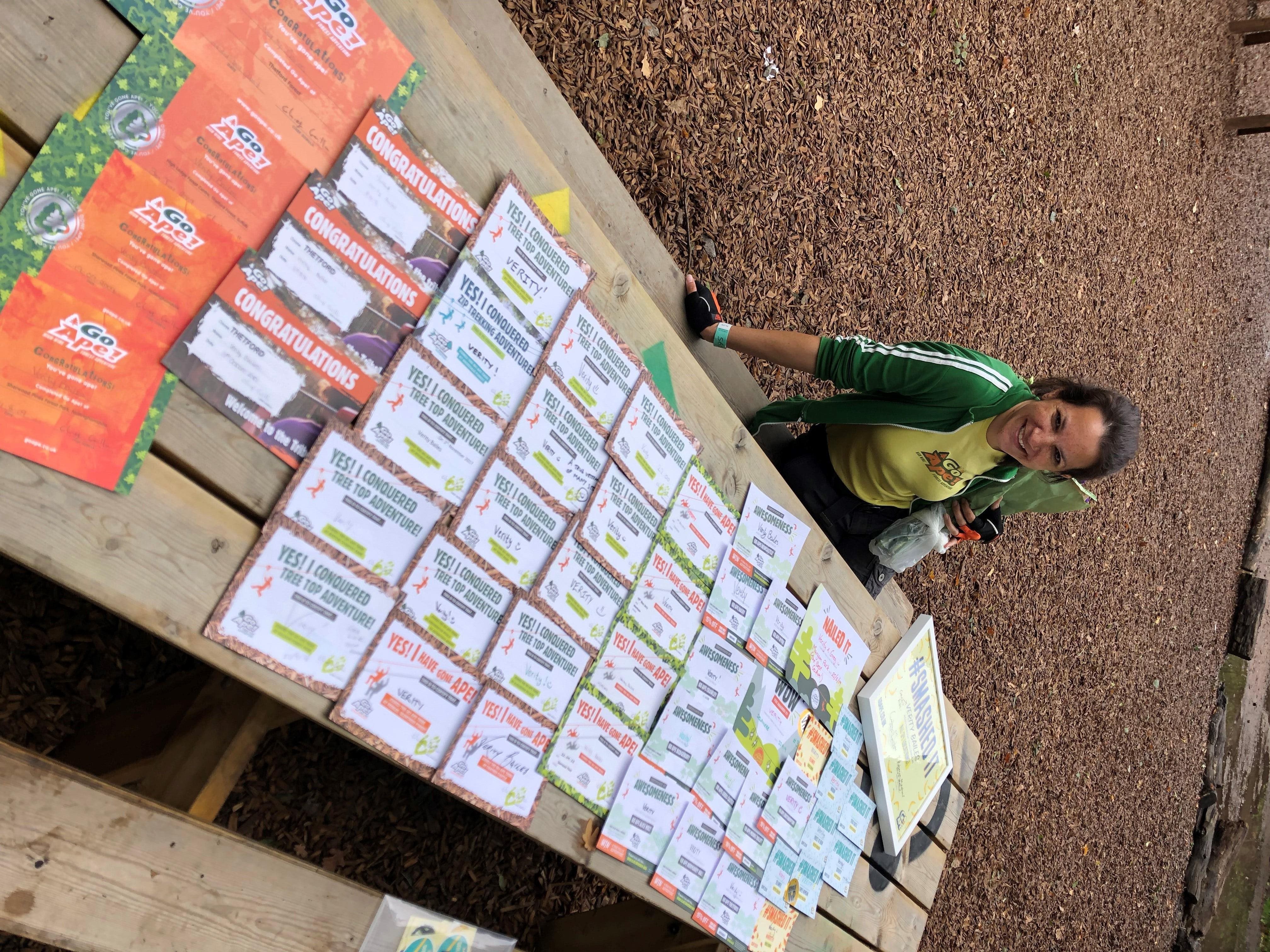 Verity Bailes has become the first woman to complete all 34 Go Ape's in the UK!
On September 29th 2019 Verity Bailes from Peterborough became the first ever woman to complete Go Ape's Treetop Challenge at all 34 locations across the UK.
The unusual challenge, which has taken Verity almost three years to complete, came to a grand zip wire finale at Go Ape Coventry, after starting at Go Ape Thetford back in 2016.
Since then, as part of her personal mission to conquer all the locations, the extreme adventurer has travelled the length and breadth of the country to take to the treetop courses of every single Go Ape Challenge course in the UK.
It was all part of the 101 things to do challenge that she set herself. On completing the final site she said it was "the best feeling ever and she felt so accomplished!" Verity also noted that picking her favourite course would be like picking her favourite child.
Crossings

Transcended 986 wobbly crossings

Zip Wires

Zoomed down 9 miles of zip wires

Tarzan Swings

Taken a leap of faith on 61 terrifying tarzan swings

Height scaled

Hovered over 42m above ground for 68 hours (almost three full days)
HOW the challenge came about
"I had a list of 101 things to do in 1,001 days and completing all the Go Ape courses was high on it. I didn't actually think I'd make it – it's been the hardest on the list but the most fun by far. When I first started, just getting to the top of the ladder would have me shaking like a leaf. Now going up doesn't bother me at all. You've just got to dig deep and keep going, and when you complete it you feel like Rocky!"
- Verity Bailes

Verity has now zipped into the record books as the only person to complete all 34 outdoor adventure sites. It's the second record breaker of the year involving Go Ape – Eileen Noble, 85, from Kent, became the oldest woman to complete the adrenaline-pumping activity in July this year, joining Jack Reynolds from Derbyshire, who became a Guinness World Record holder when he celebrated his 106th birthday by taking on a Go Ape zip wire live on TV in 2016.
As a congratulates for completing her 34th site at Coventry and personal challenge, Go Ape presented Verity with unlimited free access to Go Ape and invited her to officially open the next Go Ape location. As Go Ape's biggest fan, she is already planning her next visits to try the Segway tours and Zip Treks.
Verity's achievement really captures the spirit of what Go Ape is all about, as Jo O'Boyle of Go Ape commented: "When our customers live adventure, we know we're doing a good job. We have 34 courses out there and they are all different, so it was great to get Verity's take on them all."
Verity's epic Go Ape Challenge:

Biggest achievement
"The Go Ape Wendover climbing wall was by far the hardest thing I had to do. I couldn't look up, I thought my feet were going to slip off, I was terrified. But I'll never forget the feeling I had when I got to the top."
Go Ape Wendover

Favourite Go Ape course
"Go Ape Thetford, because it was the first one I ever did. Scotland also has the best views and zip lines. And Ally Pally, because I did 'The Plummet' there."
Go Ape Thetford

Advice to others doing Go Ape
"Trust in the harness! Concentrate on where your feet are going, take a deep breath, look forward and enjoy it for what it is, because when you finish you will feel far more fantastic then you ever felt fear."
Treetop Challenge
Discover More Inspiration