7 Benefits of a Go Ape Adventure
"We took our sons over half-term and had an amazing time. My oldest (who has special needs) is fearful of heights and we thought this could be a great confidence-building experience for him. He managed quite well and even did the zip-line, until we got to the 2nd course where there was no support rope to hold onto and he froze.
One of the guides, Rob, came to the rescue and went ahead of us, walking backwards so that he could face my son and guide him through the course. He did so with such patience and kindness. By the end of our time at Go Ape, my son said he felt so proud of himself for having finished the course - he even says he would do it again! He definitely gained some confidence and managed to conquer his fear."
This is just one of countless stories showing the positive impact of a Go Ape adventure.
At Go Ape we care about encouraging people to get outside and live life more adventurously. Through our high-ropes and ground-based outdoor experiences we challenge everyone from 1-104 years old to help them turn 'I can't into I can'.
Whether you're a seasoned adventurer or are just dipping your toe into the world of outdoor adventures, here are some of the positive benefits of stepping outside of your comfort zone at our 36 Go Ape locations.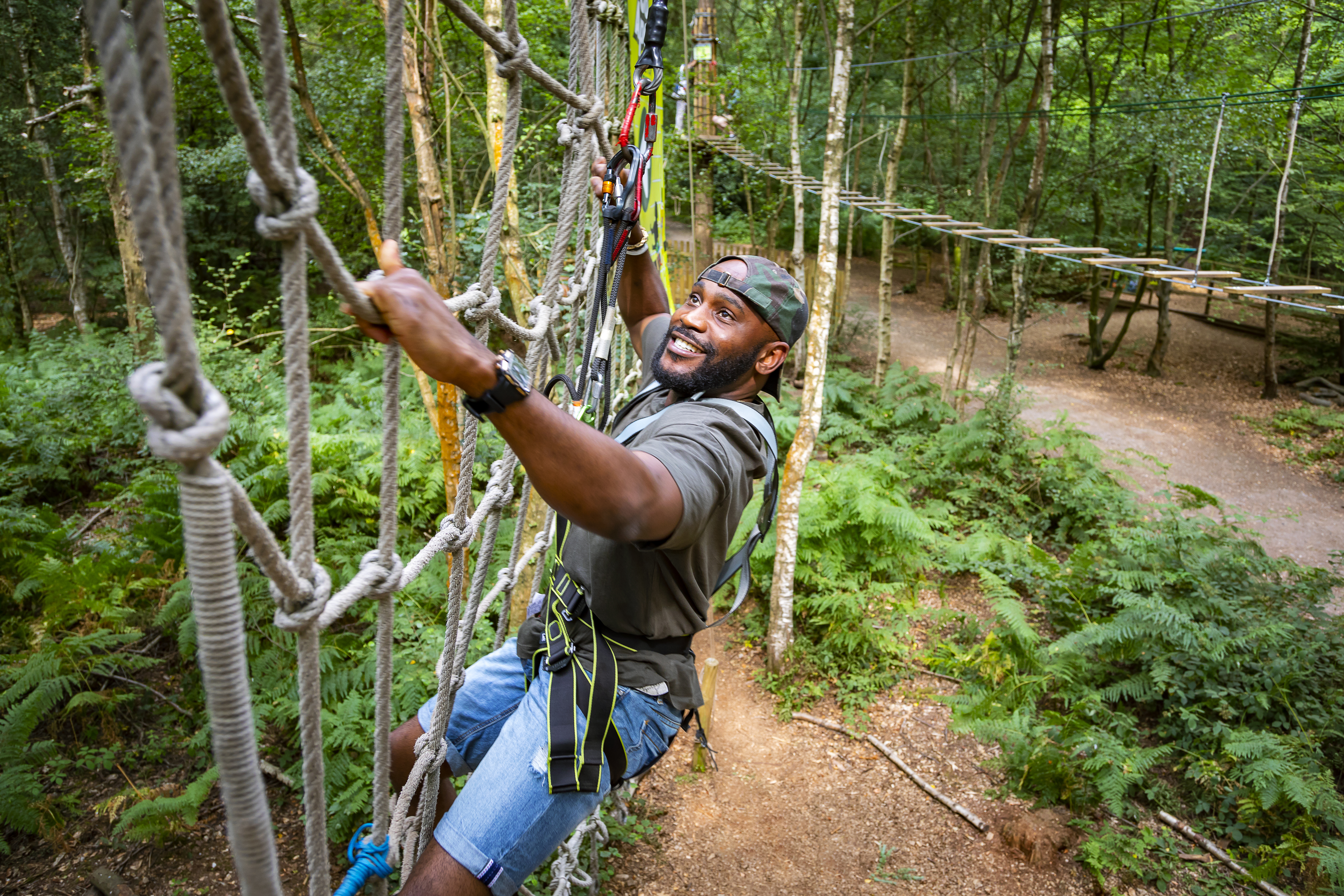 1. Improve Your Strength and Endurance
Adventure courses are designed to be accessible, but they do offer a degree of physical challenge. You're sure to get your heart pumping as you traverse tricky crossings on Treetop Adventure, stick your landing on the super-long Treetop Adventure Plus zips or clamber up the Tarzan Swing on Treetop Challenge.
Additional equipment or adjustments to normal procedures can be arranged. Please contact [email protected] or call our team on 01603 895500 to let us know about any additional requirements.
2. Get fit and have fun!
If you're looking for a fun way to get active on the weekend or in the holidays a Go Ape is the perfect option. Burn off the calories without even realising it as you explore the trees on another level. Even our Forest Segway adventure will have you engaging your core as you test you balance and motor skills on off-road trails.
We assure you our stunning forests, parkland and moorland locations are supremely better than a sweaty gym.
3. Reduces Stress
Spending time outdoors and in nature has been shown to reduce stress and anxiety. Being in amongst nature and wildlife refreshes our senses and lets us escape our day-to-day thoughts and worries. According to our Go Ape Grizedale Site Manager, Clair Fowler, a bit of "zip-therapy" is just the ticket, especially on our epic 3km Zip Trekking Adventure.
Our thrill-seekers also say that Axe-Throwing is also a fantastic way to channel and abolish any stress!

4. Improved problem-solving skills
Our activities often require adventurers to think outside of the box and come up with creative ways to solve puzzles. On our high ropes courses you have to figure out the best way to pass through tricky crossings. And there's the age-old question… how you can avoid a wood-chippy bum and make a zip-landing on your feet. Remember, it's important to relax and not turn yourself around.
If you're arranging a school or corporate group visit to Go Ape, the outdoor board game, Baboonzled is a must. Designed to encourage teamwork and communication, Baboonzled brings the whole tribe together through a mix of physical and mental challenges that are sure to get your heart pounding and mind racing.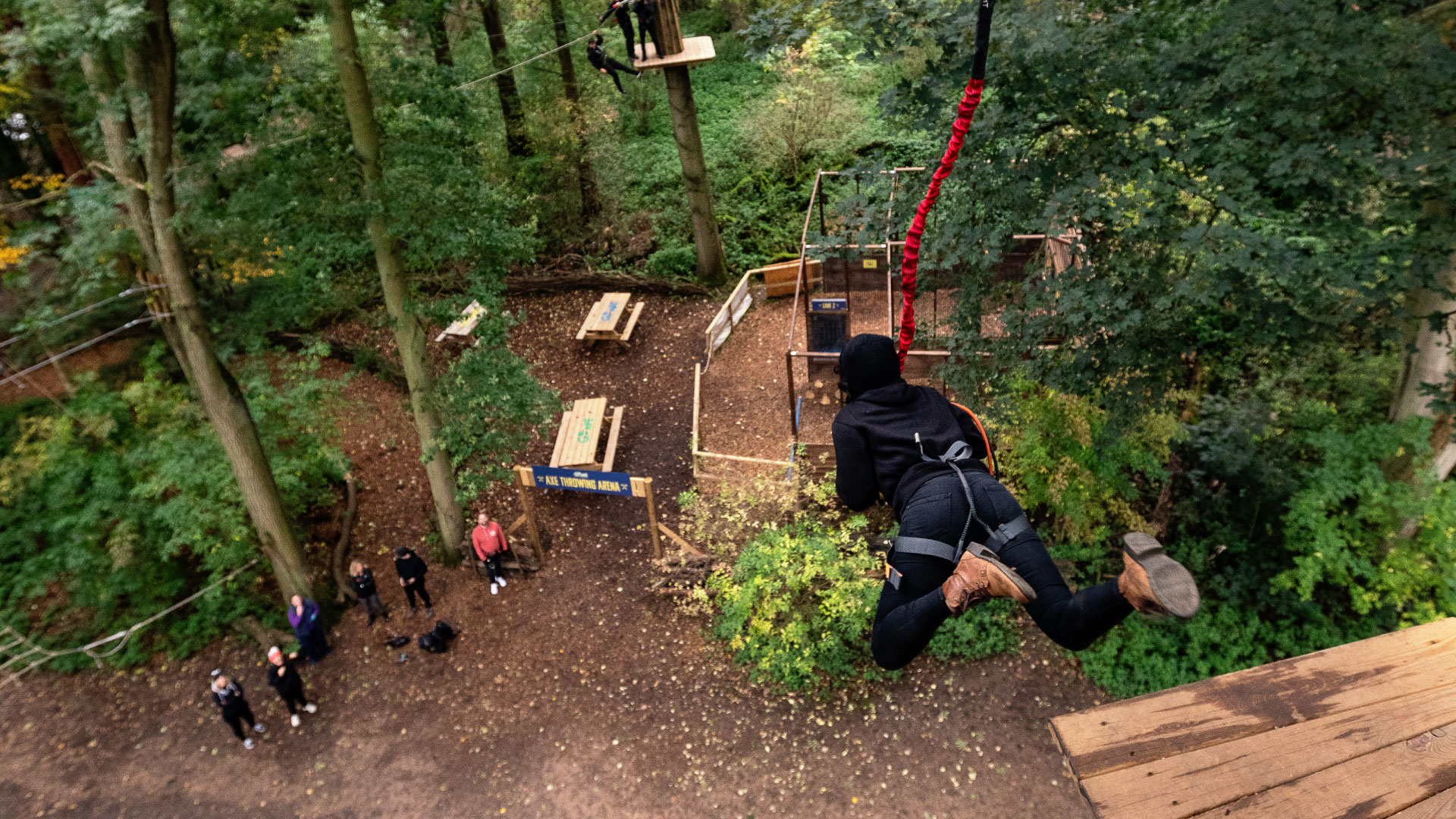 5. Increased Confidence
Go Ape adventures can develop your confidence and self-esteem by helping you to step outside of your comfort zone. By challenging yourself, you can learn to trust yourself, your abilities and prove that you can do far more than you may have thought.
The 12+m Plummet at Alexandra Palace and Go Ape Coventry may look daunting when you first peer over the edge, but you can't believe the sense of achievement you'll feel at the bottom!
6. Bond with friends and family
We believe that all adventures are that much sweeter when they are shared. Go Ape adventures can help you bond with your family and friends by uniting you in a shared challenging experience, filled with fun and excitement. Let your competitive spirit shine as you race each other down zip lines, aim for the Axe Throwing bullseye or see who can bounce the highest on Nets Adventure.
Whether you're with family or friends, you'll create unforgettable adventures together as you learn from each-others' successes and connect on a deeper level.

7. A great way to get outside and enjoy nature
Our 36 Go Ape locations have been cherry-picked to ensure your adventurous experience is one of a kind. Expect nature at its finest with spectacular landscapes, historical backdrops and views across famous skylines. No two Go Ape locations are the same and you'll make unique memories on every single adventure.
Plus, the adventure doesn't have to end when your feet touch the ground! You're already outdoors in a beautiful location so why not make a day of it? Explore woodland trails and historical sites, bring along your bikes and don't forget a picnic – or a trip to the café. You'll find plenty to do at every one of our Go Ape locations.
The forest is looking fine this time of year and there are so many benefits to getting outdoors for an adventure. Now for the most difficult decision… which adventure should you choose?
Explore our blog for Adventure Inspiration or other ways to boost your Wellness and Wellbeing.
Find Your Next Adventure